Five Reasons Why Mayweather Will Defeat McGregor On August 26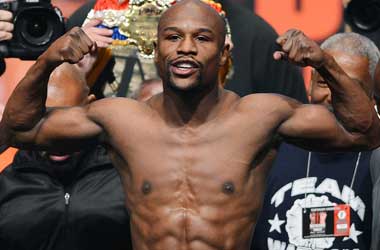 Floyd Mayweather could have retired with an impeccable 49-0 record but he decided to fight one more time and see if he can push that to 50-0. The 40 year old boxing great will step into the ring one last time against Ireland's Conor McGregor on August 26 at the T-Mobile Arena in Las Vegas, Nevada.
We take a look at five reasons why Floyd Mayweather will defeat Conor McGregor in the 'money fight'.
Superior Fight IQ: There is no question as to who has more experience inside the boxing ring. Floyd Mayweather has been boxing for most of his life whereas Conor McGregor has never had a professional boxing fight. Mayweather has arguably the best boxing IQ in the world and knows how to exercise patience, use body shots, use the ropes and pace himself throughout the 12 rounds. This will give him a massive advantage against McGregor.
Prize Fighting Experience: Mayweather has boxed on the big stage and under the lights on numerous occasions. He has fought a number of champions in the past and won all of his fights and that experience cannot be taken lightly. McGregor is also used to fighting in big events but that's in Mixed Martial Arts. There is a difference and Mayweather will look to exploit that difference.
Work Ethic: Floyd can still fight at 40 because he has always had a great work ethic. He is still in great shape and has spoken about training smarter at this stage in his career. Floyd has brought in a lot of younger boxers to spar with him and is confident that his fight preparation will see him go 50-0.
Technical Strategy: One of the reasons why Floyd Mayweather has been so successful in boxing is because he has surrounded himself with some of the best minds in the game. Right at the top is his father Floyd Mayweather Sr. who has helped Floyd prepare his fight strategy and cornered him in his fights. The Mayweather team will once again be putting together a technical strategy that will look to exploit all of McGregor's weaknesses in the ring.
Record At Stake: This is Floyd Mayweather's last fight and his chance to create a 50-0 legacy that is impeccable and will probably never be beaten. Mayweather not only wants to win this fight but win it in a convincing manner that cements his legacy as the greatest boxer of all time.
If you looking for betting opportunities for Floyd Mayweather Jr vs Conor McGregor arguably the 'biggest fight in the world' then why not read our in-depth guide to find the latest odds and betting sites.