Prince Edward Island Sports Betting Sites [ 2023 ]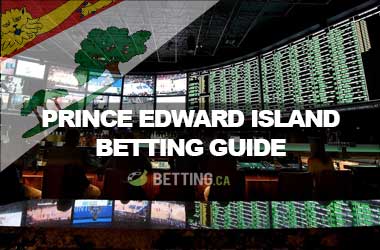 The Gulf of St. Lawrence holds the smallest province in Canada, and also the smallest subnational jurisdiction of N. America that has no land boundary and no mainland territory. Prince Edward Island is Canada's smallest province both in land area and population. It's not even large enough to have a professional sports team. But, that hasn't posed a problem for the people there to be passionate about sports. Their best-known teams play in minor leagues like the New Brunswick Premier Soccer League, the National Basketball League of Canada, or the Quebec Major Junior Hockey League. However, the pulse of Prince Edward Island sports betting is as vivid as possible.
Despite having one of the lowest gambling rates across Canada, the island boasts of several forms of legal gambling and a respectable average yearly income. Don't be deceived by the size, because Prince Edward Island offers more betting opportunities than the average state in the USA.
Recommended Prince Edward Island Sports Betting Sites
We have you covered if you are looking for the best Prince Edward Island sports betting sites. We have compiled a list of the top online sportsbooks that accept players from Prince Edward Island, so you can easily find a reputable and trustworthy bookmaker to place your bets.
Each of the sportsbooks listed below has been thoroughly vetted by our team of experts, so you can be sure they are safe and secure to use. They each offer a great selection of betting markets and odds, so you can find the perfect bet. And, if you need any help or assistance, our customer support team is always on hand to help.
So, what are you waiting for? Sign up at one of our recommended Prince Edward Island sports betting sites today and start placing your bets!
Sports Betting on Prince Edward Island
The service known as Proline run by the
Atlantic Lottery Corporation
is available on Prince Edward Island too. The express purpose of this service is to offer legal sports gambling opportunities to the residents of the island. You go to a licensed retailer such as a convenience store or gas station, fill out a ticket with teams and make the bet. To bet you have to be 19, and you can't bet on a single event, which is the case with the Proline service across the other provinces too.
This, together with the odds which are greatly inferior compared to those at off-shore sports betting websites are the biggest disadvantages in Proline betting. You also have to use pen and paper to fill out the tickets. Compared to online sports betting websites licensed off-shore, the house edge on the Proline wagers considering all the limitations and rules imposed is 30%, which is BIG.
But, compared to the USA, at least Canadians have the freedom to choose if they want to bet on sports through the government-regulated service or wherever they please online. Those that decide to put up with all the advantages and disadvantages of Proline betting can make the following bets:
Proline Futures – With Proline futures a player can attempt to predict the winner of a league or tournament before it starts. The maximum wager that a player can make in a Proline Futures bet is $100, while the minimum is $2.
Proline – This is the most common type of bet. You have to make a parley consisting of up to eight games. The maximum bet allowed is $25 and you can choose between teams competing in pro basketball, college basketball, pro football, college football, soccer, hockey and baseball.
In order for the parlay bet to be successful, all predictions must be correct.
Proline Fantasy – A parley bet where you can combine up to five proposition wagers for players or teams.
Stadium Bets – A parley bet consisting of up to eight selections which can be made in three different styles including money lines, point totals and point spreads. The minimum bet amount allowed is $2, while the maximum is $250.
Proline Stadium Picks – Play for points by guessing the right winners and depending on where you finish on the leaderboard you get a share of the prize pool.
Gambling Laws in Prince Edward Island
According to the gambling law, online sports betting or gambling hasn't been openly embraced. But, neither has been refused. This is because the legislation does not mention online gambling at all. As such, the residents of Prince Edward Island can take part in online gambling without the fear of legal prosecution. They have complete freedom to sign up with any online sports betting website and they won't even get taxed for their winnings.
Besides sports lotteries, other forms of gambling that are legal in Prince Edward Island are bingo, casino games, poker and horse racing.
Licensing Authorities in Prince Edward Island
The Atlantic Lottery Corporation or ALC is responsible for the sports lottery operation across four Maritime Provinces in Canada including Prince Edward Island. It's jointly owned by PEI, Nova Scotia, Newfoundland and Labrador and New Brunswick.
The ALC operates on behalf of the provinces and is responsible for the organization and conduct of all the gambling options on the island such as video lotteries and other. It's been doing so since 1976 when the Lotteries Commission Act was incorporated.
The population of Prince Edward Island
The main island and the 231 minor islands that are part of the Prince Edward Island jurisdiction are the home to 140,000 people. This makes PEI the smallest province in all of Canada in terms of population. With a land area of only 5,620 km2, it's Canada's 23rd largest island and 104th largest island in the world. Almost 94% of the residents are of English descent, and only 4% are of French.
Offline Betting Venues on Prince Edward Island
Prince Edward Island has two major offline betting venues of which only one is a casino. The casino venue is called Red Shores Racetrack & Casino at Charlottetown Driving Park, where players can enjoy 200 video slots, horse racing and other casino games such as 4 table games and 5 poker tables. It is located in the island capital, Charlottetown and it's operated by the Commission.
The other is called Red Shores Summerside and it is located in the community of Summerside, the second largest on the island. This is a much smaller offline betting venue with only 40 gaming machines, but it also offers horse racing and simulcasting.
Conclusion about Prince Edward Island Sports Betting
Despite being the smallest province in Canada, the residents of Prince Edward Island still have access to various gambling options, including those found online and favoured by passionate sports bettors and gamblers that look for better odds. Besides paper-based sports lotteries, people have the option to play casino games or visit the race tracks where they can bet on horses.