Canada At The 2022 World Cup Preview: How Will They Do?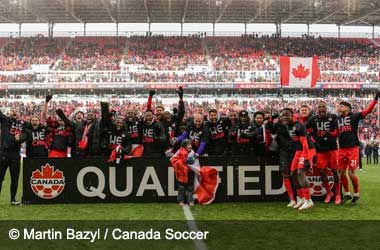 So, the time has finally come for the Canada men's national soccer team, sometimes known as CanMNT, to grace the world stage. It's been too long since the Canucks mixed it with the big boys, but in just a few weeks time, they will rub shoulders with footballing royalty at the FIFA World Cup in Qatar.
How did they get here?
The last time the Canadians featured at the World Cup was back in 1986, when they went to Mexico, only to finish bottom of their group after losing three out of three. They actually ended the tournament in an official 24th place, and that was back when there were only 24 teams, so it was an unforgettable trip for the men in red .
It's taken the Canucks nearly 40 years to make it to their second world cup, but they built slowly, focused on the production of talent, and as a result, they made it in style. Many people would have expected the Canadians to scrape through qualification if they were going to make it at all, but that was far from the case, as they bowled out in front, beating some decent opposition in the way. Despite being in a final qualification group that featured Mexico, the USA and Costa Rica, Canada came through as the top-ranked CONCACAF side, winning eight, tying losing just two of their final qualifying games. They were also the top scorers and the team with the best defensive record.
Best Sites to Bet on the 2022 World Cup
A squad unlike before
When the Canadians last played at the World Cup, their squad was made up of players that the wider footballing audience knew little of, but that won't be the case this time. After investing in youth and raising the standard of the production line of players on home soil, Canada now has a squad of talented players, many of whom ply their trade in some of the biggest footballing leagues in the world.
Who should we look out for?
There are plenty of players in the current Canadian team who could catch the eye in Qatar, especially in the midfield, wide and forward areas. Be on the lookout for the following names:
Jonathan David
From a young age, Jonathan David looked as though he had the makings of a future Canadian soccer star. After a youth career with the Ottawa Internationals, he joined as an 18-year-old, and it wasn't long before the forward was making a name for himself in the Belgian top flight. In two seasons, he scored 30 goals in 60 games, prompting French Ligue 1 side Lille to pay 30 million euros for his services.
At Lille, David has gone from strength to strength, scoring plenty of goals and playing a sizable role in their capture of the Ligue 1 title in 2021. This season, he has nine goals and three assists in 14 appearances, so it's fair to say that the 22-year-old is in form prior to the World Cup.
If he can re-find the form that saw him score nine goals in qualification, then Canada will have a hugely dangerous forward in their line-up. Defenders in Group F better watch out.
Ismael Kone
Ismael Kone burst onto the scene of Major League Soccer during 2022, so much so that he ended up making 28 appearances for CF Montreal, who made the playoffs. He featured several times from the bench and added a real spark with his quick movements. After registering five assists and scoring three goals for Montreal, Kone, who is still only 20, looks to be one of Canada's more dynamic midfielders, and whether he's used as a starter or as an impact player, the World Cup could be a big few weeks for the young player, who has the perfect opportunity to put himself in the shop window.
Tajon Buchanan
In the shop window, Tajon Buchanan has already been, as at the end of the 2021 Major League Soccer campaign, Belgian giants Club Brugge came calling.
A ball carrier and a powerful runner, Buchanan is likely to be a fixture on the right side of midfield for the Canucks, much as he has been in the Champions League for Club Brugge this season. He has had a few injury problems, but he's been fit for a while now, and should have a big part to play for his nation.
One player stands alone
There are some notable candidates for this position, especially those mentioned above, but there can only be one-star man, and that's Alphonso Davies, who ever since he emerged as a teenager playing for the Vancouver Whitecaps in Major League Soccer has looked a cut above the rest.
The 22-year-old now plays for German giant Bayern Munich, for whom he has been a key player this season, starting week in, week out. For Canada, Davies was instrumental in qualifying, scoring five goals and recording five assists.
Playing predominantly in a wide role for Bayern, Davies is likely to be deployed in a far more attacking role with Canada, as they aim to utilize his dribbling and devastating pace. With the ball at his feet, the youngster can be one of the most effective players around. Over the last 12 months, he ranks in the top 1% of world footballers when it comes to dribbles completed per 90 minutes, while he's in the top 3% for progressive passes received and the top 6% for shot-creating actions. He will therefore be key to Canada's attacking play in Qatar.
Canada World Cup Betting Tips & Predictions
From a betting point of few, there are a few angles to take if you're of the opinion that this Canada team is very much not on their way to Qatar just to make up the numbers.
At the end of the day, the Canucks have plenty of quality, especially in the forward areas, and they can leave their mark, that's for sure.
There are two bets that catch the eye, the first of which is 'Canada to Score Over 2.5 Goals'. That's Canada to score three or more goals at the tournament in total, which at 10/11, looks a little generous.
As touched on above, they've got lots of forward quality. Moreover, they have attacking players who over the last few seasons, have gained vital experience playing and hurting top-tier opposition. The likes of David and Davies have been creating chances and scoring in two of Europe's best leagues for a while now, so don't be surprised if such players do some damage in Qatar.
It's also worth noting that Canada's opponents in Group F don't exactly have amazing recent records in terms of clean sheets. The Croats have kept just two clean sheets in 2022, while Belgium have shut just one of their last six opponents out. The Moroccans have recorded a few shutouts in recent times, but against poor opposition, while they recently lost 3-0 to the USA, a side that Canada got their better of during qualification.
Moving on, 'Canada to Win a Group Match' appeals greatly too. As touched on above, this is a Canadian side with plenty of quality, and they're not scared to take teams on, as we saw during qualification when they beat both USA and Mexico. Maybe they'll find beating either Belgium or Croatia a step too far, or maybe not, who knows? Either way, you'd have to fancy them to get the better of the Moroccans.
At the end of the day, the Canucks have some exciting talent, and with the best crop of players that they've ever had, they look like a solid bet to pick up at least one victory once they touch down in Qatar in a few weeks time.
Betting Tips & Predictions:
Canada to Score Over 2.5 Goals at the World Cup @ 10/11 (1.91)
Canada to Win a Group Match at the World Cup @ 5/6 (1.85)