Saskatchewan Sports Betting Sites [ 2023 ]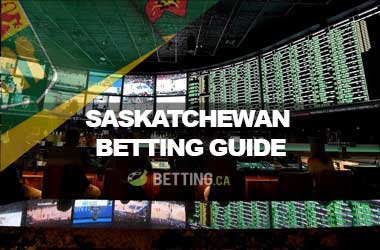 Saskatchewan is the only Canadian province that doesn't have natural borders. Because of this and the lack of high mountains, Saskatchewan is the brightest province in the country with over 2,000 hours of sunshine a year. It's also the home to the biggest farmers and ranchers in the country. Almost 10% of the land area is composed of fresh water, mostly reservoirs, rivers and over 100,000 lakes.
On the south Saskatchewan borders Montana and North Dakota, Manitoba on the east, Alberta on the west, and the Northwestern Territories on the north. The only pro sports on the territory of Saskatchewan is the CFL Roughriders and it's common to hear the passionate Go 'Riders! refrain from Weyburn all the way to Stony Plains. Other more notable teams are mostly junior hockey teams competing in the East Division of the Western Hockey League.
Sports Betting in Saskatchewan
All sports betting activities within the province go through a service known as Sport Select, which is also available in the
Northwest Territories, Yukon, Alberta, Western Canada and Manitoba
. If you have tried this service you are already familiar with all of the opportunities offered but also all the disadvantages that make it inferior in comparison with the more competitive online betting market.
The Sport Select service is available through licensed retailers. These can be anything from convenience stores to gas stations located throughout the province. The maximum a player can spend on a Sport Select bet is $250 at any single retail location per day. The variety of sports that you can bet on is very small. You can make bets on baseball, soccer, basketball, hockey and football events.
Recommended Canadian Sports Betting Sites in Saskatchewan
Below are the allowed types of bets.
Proline – With a Proline bet you have to predict the outcome of at least three events: home win, away win or tie. The maximum number of games you can include is 6. If you don't make correct predictions for all of them, you lose your entire ticket. The maximum bet amount allowed for Proline is $100.
Over/Under – This is a popular bet across the world, but in Saskatchewan too. You must predict if the final score for a given event will be over or under the proposed number. You can make up to ten selections for over/under tickets and the maximum bet allowed is $100.
Point Spread – Point spread tickets can include up to 12 selections. The maximum bet allowed is $100 and with each correct prediction your total payout increases.
Pools – This is an interesting bet where you can choose a specific sport and predict the winners of upcoming games. By doing so you receive points and compete against other players through a leaderboard. Only select positions on the leaderboard get a share of a prize pool.
Props – If you are more interested in individual players, this is the bet type for you. Select two players and predict which one will have better stats. You can choose two players from a maximum of six different games.
Double Play – If you want a challenge, go with Double Play. It's when you combine over/under and a Proline wager on the same ticket. Six selections are allowed.
Combo Play – The same as Double Play only with the addition of Point Spread.
Legal Betting in Saskatchewan
Although people are free to join online sports betting websites, an online gambling site cannot be legally operated within the borders of this province. This means that there are no legal provisions for licensing an online betting service by the Saskatchewan licensing authorities that provide licenses to retailers to sell Sport Select tickets.
Nevertheless, Saskatchewan sports bettors can freely join off-shore casinos and sportsbooks, which are licensed in other parts of the world. The law does not prescribe punishments for such actions, therefore, online betting can be considered legal.
The advantages of betting online are many. The odds are better, there are bonuses and promotions, more sports are available etc. All of that is thanks to the competitive nature of the online gambling industry, where different websites compete with each other on who is going to provide the better service, which is not the case with Sport Select.
Gambling Laws in Saskatchewan
Besides sports betting, all other forms of gambling are legal in Saskatchewan. There is even a mixture of tribal and commercial casinos. All over the province you can legally bet on horse races, play video lottery machines (also known as video poker machines), and play bingo, lottery or casino games in the casinos. All of that is governed by the Alcohol and Gaming Regulation Act.
Licensing Authorities in Saskatchewan
The authority responsible for most of the gaming in the province is the Saskatchewan Liquor and Gaming Authority (SLGA). It is the owner and manager of all video lottery terminals as well as the slot machines found in the casinos, which are operated by the Saskatchewan Indian Gaming Authority (SIGA). Casinos, bingo facilities, horse racing and raffles are licensed by the SLGA.
Population of Saskatchewan
The population of Saskatchewan lives mainly in the southern prairie half. There are over 1 million residents spread through the province, but mostly in the largest cities such as Saskatoon, Lloydminster, North Battleford, Swift Current, Yorkton, Moose Jaw, Prince Albert and the capital of the province Regina. Most are of German, English, Scottish and Canadian descent.
Offline Betting Venues in Saskatchewan
The most popular casino in Saskatchewan is Casino Regina in the capital city with more than 800 slot machines, 35 table games and 8 poker rooms. It's rated No.1 on Trip Advisor followed by venues like Living Sky Casino, Casino Moose Jaw, Marquis Downs (a horse racing venue), Northern Lights Casino, Painted Hand Casino, Gold Eagle Casino etc.
Conclusion
Saskatchewan is no cultural hub like Ontario, but it still provides decent entertainment for the residents. Sports betting is most popular without a doubt, and it's the most accessible gambling product available in numerous gas stations and convenience stores. Those that feel the odds are less than generous are free to sign up with an online sports betting provider.