Manitoba Sports Betting - Betting Sites in Manitoba, Canada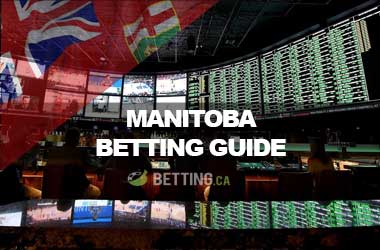 There are more and more people interested in betting in Canada and Manitoba is no different. This interest has resulted in betting providers increasing and enriching their betting offers.
These days punters and betting enthusiasts in Manitoba can play the more traditional paper lottery and they can also bet on sports events. They can visit both online and offline casinos as well as poker rooms and can try out Manitoba's famous bingo halls.
The chief authority for regulating, overseeing and controlling betting and gambling in Manitoba is the Liquor and Gaming Authority of Manitoba. This authority is in charge of controlling online and land-based casinos and it provides licenses to lottery vendors and Video Lottery Terminal providers.
Sports Betting in Manitoba
Sports betting in the province of Manitoba is organized by the
Manitoba Liquor and Lotteries Commission
(
MLL
). The Commission was the result of a merger between the
Manitoba Liquor Control Commission
with
Manitoba Lotteries in 2012
.
MLL offers its customers several types of sports betting. These have one thing in common and that is that they have to be parley, also known as betting accumulators, in which the punter must combine at least two sports events. This is because betting on single sporting events is considered illegal in Manitoba, as well as all over Canada.
Pro-Line
The first type of sports betting that the MLL offers is Pro-Line. To play Pro-Line you have to place a wager on the outcome of 3 to 6 sporting events. You win when all 3 to 6 outcomes are correct and your potential prize is the cash you deposited multiplied by the combined odds. The minimum wager for a Pro-Line ticket is $2 and the maximum is $100.
Point-Spread
A point spread is a type of betting in which the betting provider, in this case, the MLL, handicaps one of the teams so that the odds for a home or away win are the same. The punter has only two options and can choose a home or away win for 2 to 12 games. The sports included in MLL's point-spread offer are professional and college basketball, professional and college football, hockey and baseball.
Pro-Picks Pools
In Pro-Picks Pools the betting enthusiast is given the chance to predict the winner of a given selection of players or teams. This selection consists of 10 or 12 match-ups and the betting prediction is made on a card provided by the MLL.
One card or selection sheet will cost you $5 and the winner is the player, or in many cases players, who have picked the most correct winners. The pool for paying out winning wagers is 60% of the total wagers made. This ensures that the betting organizer will always make a profit of 40% of all the wagers. This is in line with people's claims that the MLL operates with quite big house edges.
Pro-Picks Props
Unlike the Pro-Picks Pools, the Pro-Picks Props is an odds-based sport betting game in which betting enthusiasts bet on 3 to 6 teams or players and their selected props. The minimum cash to be deposited to bet on Pro-Picks Props is $2 and the maximum is $100.
Playnow.com is an online gaming website operated by the MLL and the British Columbia Lottery Corporation through which people from Manitoba can play any of the games we have just mentioned online.
Western Canada Lottery Corporation
The Western Canada Lottery Corporation (WCLC) is a non-profit organization which has lottery and gaming activities in its portfolio and it conducts business in many Canadian provinces including Manitoba. The WCLC works together with the MLL in organizing betting games for people in Manitoba.
Recommended Canadian Sports Betting Sites In Manitoba
Manitoba's Gaming Laws
All betting and gaming activities in Manitoba are under the umbrella of Manitoba's Liquor and Gaming Authority (LGA) and its Liquor and Gaming Act. The LGA was formed in 2014 and the act was enforced in the same year. The predecessor to the LGA was the Manitoba Gaming Control Commission and it worked in coordination with the Manitoba Lotteries Corporation which now is the aforementioned Manitoba Liquor and Lotteries Commission (MLL).
Licensing Authorities in Manitoba
The Manitoba Liquor and Lotteries Commission is also the licensing authority for betting and gaming activities in Manitoba. It offers a variety of gaming licenses such as Charitable Gaming Event, VLT Siteholder, Lottery Ticket Retailer, Gaming Service Provider and Gaming Supplier licenses.
Population of Manitoba
Manitoba had a population of 1,208,268 at the 2011 census. Most of the people in the province live in the Winnipeg Capital Region. In fact, Winnipeg is Canada's eighth-largest Metropolitan Area, with a population of 730,018.
During the early years of colonization, Manitoba was mainly an agricultural and farming region. However, in recent years this trend has changed and now more and more people are moving to the Winnipeg Capital Region. Currently, over 55% of the people in Manitoba are living in just one city.
Offline Betting Venues in Manitoba
There are quite a few offline operators in Manitoba where you can play casino games such as VLTs and slot machines as well as table games. Two of these casinos are owned and operated by the Manitoba Liquor & Lotteries currently:
Club Regent Casino and McPhillips Station Casino (operate numerous VLTs, slot machines, and a Table Game area).
There are also three First Nations-owned casinos which are in operation in Manitoba:
Sand Hills Casino (possesses over 300 slot machines and table games)
South Beach Casino (operates 600 slots and table games)
Aseneskak Casino (has over 180 multi-denominational slot machines and various table games)
Conclusion
Online and offline betting venues in Manitoba offer more or less what casinos all over Canada offer. The same goes for sports betting in the province and this has often been a problem for gamblers as they perceive that the house's edge and the betting provider's margin are much bigger than they should be.
Regardless, betting income represents a steady stream of finance for the provincial government of Manitoba, which is an indicator that people in Manitoba still like to bet quite a lot and that they find the conditions imposed by the local regulatory body quite appealing.