New Brunswick Sports Betting - Betting Sites in New Brunswick, Canada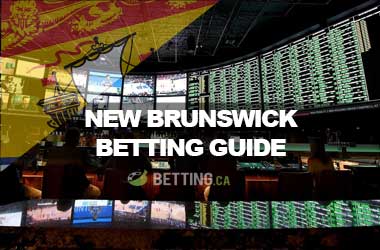 Even though New Brunswick represents less than 1% of Canada's total area, it still is full of betting enthusiasts who enjoy spending time gambling. The province offers betting aficionados the chance to bet on paper-based lotteries, online and offline sports betting games as well as land-based casinos, poker rooms and Video Lottery Terminals (VLTs).
In addition to the legalized betting activity conducted by Canadian-based online and offline gaming venues, New Brunswick residents have the option to gamble with offshore-based online sportsbooks, casinos and poker rooms.
The body responsible for regulating and overseeing the legal aspects of betting and gambling venues in New Brunswick is the Gaming Control Branch, a branch of the province's Department of Public Safety. It works closely with the New Brunswick Lotteries and Gaming Corporation (NBLGC) which is responsible for the conduct and operation of everything betting and gambling related in New Brunswick.
Recommended Canadian Sports Betting Sites In New Brunswick
Acting on NBLGC's behalf in New Brunswick is the Atlantic Lottery Corporation (ALC). It operates all lottery games in New Brunswick, Nova Scotia, Newfoundland and Labrador and Prince Edward Island and is, in fact, owned by these four Maritime Provinces.
Sports Betting in New Brunswick
Sports betting in the province of New Brunswick is organized by the
Atlantic Lottery Corporation (ALC)
. It offers its customers several types of sports betting which don't differ much from other Canadian provinces. These include Pro-Line, Pro-Line Fantasy, Pro-Line Futures and Stadium-Bets. Online sports betting games are offered by ALC's ProLineStadium.com web portal.
All bets have to be parlays, meaning that there has to be more than one match or sporting event on the betting ticket. In addition, betting on single sporting events is considered illegal in New Brunswick.
Pro-Line
This is a game in which players predict the winners of a parley with 2 to 8 sporting events. The wager formats include money lines, point spreads and points totals. When all predictions are correct the ticket is pronounced as a winning one. The prize money is equal to the combined odds of all the matches multiplied by the wager. The wager can be $2, which is the minimum and up. The maximum wager on a Pro-Line ticket is $25.
Pro-Line Fantasy
This is a variation to the Pro-Line game in which players make a selection of 2 to 5 games, but this time they try to correctly predict 5 player or team props. The minimum and maximum wager remain the same as in Pro-Line
Pro-Line Futures
With Pro-Line Futures players are offered the chance to bet on the winners of a full season in different sports such as hockey or basketball. It only requires players to choose one selection per ticket and if yours is the winning pick then you are deemed as the winner of the wager.
The minimum wager for this game is $2 and the maximum one is $100. This is multiplied by the odds that you were given for your selection. The odds are always given before the beginning of a new season and they may be subject to change depending on how teams and players perform over the course of the season.
Stadium Bets
Similar to Pro-Line this is another game based on odds and it is also comprised of a selection of 2 to 8 sporting event parlays. The minimum and maximum wagers are $2 and $250 respectively.
The same wager formats such as money line, point spreads and point totals are available as well. The only difference is that Stadium Bets can only be accessed online at ALC's website – prolinestadium.com.
Online Sportsbooks in New Brunswick
Bet365, Bodog, Betway, Intertops, Pinnacle and 5Dimes are some of the offshore-based betting companies which work with Canadian clients. According to many New Brunswick punters, their offer is far superior to the one offered by the ALC.
They claim that the house's edge or also known as the bookmakers' margin is around 30% for the paper-based sporting events offered by the ALC. In contrast, online sportsbooks often operate with less than a 10% margin and offer much better odds to punters.
Offshore-based betting companies also offer their customers the chance to bet on single matches instead of just on parleys. In addition, they have some of the best online casinos and poker rooms in their repertoire, something which is only a pipe dream for those who conduct business with the ALC or NBLGC.
Gambling Laws in New Brunswick
As we have already mentioned every activity which is related to gaming or betting on sports in New Brunswick is regulated by the Gaming Control Branch of New Brunswick's Department of Public Safety and New Brunswick's Gaming Control Act passed in 2008.
The NBLGC works closely with New Brunswick Lotteries and Gaming Corporation (NBLGC) which is responsible for the conduct and managing of everything from casino gaming to video lottery and ticket lottery.
Licensing Authority in New Brunswick
All New Brunswick betting providers are licensed by the Gaming Control Branch which is solely responsible for the registration, licensing and regulation of everything which has to do with casino gaming, video lottery or charitable gaming.
The Population of New Brunswick
There are 751,171 people living in the New Brunswick province according to the 2011 census. Of these, around 395,000 live in urban areas and around 355,000 live in rural areas. New Brunswick ranks 8th in terms of population when compared to other Canadian provinces.
Offline Betting Venues in New Brunswick
Only one land-based casino operates in New Brunswick and that is Casino New Brunswick. It is located in Moncton and is operated by Sonco Gaming New Brunswick Limited Partnership (Sonco).
It offers players the chance to try out their luck at their video slots; it has poker rooms and also offers the possibility of fundraising and charitable gambling events to be held at its premises.
In the province of New Brunswick, there are also several gaming centers with video slots, poker rooms and bingo halls. These include:
Conclusion about New Brunswick Sports Betting
Gambling and sports betting are very popular pastime activities in New Brunswick. Punters have the option to try out their luck with paper-based ticket betting organized by the ALC and the NBLGC or they can choose some of the offshore-based sportsbooks such as Bet365, Pinnacle, Bodog or 5Dimes.
Even though the province is quite small in terms of both area and population it still receives a steady stream of financing from the organization of betting events, which is one of the clearest indicators that New Brunswick is a province of betting aficionados.