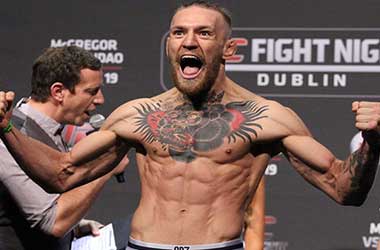 Conor McGregor goes into the 'money fight' against Floyd Mayweather as the underdog with most betting sites giving McGregor 4/1 chance to win. Mayweather has a 49-0 record and is the favorite with odds of 1/6.
The boxing community in general, believe that McGregor has no chance because he has never fought a professional boxing fight in his life and will be easy prey for Floyd Mayweather.
Mayweather is not taking McGregor lightly and has said on multiple occasions that his opponent is a warrior who has never been beaten on his feet in the UFC.
We take a look at five reasons why McGregor can hand Mayweather his first defeat in the boxing ring:
KO Power: There has been a lot of talk surrounding the type of gloves that will be used on August 26. The two fighters are scheduled to fight in 10 ounce gloves but have stated their preference for fighting in 8 ounce gloves and have asked the Nevada Athletic Commission for approval. McGregor fights with 4 ounce gloves in the UFC and has predicted a 2nd round KO if 8 ounce gloves are sanctioned.
Seismic MMA
Mental Disintegration: Conor has made it a habit of getting into his opponents head before the fight begins and wearing them down mentally, thereby making it easier to beat them in the fight. While it is debatable if his mind games have worked with the experienced Mayweather, he has certainly gotten under Mayweather's 'skin' as Floyd has said in the media that he was upset by Conor McGregor referring to him as a 'monkey' during the world press tour.
Unorthodox Style: McGregor is an MMA fighter and not a professional boxer. His movements are unorthodox and he has no plans to change for his fight against Mayweather. This makes it very difficult for Floyd Mayweather to prepare as he would have to find a sparring partner who could mimic McGregor's unorthodox style.
Age Difference: They say age is just a number but it could turn out to be a huge fact on August 26. Conor McGregor just turned 29 and is in the prime of his life whereas Floyd Mayweather will turn 41 in February 2018. The speed, power and cardio of the two fighters will be tested on August 26 and McGregor has the edge going into the fight.
Supreme Confidence: Conor McGregor is oozing confidence and those familiar with the MMA fighter know that he does not just talk a big game but also backs it up with results. Mayweather has never faced an opponent as cocky and as confident as McGregor and it will be interesting to see if McGregor can keep his promise of KO's Mayweather.