Mobile Betting 2023 - Best Mobile Betting Sites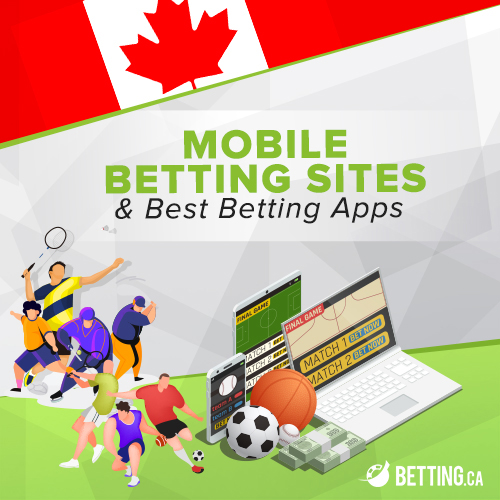 Mobile betting is not such a new thing anymore. As a matter of fact, the number of mobile players is threatening to become higher than the number of desktop players for the first time since online betting platforms became a thing.
There are plenty of reasons this is happening. First, mobile devices have become much more advanced and are like mini-computers that we can carry in our pockets at all times.
Mobile phones and tablets are a part of our everyday life now, and they are much more affordable than they ever used to be. Players can access their accounts in seconds and place a bet with just a few taps on their screens. Therefore, mobile betting is much more convenient than traditional desktop betting.
As we understand that many beginner punters are reading our content, we will also explain how to download and use betting apps and log in to betting sites, among other things.
There's a lot to go over, so let's get down to it, shall we?

We will expand on the subject of mobile betting convenience, but the main reason we wrote this article was to get you familiar with the best mobile sites and apps on the market right now.
There are, of course, many different ways that you can place a wager these days, whilst visiting land-based betting venues is, of course, always a popular option. Many punters prefer placing wagers online or even on their mobile phone or tablet devices.
Here at the Betting.ca website, we have put together a large range of mobile betting guides that will give you a step-by-step walkthrough on how to use any type of mobile device to allow you to seamlessly place any kind of bet via the brand-new medium of mobile gaming.
Best Canadian Mobile Betting Sites
Our website is dedicated to bringing you information about the best gambling platforms in Canada. Therefore, the apps and sites listed below are primarily for Canadians, but they accept players from all over the world as well.
These sites and apps represent the cream of the crop when it comes to sports betting. They are all powered by reputable betting operators who have decades of experience in the industry. By using these sites and apps, you will gain access to fast-working platforms, exciting betting features, and plenty of rewarding bonuses.
Carefully browse the list and choose an operator that best suits your needs. Each of the listed sites and apps has its dedicated review pages, so check out those when making a choice.
How We Selected the Best Canadian Mobile Betting Sites and Apps
As the majority of betting operators have mobile sites and apps these days, our job of selecting the best ones was anything but easy. First, we had to check which of these platforms allow Canadians to join and create an account, after which we looked into the following aspects.
Reputation and Trustworthiness
All the operators on our list are the best in their business, which is proven by their positive reputation among players.
Apart from conducting the review ourselves, we also checked what other people had to say about each operator. If a given betting platform has a majority of positive customer reviews, that's usually a very good sign.
Not only are these sites and apps trustworthy, but some have also enjoyed a strong reputation for years, or even decades, establishing themselves at the top of the industry.
Licensing and Safety
You can never be too careful when selecting an online betting platform these days. There are hundreds of scammy sites and apps that cheat their players out of their winnings, don't pay bonuses, and generally have poor business practices.
Every betting site or app might look legit on the surface, but they must prove their legitimacy by transparently showing details regarding their licensing. When reviewing these operators, we checked which gambling jurisdictions issued them a licence and whether that licence is still valid.
While the officially legal betting platforms in Canada must have a licence issued by one of their provincial or tribal gambling authorities (Kahnawake Gaming Commission), Canadians are allowed to play on offshore sites as well. That's why we also considered sites and apps that own licences from the UKGC, the MGA, Gibraltar, Curacao and other reputable institutions.
Additionally, we made sure that the sites and apps on our list were safe. Operators who guarantee their customers' safety must protect their personal and financial information through advanced encryption systems and firewalls.
Betting Features
While licensing and safety are the backbones of a quality betting platform, they are not the only important things. Once it's determined that a given site or an app is legit, we move on to reviewing what sort of betting features it has to offer to its customers.
Players should be able to create their betting slips in all sorts of ways. Features like bet builder, bet boost and accumulator bets are very popular on top Canadian betting sites these days.
Of course, the ability to bet on the match live is also very important, especially if you're betting on the go with your mobile device. Some top apps also have a live streaming feature, allowing you to place a wager and watch the game in question in HD quality.
Market Selection
In order for a mobile site or an app to make it onto our list, it must offer a wide variety of betting markets. When reviewing these operators, we not only considered the most popular international markets like
soccer
and
tennis
, but we also based our selections on markets that are popular among Canadians.
That's why these apps feature plenty of Canadian sports like ice hockey, basketball, lacrosse, football, curling, baseball and others.
Design and User Experience
In order for you to have an enjoyable betting experience, a betting site or an app must have a user-friendly design. Since you'll be betting on a small screen of your mobile device, the operator needs to find a way to fit everything.
All betting options, together with in-play betting, live streaming, making payments, and other features, must be just a few taps away. The platform needs to run smoothly and not have any bugs or glitches that would interrupt your betting.
Bonuses and Promotions
Many players consider
free bets
and promotions to be the most important things when selecting betting platforms, but we do not share that opinion. Of course, free bets are important, but you must be careful when choosing them.
Namely, certain free bets look good on the surface, but if you dig into their terms and conditions, you will find that they can be tied to pretty restrictive terms and conditions.
Of course, we did look at the bonuses when creating our list and made sure that they were rewarding and easily unlocked. However, we feel that betting features and market selection are much more important factors to consider.
Payment Methods
No matter if you're playing on mobile or desktop, the operator should be able to offer you a variety of
payment methods
. These payment methods typically include credit and debit cards, e-wallets, bank transfers, cryptocurrencies, and a variety of other internet banking services that are easy to use on mobile.
Since we were making this list for Canadian players, we tried to include as many popular operators that have Interac Online, iDebit, InstaDebit and other popular Canadian banking systems as possible. Additionally, we added a few betting sites and apps where you can deposit and withdraw using Canadian dollars.
Apart from looking into various payment methods, we also checked the deposit and withdrawal limits, processing times, and fees.
Customer Support
Responsive and friendly customer support is another pillar of a successful betting platform. The operators from our list have multiple ways of contact that include email, live chat, and telephone.
Mobile Betting Sites Versus Mobile Betting Apps
Throughout this article, we've been talking about both mobile betting sites and mobile betting apps, but you might wonder what the differences between the two are and which one is better.
Simply put, mobile betting sites are just like desktop betting sites, only you can access them through your mobile browser. A mobile-friendly site is a replica of the desktop site, but it's designed in a way to fit better on your small screen. All the features are there, and you don't need to download anything.
On the other hand, mobile betting apps need to be downloaded through the official app store or the mobile site itself. Depending on the operator, apps can take anywhere between a few dozen to a few hundred megabytes.
While they do take up a bit of space and need a few minutes to install, mobile apps are superior to mobile sites, and for a few reasons. Firstly, they are better optimized to fit a smaller screen, ultimately giving you a better user experience.
Secondly, mobile apps usually work faster than mobile sites. The difference in speed is not that big, but it can mean all the difference when you're making in-play bets.
Additionally, you can set up mobile betting apps to send notifications when a match is about to begin or when the score changes.
You should use a mobile betting site only if you don't have any other options. Some operators simply don't have mobile apps, or they don't offer them for all devices. Also, it can happen that a mobile app won't work on your device because your system is outdated or the device itself does not support the app.
How to Start Using a Mobile Betting Site — Step-By-Step Guide
If you've never used mobile betting sites before, here are a few simple steps on how to start playing:
Load this page on your mobile browser (Google Chrome, Mozilla Firefox, Opera Mini, Safari, and similar) and tap on one of the operators from our list;
Once you are on the homepage, start the registration process or log in if you already have an account;
Create your account by filling in our personal details regarding your name, address, country, and some other information;
Start betting!
How to Start Using a Mobile Betting App — Step-by-Step Guide
The process of starting to use a mobile betting app is a little different but simple nonetheless:
Enter a given sports betting site into a phone browser to find information about its app. Alternatively, you can go directly to your device's app store (Google Play or App Store) and search for the app there;
Once you find the app, tap on the Download button;
Wait for the app to download and install it on your device;
Turn on the app and register or log in if you already have an account;
Start betting!
Using Betting Sites and Apps on Different Mobile Devices
With there being so many different mobile devices and mobile phone operating systems, below you will find an overview of each of the different types of mobile devices, should any of them be the types of mobile or tablet device you own and you want more information on how to set these devices to work in the mobile gaming environment or wish to view a listing of the many different mobile betting sites that can be accessed using any listed mobile device then follow the links for the respective guide
There are several different kinds of devices that you can use for mobile betting sites and apps. These include Android, Apple, and BlackBerry.
Android

Canadians use Android devices almost as much as they use Apple ones. Many of the most modern mobile devices utilize the Android operating system, which is one of the most robust mobile device systems and one that allows anyone to have access to thousands of different betting Apps and mobile betting sites.
The majority of betting operators on our list have excellent Android apps that load quickly and give you an opportunity to bet seamlessly on the go.
The most popular Android brands include Samsung, Huawei, LG, Motorola, Xiaomi, Sony, Google Pixel and others.
If you own such a device, then we would like to introduce you to a range of top-rated Android betting sites, all of which have plenty of sporting events and fixtures which you can bet on and placing a wager on such a device is both quick and easy

iPhone

The most obvious reason that the iPhone has become one of the most used mobile devices has to be the touch screen feature that all of these smartphones offer, and this makes visiting a mobile gaming site and placing wagers on sporting events and sporting fixtures an absolute breeze.
The majority of our fully approved user-friendly mobile betting sites not only offer all Canadian residents the ability to bet and wager instantly using an iPhone, but their respective betting sites have been enhanced to make placing such a wager quick and easy and a couple of taps of your phone's screen is all that is required to place any wager on any sporting event you like.
iPad

Due to the iPad being such a very easy mobile device to use and operate, they make an ideal companion for everyone interested in the world of sports betting, as not only can you access plenty of mobile gaming sites, but you can also access the internet and research the team, player, horse or greyhound that you are thinking of placing a wager on.
The way these devices work and operate is, of course, very similar to the iPhones mentioned above, however thanks to the much larger screen, when you do utilize them to access any of our showcased mobile betting sites, then you will notice these sites have easy-to-use betting interfaces that allow you to have your sports wagers placed in no time and with maximum security offered at each site, we list placing a wager has never been so easy no matter where you happen to be.
BlackBerry

Since it's a Canadian company, BlackBerry still has loyal customers in Canada, although the usage of their devices is dwarfed by those of Android and Apple.
All of the mobile and online betting sites that are listed throughout the Betting.ca website come with very easy-to-navigate menus. As such, if you own a Blackberry, which may not be one of the mobile devices you may instantly think that you can use to access a mobile sports betting site, then you should have no problems whatsoever using a mobile gaming site and placing wagers quickly with your Blackberry device.
Nevertheless, you shouldn't have any issues loading a betting site from our list if your device has one of the latest BlackBerry OS.

Windows

There are several ways that you can access mobile gaming and mobile betting sites, one way is, of course, to download a betting sites App directly onto your device, and when you do this you only have to launch the App to start betting instantly on any sporting event you so desire.
However, on mobile phones such as the Windows phone, as you can quickly and seamlessly access the internet on these mobile devices, then you simply can opt to visit the mobile betting sites website and access the betting services in this way which is identical to the way you access them on a laptop or home computer.

The Advantages of Using Mobile Betting Sites and Apps
If you've never used mobile betting sites and apps, you might wonder what their advantages are. It's a completely legitimate question, and we will try to answer it by talking about a couple of things in which mobile platforms excel over their desktop counterparts.
Convenience
The most obvious advantage of using mobile betting sites and apps is their convenience. Instead of having to sit in front of your computer, you can use your phone or tablet while you're commuting to work, taking a break, taking a walk, travelling, or doing anything else.
This is especially useful for live betting or even pre-match betting in a situation where the match you're interested in is about to begin, but you're not at home. Your phone will always be on, so you can place a bet in just a few taps, which is much quicker than any PC.
Additionally, betting apps will send you push notifications when a result of a certain match changes or when the match ends.
Mobile Bonuses
While they are not offered by every mobile sportsbook, mobile bonuses are another reason you should choose mobile betting sites and apps. By downloading an app or using a mobile site, you will get exclusive bonuses for mobile users. These bonuses can come in the form of deposit promotions, free bets, cashback offers, or more.
Of course, as a mobile user, you will still be able to take advantage of all other bonuses that are available through the desktop platform.
Top Mobile Gaming Sites
At Betting.ca, we always recommend that you visit the respective mobile betting site that is of interest to you to double-check the validity of any bonus offers we list, as any such free bet or deposit bonus is, of course, subject to change at any time. By visiting the mobile betting website, you will be able to see if any listed offer is still up for grabs and available to you.
What to Pay Attention to When Using Mobile Betting Sites and Apps
The most important thing to consider when choosing a mobile betting site or an app is how good that betting platform actually is and what value it brings to you as a player. Now, we've already helped you out with that part by listing the best mobile betting operators for the Canadian market.
However, there are also some other factors that you need to take into account before deciding on which app or site you want to play on, and for this, you will need to figure things out on your own. Nevertheless, we are here to direct your attention to those things so you can have the best possible mobile betting experience.
System Requirements
If you have a newer smartphone or a tablet, chances are that all betting sites and apps will work just fine. However, if your device is a little outdated, you should check the system requirements before downloading an app.
Google Play and App Store have system requirement details for every app, including betting apps, so go to the official store and find the information there. As for mobile sites, you won't find exact details about the required version of your operating system, but the newer the system, the better the site will work.
Internet Connection
You must have a stable internet connection if you're planning on using mobile betting sites and apps. If you lose the connection while creating a betting slip, your bet won't count, and you will lose your potential profits.
So, make sure that your Internet has full WiFi bars at all times and that it's fast enough so that you're never interrupted. If you're relying on mobile data as your primary source of the Internet, make sure to set some usage limits because betting sites and apps can drain a lot of internet data, especially if you plan on watching live streams.
Memory Space
Mobile betting sites don't require downloads of any sort, although they do fill your memory with cache files; however, those are relatively insignificant. On the other hand, apps can take up to several hundreds of megabytes, and while that's still not a lot, make sure that you have enough space before downloading them.
Battery Life
If you're betting on the go, you will have to think about your battery life at all times. Betting sites, and especially betting apps, can drain a lot of your battery quickly, so make sure that it's full before leaving the house. You should carry a power bank just in case.
Conclusion
Mobile betting in Canada is at an all-time high. More and more betting operators are developing mobile apps and improving their mobile sites, meaning the options are plentiful. Of course, there are still operators whose sites and apps are clearly better than the rest. We listed a few of them, and we hope that you take into consideration our recommendations.
Just remember to gamble responsibly. Good luck, and have fun!
Mobile Betting FAQ