eSports Betting - Best #5 Sites for Canada [ 2023 ]
Gone are the days when as a sports bettor, your only option was to bet on sports being played in real life. Nowadays, the world of eSports betting is big business, and not just for those involved as professional competitors, oh no.
Over the last few years, eSports has steadily worked its way into the sports betting arena. bettors can get in on the action. Does this mean that you can now bet on the outcome of eSports events, such as two competitors playing each other on FIFA? It might sound crazy, but such is the modern betting world.
In this article, we're going to look at eSports betting. What is it? What eSports can you bet on? What eSports betting markets are there? What Canadian bookmakers offer eSports? We'll answer these questions and more below.
What are eSports?
First things first, let's start with the basics, what are eSports? For starters, eSports is short for electronic sports.
For those who don't know, an eSport is a multiplayer video game that is played professionally in front of spectators both in person and via streams around the globe. Due to the fact that they're competitive, contain certain variables, and of course, end in a result, eSports can be bet on.
Players play individually or as teams and compete against others to progress in various leagues or win tournaments. It's not just a niche thing, either. In 2021, the estimated value of the eSports market stood at 1.22 billion USD.
Types of eSports
Right, let's take a look at the eSports that have become popular among bettors. You will find that the following eSports are frequently listed on sports betting sites like Bodog or BetOnline.
FIFA
One of the most popular video games on the planet, FIFA is big in the world of eSports too. Players play individually or in teams. Bettors can bet on which player/team will win, who will score the most goals, plus, there are typical soccer-type bets such as 'Over 2.5 Goals', 'Both Teams to Score' and 'Asian Handicap.'
League of Legends
For those who don't know, League of Legends, or LOL as it's commonly referred to in the eSports betting world, is a multiplayer online battle arena video game where players play in teams and compete against each other. There are lots of characters to choose from, and endless fun can be had.
Sports bettors can bet on LOL too. Each game or battle allows for a multitude of bets, and you can place bets such as 'to Win,' 'Match Handicap,' 'Total Maps,' 'First Blood,' and 'Kill Handicap.' There's also live betting too, so you can watch and bet as the action unfolds.
CS:GO
CS:GO or Counter-Strike: Global Offensive, to give it its proper name, is arguably the most popular eSport. Played globally, CS:GO is a tactical first-person shooting game and is the fourth in the hugely played Counter-Strike franchise.
If you want to bet on CS:GO, you have options to bet on which player/team will win, plus there are other bets such as 'Match Handicap,' 'Total Rounds,' and 'Rounds Handicap.'
NBA2K
Popular among video game players in Canada, NBA2K, which is a basketball game, is now in the eSports space. Popular eSports teams/players play their favourite basketball teams against each other, and bettors can make typical basketball-type wagers.
If you're betting on NBA2K, you can bet on which eSports team or player will win and how many points will be scored, while you can bet on the points spread too.
Rocket League
Rocket League is a vehicular soccer video game where players essentially play soccer with cool-looking cards. I know, it seems kind of crazy, right, but it's a thing, and it's hugely popular.
eSports players generally play Rocket League in teams, and each match can be wagered on by eSports bettors. Typically, you can bet on which team will win the match, plus you can also bet on things such as 'Match Handicap' and 'Correct Score.' It's much the same as betting on a regular soccer match, minus the flying cars and funky graphics.
Call of Duty
Arguably the most well-known first-person shooter franchise on the video game market, Call of Duty is another game that has entered the eSports space. Professional eSports players play as individuals or teams in game modes such as 'Team Deathmatch.'
The games are then streamed, and sports bettors can bet on who wins, what the score will be, the number of kills etc.
Starcraft: Brood War
Anyone who's been on the internet in the last two decades has probably heard of Starcraft. For those who have not, Starcraft is a real-time science fiction strategy game, and Brood War is the latest instalment.
Players can play individually or as teams, and eSports bettors can place wagers on who will win each match. Bets such as 'Map 1 Winner' and 'Correct Map Score' are also available.
Valorant
Valorant is another popular first-person shooter game. It's essentially a five-vs-five character-based tactical FPS. Players can choose from different agents, each of which has different capabilities and skills.
The best eSports teams play Valorant against each other, and sports bettors can cut themselves a slice of the action by wagering. Typical bets include betting on a team to win, while there are also markets such as 'Match Handicap' and 'Total Maps.'
Dota 2
If you've ever done any sort of online battle arena gaming, then you're probably familiar with Dota 2, which is the sequel to the hugely popular Defense of the Ancients. For those unaware, Dota 2 is a multiplayer battle arena game played online.
eSports players play in five-vs-five teams. Bettors can then place wagers on the Dota 2 matches, betting on things such as who will win, the correct score, the winner of a certain map, which team will strike first blood and total kills. Dota 2 is one of the eSports with the biggest variety in terms of available betting markets.
Best Canadian Bookmakers for eSports
We've compiled a list of the five best Canadian bookmakers for eSports betting. Below you will find everything you need to know about eSports betting at these Canadian eSportsbooks.
#1 Bodog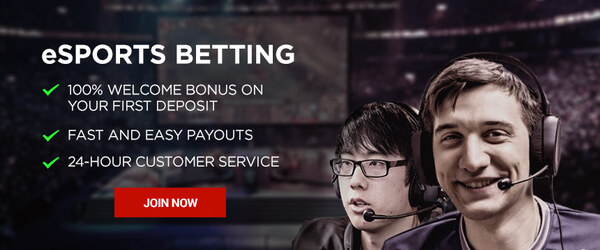 A big dog in the sports betting fight, Bodog was never going to be caught sleeping when it came to eSports. Of course, there's eSports betting at Bodog, and there's plenty to choose from too.
Before we get into what eSports Bodog offers, to find the eSports section from the homepage, you merely need to select the eSports A-Z menu from the sports menu.
Visiting the main section will show all of the eSports that can be bet on, which include the following:
Dota 2
League of Legends
FIFA
Rainbow Six Siege
Valorant
CS:GO
Call of Duty
If you're looking to bet on a big eSports competition, then Bodog will offer odds. You can bet on competitions such as the CS:GO Blast Premier Spring, the LCK Spring in League of Legends, or the Dota Pro Circuit Division I.
#2 BetOnline eSportsbook
One of the most well-known and trusted sports betting providers available to Canadian bettors, BetOnline offers nothing short of an excellent eSports betting package.
In the eSports section, you can bet on a variety of eSports, such as NBA2K and FIFA. See below for the full list of eSports that can be bet on at BetOnline:
CS:GO
League of Legends
Dota 2
Valorant
Rainbow Six
Rocket League
Age of Empires
FIFA
NBA2K
There's live eSports betting, a list of today's events, early markets, and future bets. All of these can be accessed from the menu at the top of the primary eSports betting section. This is where you can see eSports results also.
Depending on the importance or the magnitude of the eSports fixture, there will be only a few markets available. Still, if we're talking about something like CS:GO, then there can sometimes be over 100 betting markets to choose from per match.
To locate the eSports betting section, all you need to do is find 'ESPORTS' from the customary menu that runs along the top of the homepage. From here, you will find everything available for betting, from in-play events to upcoming action.
From the list of fixtures, you'll be able to make quick selections for markets such as 'to Win,' 'Spread,' and 'Over/Under,' or you can click on your chosen fixture to peruse the full selection of odds and betting markets.
eSports bettors can also stream some of the action via Twitch, which is available through BetOnline, so you can place a bet and view it without leaving the site.
Bodog tends to offer a rather sizable market selection, too, especially if we're talking about the likes of Dota 2 or League of Legends. Simply click on a match to see what markets there are available, but you won't be disappointed if you're after the usual stuff. It is worth noting that in some of the less popular eSports, the market selection isn't great, but that's sort of the same anywhere.
#3 Betway Sports
Unsurprisingly, eSports betting is big business at Betway Sports, so if you're looking to bolster your betting options, this is certainly an option. It's probably a must if you're looking to bet on multiple eSports, as Betway Sports offer a great selection.
As mentioned above, there are lots of eSports that can be bet on at Betway Sports, including some that other operators don't really offer.
These are the following eSports that bettors can place wagers on at Betway Sports:
CS:GO
League of Legends
Dota 2
Valorant
Call of Duty
Rainbow Six
Starcraft 2
Rocket League
Arena of Valor
Age of Empires II
Apex Legends
Free Fire
WarCraft III
Finding the eSports page at Betway is really simple. All you need to do is use the 'All Sports' menu on the left of the main page and scroll down until you hit 'eSports.' This takes you to the main eSports page, where you will find upcoming events listed first in order of popularity, then in order of start time.
What's good here is that if you select 'All eSports' from the top of the page, you'll see everything broken down into individual eSports. So, for example, if you're looking for Dota 2 betting, you can find it this way. Clicking on each eSports will show the games/matches/events within that sport that are available to bettors.
There are plenty of markets on offer, too, especially for the big eSports, such as League of Legends. You have the traditional 'to Win' betting, plus loads of map-related markets like ' Map 1 Total Team B Kills' or 'Map 1 Total Towers Destroyed'.
The in-play offerings aren't too skimpy, either. From the main eSports page, you'll find 'Live Now' situated at the top. Click here to see what live bets are available.
#4 William Hill Canada
William Hill is a big name in the betting world, so you would expect them to offer plenty when it comes to eSports betting. Fortunately, what's available does not disappoint.
First things first, the eSports section is easy to find. From the homepage, simply scroll down the sports menu located on the left-hand side until you arrive at 'eSports,' clicking on which will open the eSports page. Here you will find what you can bet on.
On the eSports page, the upcoming action will be sorted in time order, so if you want to bet on something that isn't happening right now, but starts soon or in a few days, simply scroll down until you find what you're looking for.
So what eSports can you bet on at William Hill Canada? Good question, to which the answer is many. You can place bets on all the popular eSports, plus some extra ones.
Here is the full list of eSports available at William Hill Canada:
FIFA
League of Legends
Dota 2
Rocket League
Overwatch League
Counter-Strike: Global Offensive
Starcraft II
Call of Duty
There are lots of markets to be bet on at William Hill Canada too. If you're talking CS:GO or Call of Duty, then you can bet on which team will win the match, in other words, who will end the match with the most kills. There's also objective betting too, with markets such as 'Map Winner,' which is where you bet on the winner of a particular map.
If we're talking League of Legends, you can bet on all the usual markets, including 'First Baron or Dragon,' which is where you bet on which player or team will be the first to kill one of the computer-controlled characters.
At the bottom of the main eSports page, you will find some helpful eSports betting information. Such info is ideal if you're new to eSports betting or if you want to find out more about what William Hill Canada has to offer in that respect.
Bet on eSports at William Hill
#5 Sports Interaction eSportsbook
Sports Interaction offers players a classy interface and a stylish design, so it's always pleasing to the eye to bet there. The question is, do they cover eSports? You bet they do.
However, while there is eSports betting at Sports Interaction, they don't offer as much variety as other sportsbooks. You can't be on as many eSports, while the market variety isn't as wide either.
Currently, Sports Interaction only offers odds on Counter-Strike: Global Offensive and League of Legends, though they do allow bettors to be on other eSports such as FIFA and Dota 2 when there are big events.
If you are interested in something like CS:GO then Sports Interaction is worth checking out. As touched on above, the site is really cool, well designed and easy to use, plus the odds are certainly competitive. eSports bettors can also take advantage of a more than-standard welcome offer which provides a welcome bonus of up to $1000.
To find eSports betting at Sports Interaction, simply use the brightly coloured sports menu on the left-hand side of the homepage.
Bet on eSports at Sports Interaction
eSports Betting FAQ