Online Betting Trends in 2022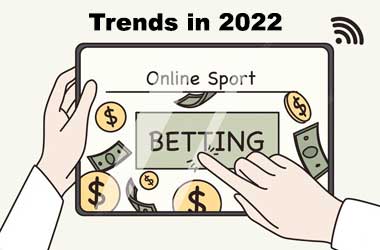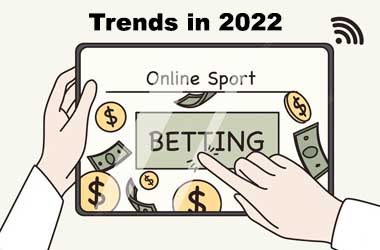 The online betting industry is growing so fast that players can't keep up with innovations and new opportunities. And do you know the best part? Canada doesn't want to be left behind and keeps making online gambling sites a safe place for players, and it constantly brings fresh trends to its audience.
With the rise of the digital world, people spend more time on their phones and expect other industries to keep up with demand. Today, online betting sites introduce changes to allure more players and guarantee they have a fun and unforgettable online experience. They have multiple innovations, but they also upgrade their security measures and bring new responsible gambling tools for players.
As the competition increases, online bookmakers must develop something unique to distinguish them from competitors. According to Google searches, people accessed online betting sites like never before during and after the pandemic. Now is the time to invest in new gambling trends and earn online users.
What online betting trends can Canadian players expect in 2022?
1. VR and AR Games for Players
VR and AR technologies are expected to grow in demand quickly as cryptocurrency did. Today, many apps have already introduced the advantages of virtual and augmented reality, and the volume of games available on the market is increasing fast. Of course, it's a matter of time before online gambling sites will start developing their VR and AR games.
Net Entertainment recently provided a demo version of their Jackpot and Beanstalk slot machine, and players are demanding more! Casinos start with small features like gesture imitations or 3D avatar live interactions and expect to invest millions in the development of entirely immersive games.
The only setback is the price of VR and AR equipment. Not everyone has enough money to buy accessories, but players should expect a new rise in low-budget equipment available soon.
2. Options to Bet and Play with Cryptocurrencies
Cryptocurrencies have become more accessible to everyone, and gambling sites are no exception. The most popular ones are Bitcoin and Ethereum, but some sites accept other small cryptocurrencies. If a year ago the only option for players were debit cards and some e-Wallets, today the betting industry allows users to deposit, bet and withdraw using crypto like bitcoins.
The advantages of this option can't be denied. Players can join an online sportsbook and not worry about security or anonymity. One of the major problems bookmakers will encounter is related to government policies. While crypto has been on the market for years, it is still considered an innovation, and people don't know how to handle it. Currently, bookmakers take advantage of this fact and introduce crypto without any problems, but things can change drastically.
Let's not worry about the future and keep using cryptocurrency for its maximum security and almost non-existent fees. As businesses and states introduce more ways to pay with crypto, online betting sites should keep up with digitalization and offer more payment options for users' convenience.
3. Innovations for Mobile Betting
We can't deny one fact – people can't go a day without their smartphones. The most popular betting sites in Canada offer apps and games from top software providers to ensure you can access them anytime and anywhere. There is no more searching for an open land-based casino. You can open it at lunchtime, have fun in a traffic jam or in the supermarket queue.
This year, game providers are coming up with new and upgraded apps for all players who want to have fun. Even more, with the rise of online sports betting, placing a bet on the go is the most convenient method. You can access it anytime, watch the match live, or bet on hockey without hassle.
4. Smart Watches Are on the Rise
While smartwatches today have almost the same features as smartphones, it's easy to understand why people would find them more enticing and entertaining. If you think a phone is easily accessible and convenient, wait for the possibilities, a smartwatch can bring to the table. Playtech, one of the best game providers in the industry, is already offering slot games for Apple Watch, and others are following their developments.
The only downside for the gaming industry is that smartwatches come with individual features and designs, making the games hard to improve. Players will need time to find these innovations appealing and use them more frequently. Still, the major software providers will work on smartwatch games and give their clients new opportunities.
5. Land-Based Casinos Lose Their Appeal
There are so many online casinos in Canada that it would take us a day to write them all down for you. It means that players have a great selection, thousands of games, and endless payment options. With advantages like these, who would find land-based casinos appealing?
Of course, Las Vegas and Atlantic City will never decrease in popularity. But very few people can afford to spend so much on several hours of entertainment. Land-based casinos are expensive, and they require commuting. What if you want to play right here and right now?
The land-based casinos will slowly disappear as people are more invested in playing online. Playing online is better because you can save time and money and have more entertainment.
6. Upgraded Tools for Safe Gambling
Safe gambling has become a top priority for online bookmakers, especially after many countries introduced strict laws regarding this issue. Online betting sites can't operate if they don't offer players safe gambling tools to prevent addiction.
The new trend is for online bookmakers to predict players' behaviour and notify them differently about safe gambling. For example, users don't need to contact customer support to opt for one of the tools like self-exclusion or time-out. A window will pop up and advise players to take a break because they have been playing for too long. This is an excellent opportunity for online sportsbooks to show the government that they care about their clients and don't want to be the reason for developing any gambling addiction.
7. Micro Betting
If sports betting is your area of expertise, you should pay close attention to micro-betting. Because AI technologies control the odds for micro betting, developing this tool is costly for companies. Some of them are introducing micro-betting, such as betting for the player who will get the red card or will score a goal next.
This is a great opportunity for players to take some money home and micro-betting seems like an exciting innovation for the sports betting industry.
8. Entertainment Companies Want to Enter the Market
If you are an active user of Amazon, Disney, and Netflix, you will be thrilled to know they started developing online games based on movies and TV show scenarios. Amazon already streams live sports events, and people predict that betting is not far off the line. We can only hope that players will get new opportunities with these companies' capital for investment.
9. Improved Apps and Games
Online casinos and their game providers will never stop improving and developing new games for players. They keep updating the software with new features and implementing innovations to table games, slots, online dealer tables, and many more.
The priority is to make all the games available on the smartphone, saving their high-quality resolution. Casinos want to make the registration process easier and faster while keeping their players' security. On top of that, online casinos strive to bring a bigger selection of games, so users don't get bored and keep playing for longer. That's terrific news for gaming enthusiasts – casinos will never stop improving and creating more opportunities for convenience.
Canadian Betting Sites 2022
Conclusion
It goes without saying that there are endless online betting trends in 2022. The online casino industry will never lose its appeal to people searching for ways to entertain themselves. Today, casinos think about their clients more than usual. They try to anticipate their needs, create a safe gambling environment, and improve games and services daily.
With the rise of new technologies, there would never be a better time to keep up with the demand and offer more ways of entertainment. However, players should not expect big innovations so fast. Developing and integrating new technologies is costly and time-consuming. They have to be tested and only afterward introduced to bettors. It may take several months and years for top-notch advancements, and the audience has to be patient.
Our advice is to enjoy the gaming experience at the moment and always embrace new opportunities!