Nunavut Sports Betting Sites [ 2023 ]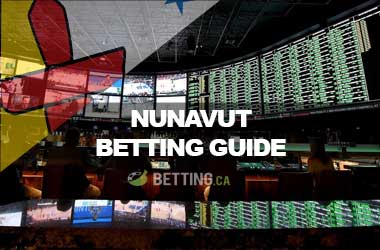 Nunavut is the newest, largest, and northernmost territory of Canada. It was declared as a province when it was officially separated from the Northwest Territories on April 1st, 1999. And even though Nunavut is the largest Canadian province it is the second least populated province in Canada. In fact, it is one of the most remote territories not just in Canada, but in the world as a whole.
This is why it is very difficult for gamblers who live there to find gambling and betting options. They have an option to choose from the state-run paper-based sports betting and lottery games or the very few establishments which offer Video Lottery Terminals (VLTs).
Recommended Canadian Sports Betting Sites In Nunavut
There are no licensed or regulated online sports betting sites in Nunavut, but that doesn't mean there aren't any good options available to residents of the territory. Several offshore sportsbooks cater to Canadian bettors, and we've compiled a list of the best ones here.
These sportsbooks are all fully licensed and regulated by respected gambling jurisdictions, and they all offer a great selection of betting markets on a wide range of sports. You can also take advantage of some generous welcome bonuses when you sign up, so check them out.
These are our top recommendations if you're looking for somewhere to bet on sports in Nunavut.
That is the reason why online betting websites such as Bodog, Bet365, William Hill and others are in such high demand among Nunavut residents.
Sports Betting in Nunavut
Sports betting in the region of Nunavut is conducted and organized by the
Western Canada Lottery Corporation (WCLC)
. The WCLC is a non-profit organization which has lottery and gaming activities in its portfolio and it conducts business in many Canadian provinces including Nunavut.
It offers its customers several types of sports betting and all of them have to be parleys, meaning that the betting enthusiast has to combine at least two sports events on his ticket.
In addition, just like in all Canadian provinces, betting on single events is strictly forbidden and if residents in Nunavut like to bet on single sports events they will have to do their business with some of the online bookmakers.
All sports betting games in Nunavut are offered through the Northwest Territories Sport and Recreation Council as an authorized representative of WCLC for Nunavut and the Northwest Territories.
Pro-Line
Pro-Line is a type of game in which the punter must choose 3 to 6 sporting events. He wins when all 3 to 6 outcomes are correct. The minimum wager for a Pro-Line ticket is $2 and the maximum is $100.
Point-Spread
The second type of sports betting game that the WCLC offers is the Point-Spread. This is a game in which the WCLC handicapped one of the teams so that the odds for a home or away win are the same.
The punter must choose a minimum of 2 games, which means that there is an option to make a ticket where you will include 2 to 12 games. The sports included in the Point-spread offer are professional and college basketball, professional and college football, hockey and baseball.
Pro-Picks Pools
Pro-Picks Pools is a match-up selection ticket in which the punter must choose and predict the winner of each event. There is a special betting prediction card provided by the WCLC for the purpose of this game.
In the card, there are daily games from individual leagues included. For example, the 2016 NFL Week 11 card was made up of 13 games whose scores were predicted correctly by 110 people playing with the WCLC. This meant that all players who got their predictions right divided the winnings and each person won $2,463.
One Pro-Picks card costs $5 to purchase. However, it must be noted that because the pool for paying out winning wagers is 60% of the total wagers made, the betting organizer, in this case, the WCLC, always makes a healthy profit of 40% at the expense of players.
Pro-Picks Props
Unlike the Pro-Picks Pools, the Pro-Picks Props is an odds-based sport betting game in which betting enthusiasts bet on 3 to 6 teams or players and their selected props. The minimum wager on Pro-Picks Props is $2 and the maximum is $100.
Online Sportsbooks in Nunavut
Online sportsbooks and bookmakers are extremely popular with people living in Nunavut. This is because these offshore-based betting providers offer much better odds when compared to WCLC's offer.
In addition, online betting websites such as Bet365, Bodog and Pinnacle have an almost limitless number of matches, events and betting promotions in their offer. And on top of that, they offer the much-desired single-event betting to Canadian punters.
Nunavut Gambling Laws
All betting and gaming activities in Nunavut are regulated by the provincial government of Nunavut. Consumer Affairs is one of the bodies which is most responsible for following how well gaming laws in the province are implemented.
Consumer Affairs assists the Nunavut communities and members of the general public with concerns they encounter in the area of consumer services.
Licensing Authorities in Nunavut
In addition to getting feedback regarding regulation, Consumer Affairs is also responsible for the licensing of gaming activities, especially for places and locations where licensing cannot be done in any other way.
As it says on their website, Nunavut lottery licenses are required for events such as bingos, raffles, casinos and poker occurring in the province. Consumer Affairs is also responsible for the successful implementation of the Nunavut Lottery Act and Regulations.
Population of Nunavut
As we stated at the start of this piece, Nunavut is the largest in the area and the second least populous of Canada's provinces and territories. It has a population of 35,944, mostly Inuit people, and is one of the most remote regions in the world. Its capital, Iqaluit, is only home to around 7,000 residents.
Offline Betting Venues in Nunavut
The offer of offline betting venues in Nunavut is extremely limited. For example, there are only two lottery retail outlets which are listed on the NWT and Nunavut website in the capital of Nunavut.
In addition, since liquor is prohibited in most of the province, there are almost no liquor establishments in which VLTs could be operated, which further limits the gambling offer for people in Nunavut.
There are Texas Hold'em poker tournaments being played from time to time as well as Nunavut Texas Hold'em poker tournaments and for these, there is an application form to be filled out and terms and conditions to be met. The application form and the terms and conditions are issued by the local government and the Consumer Affairs service.
In addition, to poker tournaments there is also charitable lottery gambling in the province and licenses for these events can also be obtained through Nunavut's Consumer Affairs service.
Conclusion about Nunavut Sports Betting
Since Nunavut is one of the most remote and scarcely populated regions in the world, betting and gambling is not the local government's priorities there. There are very few betting and gambling venues and almost no establishments with Video Lottery Terminals.
However, even with this limited offer for gambling, people in Nunavut have found ways to keep themselves entertained by visiting online sportsbooks. The higher odds, bigger payouts and the much bigger betting offer are an additional motive for the mostly home-dwelling residents of this northernmost Canadian province to visit online betting providers.