Alberta Sports Betting Sites [ 2023 ]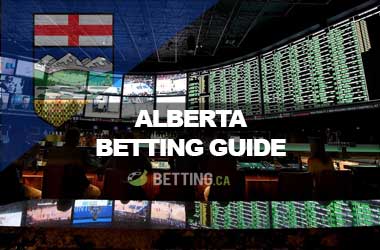 Over four million people live in Alberta, of which many are sports fans hungry for sports betting. It's also the home to some major sports teams that have had great success like the Calgary Flames and Edmonton Oilers.
Where there is sports success, there are more sports fans, which in turn causes an increase in sports betting.
It was estimated that in 2015 over $25 billion was spent in Alberta on gambling and betting, which contributed to a $1.2 billion government revenue and $909 million in 2016.
All of that made the Alberta Gaming & Liquor Commission look into new possibilities, such as adding a government-run Internet betting site, which could add a lot more to those numbers.
Best Sports Betting Sites in Alberta, Canada
To help you find the best sports betting site for your needs, we have compiled a list of the top sports betting sites available to Alberta residents. We have considered a range of factors, including odds, markets, customer service, and more.
So, without further ado, here are the best sports betting sites in Alberta, Canada:
Sports Betting in Alberta
Albertans are hardworking people and they love to spend their money how they see fit. There are several opportunities to place bets regulated and overseen by the
Western Canada Lottery Corporation
and the
Alberta Gaming & Liquor Commission
. Everything that is offline has to run through the WCLC.
The most popular betting products are those known as Sport Select. These are Proline, Pools and Point Spread. Below is an explanation for all three products and what they include.
Proline
Proline betting is the most popular product. A Proline bet has to be with at least 3 and at most 6 selections, which works as a Parlay bet. This means that you have to make a correct guess for each selection if you want your ticket to win. There are several outcomes you can bet on: H+, H, T, V, and V+. Available are also over/under. Just like with Parley bets, the odds for all selections are combined together with multiplication and you get paid based on the overall odds. Most Canadian sports bettors get into betting through Proline in their local convenience stores and mostly bet on the NHL.
Point Spread
The second most popular betting option is Point Spread betting, which is similar to Proline only that the selections don't have separate odds associated with them. You have to pick either side of the spread. Allowed are between 2 and 12 games. The more picks the higher the multiplier.
Pools
With Pools you have the opportunity for big money wins. It's a straightforward betting option where you can just pick the winner without getting distracted by point spreads or odds. Pools betting works similarly to how casino progressive jackpots are won. With each Pools ticket acquisition, a percentage of the price goes into the pot. If you manage to hit the most correct winners, you get the entire pot, which sometimes can be huge.
Alberta Betting
Additionally, the citizens of Alberta have lots of Canadian and off-shore sports betting operators at their disposal that operate online. They say that the grass is much greener online, which is why every Canadian that has bet on Proline, Point Spread or Pools ultimately has gone online. Although there are Canadian online sports betting sites, none of them are regulated or licensed in Alberta. However, they all come from licensing jurisdictions recognized by the province.
Gambling Laws in Alberta
Gambling in Alberta has a long tradition. The first casino that opened dates back to 1967. It was a charitable casino and ran during the Edmonton annual fair. The first real casino was opened in 1980 in Calgary. In 1981 the second casino opened near Edmonton. While today, Alberta is the home to over a dozen land casinos.
Albertans are not persecuted when they try to bet online because there are no laws that will prohibit them from betting over the Internet. On top of that, they are not required to pay tax on their winnings generated at an off-shore betting website.
However, it is illegal to start a betting or gambling operation without acquiring a license from the Alberta Gaming & Liquor Commission. In general, Alberta is considered the best example and pioneer in turning what is considered a social vice into a steady revenue stream for the province.
Licensing Authorities in Alberta
The agency responsible for licensing casino and sports betting operators is the Alberta Gaming & Liquor Commission. This agency licenses and works closely with all gaming facilities and ensures compliance with the regulations and gaming policy of the Government of Alberta.
Population of Alberta
According to the last census in 2011, Alberta has a population total of 3,654,257. With the 2016 estimates, this number has been estimated to be 4,231,959. It's the 4th biggest province based on population with a density of 5.7 people per kilometre square. Alberta is ethnically one of the most diverse regions in North America. There are English, German, Canadian, Scottish, Irish, French, Chinese, Norwegian, North American Indian, Polish, Dutch and even Ukrainian ethnic groups. The Canadian ethnic group is the third biggest according to the 2006 census.
Offline Betting Venues in Alberta
There are more than a dozen offline operators in Alberta where you can play casino games or bet on sports. The most numerous are the venues owned by the group called Century Casinos, Inc. However, the biggest venue is the River Cree Resort and Casino with more than 1,000 gaming machines and 50 tables. Other popular venues are:
Stoney Nakoda Resort and Casino (250 machines, off-track betting, table games)
Casino Dene (250 machines, 9 tables)
Century Down Casino and Racetrack (500 machines, lottery games, off-track betting, horse racing)
Conclusion about Alberta Sports Betting
The gambling revenue in Alberta is probably the steadiest stream that the Government will get. Even when the province was in an economic downturn, gambling revenue was on the rise. Some have even reported that almost half of Alberta's revenue comes from gambling.
All of that is the result of a good regulation, which has made Alberta the gambling mecca for casino players and sports bettors. The availability is one of the biggest on the continent. Every citizen of Alberta can go to his nearest gas station or convenience store and wager on games. And, if they want better odds they can use the Sports Select products.