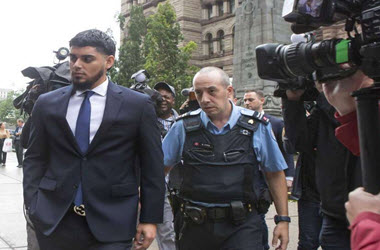 Roberto Osuna is free of the burden that has dogged the pitcher over the last year after the withdrawal of charges against him on Tuesday by the prosecution. The charges were withdrawn on the condition that Osuna agrees to continue to receive counselling and stay away from the mother of his child.
Catherine Mullaly, the provincial prosecutor, advised the court that the complainant in the case, Alejandra Roman Cota, was stated that she would not return to Toronto to testify on behalf of the crown in its proceedings against Roberto Osuna.
Based on that, Prosecutor Mullaly stated to Judge Melvyn Green that,
"The Crown does not have a reasonable prospect of conviction on this charge absent her testimony. Upon signing the recognizance, the Crown will withdraw the charge."
In May 2018, Osuna was charged by Metro Toronto Police with assault against Roman Cota, who is the mother of his son. Cota was in Toronto while visiting from Mexico when Osuna allegedly assaulted her.
Cota, who is in her 20's returned to her native Mexico after the alleged assault and refused to return to provide evidence. As she is from Mexico, prosecutors were unable to compel her to return and take the witness stand.
Ari Goldkind, a crininal lewgal expert explained to reporters after the dismissal of charges that,
"The presumption of innocence has never left him. He wears it right now, but there is a peace bond so let's keep it real for a moment. But if the young lady says, 'I want to continue with him, I don't want my family destroyed,' this is a case that would be done with the speaking in the courtroom and the courtroom says through the crown she doesn't want to cooperate, she wants to continue co-parenting with him and the crown, quite frankly, is somewhat duty-bound to respect her wishes given the nature of the charges."
Global News
Roman Cota spoke with Toronto Det. Vivian Meik and stated she did not have any fears for her safety and that she wanted to continue to have contact with co-parent her son with Osuna. During the proceedings, Osuna acknowledged the terms of his peace bond but made no comments. Instead, Goldkind stated he (Osuna) would make a statement at a later time.
The incident was one that caused a lot of problems for Osuna. The MLB suspended him for 75 games as being charged violated the league's domestic violence policy. It also saw the Blue Jays trading him in July to the Houston Astros.
The peace bond that Osuna signed makes him obligated to continue with counselling. It also states he cannot have contact with Cota unless she provides written consent. Since the incident, Osuna has met counselling obligations set by Major League Baseball and also met with a psychotherapist privately in Toronto.
Domenic Basile, Osuna's lawyer, advised the court that by agreeing to the peace bond, his client was not admitting guilt and insisted from the beginning that he was not guilty. Basile added,
" He is content to enter into the peace bond (and) is aware of the conditions and will abide by the conditions."
Osuna continues to pitch for Houston and is doing all he can to rebuild his career after an incident that many presumed he was guilty of, even though guilt had not been proven. Punters looking to support Osuna and place bets on the Houston Astros can do so with any of our recommended baseball betting sites such as bet365. Register today and qualify for up to a $200 sign-up bonus. Then enjoy a steady stream of regular promotions geared towards major league baseball and other sports. Why wait, register today!