Andre De Grasse Becomes 1st Diamond League Champ Since 2011 For Canada
Summary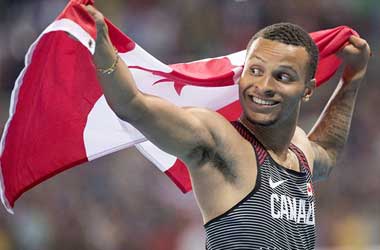 Andre De Grasse won gold for Canada at the Prefontaine Classic
De Grasse became the first Diamond League champ for Canada since 2011
Marco Arop and Sarah Mitton won silver for Canada in the 800m and shot put events
Canadian athletes had a good run over the weekend at the Prefontaine Classic in Eugene, Oregon as Andre De Grasse, Marco Arop and Sarah Mitton put in some fantastic performances in their respective events.
Andre De Grasse Wins 200m Gold For Canada
Canadian fans were not expecting an outstanding performance from Andre De Grasse who is from Markham, Ontario. De Grasse who is the currently Olympic champ in the 200m race hasn't looked great all season and could only manage 6th place in the recent World Championships that took place in August.
However, De Grasse put in a spectacular performance and ended up taking first place with a time of 19.76 to win gold. Kenny Bednarek took second place with 19.95 and Erriyon Knighton came in third with 19.97 to win silver and bronze for the U.S. Aaron Brown who hails from Toronto finished in 6th place with a 20.23 time.
In an interview, De Grasse said
Next year's a big year obviously with the Olympics, so I wanted to try to just give it all to try to see where I'm at going into next season. For me, it's really just staying healthy. I know what I'm capable of if I'm healthy. Obviously I had some challenges this year with my health, and just trying to get back into my fitness and my speed. I see it coming back now.
De Grasse has struggled in the past after going through COVID-19 and then dealing with an injury to his toe. He was very pleased with his performance after learning that he was the first Diamond League champion for Canada since 2011. The last Diamond League champion for Canada was Dylan Armstrong who won the shot put event.
Marco Arop and Sarah Mitton Win Silver For Canada
Marco Arop for Edmonton created a new personal record in the 800m as he finished in second place at 1m 42:85 to win a silver medal. Sarah Mitton also did well in the shot put and finished in second place to win silver.
This was the second consecutive year that Canada has won three medals at the Diamond League Final.