Andre De Grasse Sets His Sights On Canadian 100m Record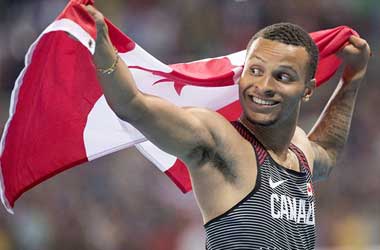 Canadian sprinter Andre De Grasse has been one of the hottest prospects for a number of years and was expected to be the man who took over once Usain Bolt walked into the sunset.
De Grasse was expected to compete with Bolt during his final race at the World Championships in London but was forced to pull out due to a Grade 2 hamstring injury that ruled him out and threatened his career.
De Grasse will never have the satisfaction of beating his idol as Bolt has since retired and it will now be up to the Canadian to see if he can beat Bolt's records going forward. The good thing for De Grasse is that the next World Championships take place only in 2019, giving him enough time to recover and prepare to become the 'fastest man on the planet'.
The 22 year old track star has a massive following in Canada and knows that thousands of young Canadians not only look up to him but also inspire to be like him. While he would love to bring the title of being the 'fastest man on the planet' to Canada, he knows that he first needs to take small steps before looking to bag that illustrious title.
De Grasse has set his sights on breaking the Canadian 100m record when the North American, Central American and Caribbean (NACAC) championships take place in Toronto in 2018. De Grasse is currently promoting the NACAC across the country and will start to prepare for the race well in advance. The Canadian sprinter has confirmed that he will not take part in the World Indoor Championships which take place in March 2018 and will his first event in 2018 will most likely be the Commonwealth Games in Australia which takes place in April.
The current Canadian 100m sprint record is held by Donovan Bailey who won in 9.84 seconds to take the gold medal at the 1996 Atlanta Olympics. De Grasse finished in third place at the 2016 Rio Olympics and knows that he needs to work on his start if he is to break the Canadian record.
In a statement, De Grasse said
I did a good job at a couple meets last year on my starts so just trying to be more consistent. My transition phase is getting good, my finish is strong so just trying to work on that first 30 meters.