Canada Men's Basketball Team Qualify For 2024 Paris Olympics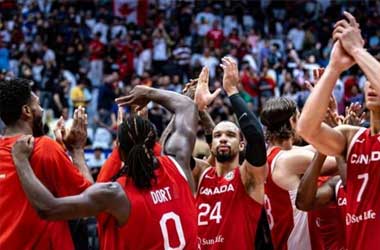 Summary
Canada beat Spain 88-85 to reach the quarter-finals of the 2023 FIBA World Cup
Their win against Spain helped them qualify for the 2024 Paris Olympics
Shai Gilgeous-Alexander was outstanding for Canada scoring 30 points
Basketball bettors in Canada were thrilled on Sunday night when Canada pulled of an epic win over Spain at the 2023 FIBA World Cup.
The two sides were battling it out for a place in the quarter-finals and both teams gave it everything right till the very end.
Canada Pull Off Nail Biting Win Against Spain
Canadian and Spanish basketball fans could not have asked for a more exciting game at both sides gave nothing away right till the very end. However, it was Team Canada that held their nerve under tremendous pressure and pulled off an amazing 88-85 win to advance to the quarter-finals of the 2023 FIBA World Cup.
Shai Gilgeous-Alexander put in an excellent performance for Canada and ended up scoring 30 points. The 25 year old who plays for Oklahoma City Thunder was in top form at the free throw line getting 14 out of 16 right. He also finished the game with 7 assists and 4 rebounds and was so impressive that Canadian fans kept chanting MVP for Gilgeous-Alexander.
Canada was down 12 points in the 4th and final quarter and it looked like Spain could pull away and win the game. However, Canada got their act together both in defence and offense and raised their game under pressure which proved to be just a little bit too much for Spain.
Canada will now advance to the quarter-finals and take on Slovenia on 06 September. This will be an even bigger challenge for Canada as Slovenia have the Luka Dončić in their squad.
Canada Back In The Olympics After 23 Years
This win was made all the more sweeter as it also ensured that Team Canada qualified for the 2024 Paris Olympics which runs from 24 July to 11 August for the first time since the 2000 Sydney Games.
In a statement, Gilgeous-Alexander said
We're a part of history. It's something that's almost indescribable. So many people along the way have put in so much work for this program and having the opportunity to do so, we want to thank them and also represent them when we go, and in the rest of this tournament.