Match-Fixing in Sports Betting: Myth or Reality?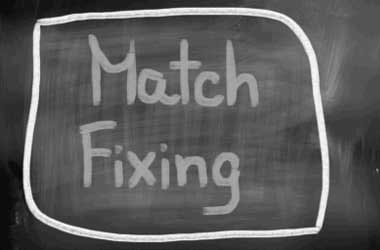 Match fixing is often thrown about in sports betting circles. Spend time around sports bettors, and you'll often hear somebody say something like, "the game was fixed," or "it's clearly match-fixing."
The question is, does match fixing really go on? The simple answer is yes. Match fixing is a thing, and it has and does happen. Over the years, there have been numerous cases of match-fixing across several sports.
In this article, we take a look at exactly what match-fixing is and go over some real-life cases of match-fixing.
What is match-fixing?
OK, so what is match-fixing? Essentially, match fixing is the action of pre-determining the result of a match or sporting fixture for financial gain.
In other words, before the event, players or officials agree to do something in order to fix the result. Why would this happen? So that somebody knows what's going to happen before the event occurs. They are thus able to bet on the outcome knowing full well what's going to happen.
But why would players or officials in any sport agree to match-fixing? I hear you ask. Well, that's a very good question, to which the only answer is financial gain. The only reason why players or officials would agree to partake in match-fixing is that they've been paid to do so.
Does match fixing take place regularly?
There are often reports of match-fixing, many of which are proven to be both true and false, across many of the world's minor sporting leagues. This is partly because it is much easier for those who wish to influence minor fixtures than it would be to fix major events.
However, match-fixing is absolutely not contained in lower-level sporting competition. Over the years, there have been several high-profile match-fixing scandals in several sports.
Best Sportsbooks to Bet Online
How does match-fixing work?
Match fixing can appear in many forms, and there are varying degrees of severity, but any type of match-fixing is a violation of the rules of any sport, while it can also be against the law.
How match-fixing happens can vary, it depends on the sport and what the fix is, but each time it involves a person or group inside the sport, whatever that may be, agreeing with a person or group on the outside to do something during a match/fixture/sporting event, so that both parties can profit.
Let's take a look at what match-fixing might look like. These examples are fictional but show how match-fixing may take place.
Let's say that a boxing match is due to take place. Prior to the fight, one boxer agrees with a third party to go down at a certain point, say the fourth round. The boxer does this for financial gain. The third-party organizing, or rather fixing this, does so in order to profit from betting on such an occurrence.
Another example would be a referee ahead of a soccer match agreeing with a third party to book a certain number of players. The referee agrees on this with a third party, and then the third party can bet accordingly.
It's easy to think that such scenarios are fictitious or that they may have happened years ago, but not in the modern world, though sadly, match-fixing still goes on. There have been many proven cases of match-fixing in the 21st century, some at the highest level of world sport.
What happens when match fixers are caught?
When match-fixing is proven, it's bad news for all involved. Firstly, it brings the sport into disrepute. Those responsible for match-fixing, especially on the inside, are punished, sometimes quite severely.
Match fixing in sports tends to be dealt with by the main individual governing bodies. For example, in the NBA, the Basketball Association of America is responsible for dealing with match-fixing. If there's match-fixing in European soccer, for instance, then UEFA will take care of it, or the governing body for the domestic league if the match concerned is a domestic fixture.
Back in 2006, there was a match-fixing scandal in Italy. Four clubs were involved, and the punishment saw one club relegated as a result, while the other three were all hit with a points deduction.
If a single player is found to be responsible for match-fixing, then they are often fined, suspended and, in some cases, even banned from competing for life.
Real-life match-fixing examples
As touched on above, there have been several cases of match-fixing over the years, some of which have been incredibly high profile.
Here are some notable match-fixing scandals from the world of sports:
2010 cricket scandal
One of the most high-profile cases of match-fixing came on the world cricket stage in 2010, and it involved players from the Pakistan national team.
Cricket is big business in Pakistan, but unfortunately, match fixing has often been a problem, perhaps because there aren't strict national laws prohibiting the act.
It was uncovered that a journalist, disguising himself as a bookmaker, successfully documented himself bribing three big-name players to fix a game. Salman Butt, who was the captain of the Pakistan cricket team at the time, alongside Mohammed Asif and Mohammed Amir.
As a result of their part played in the match-fixing scandal, the three cricketers were banned from the sport for varying lengths.
2009 European soccer match-fixing
In 2009, European soccer came under scrutiny when a betting conspiracy involving at least 200 people was uncovered.
It was concluded that organized criminal gangs were spearheading match-fixing that affected several European soccer leagues, as well as the prestigious UEFA Champions League and UEFA Europa League.
Reportedly, the match-fixing involved not only players but coaches and match officials such as referees.
2007 NBA scandal
Back in 2007, there was a match-fixing scandal in the NBA. The scandal involved referee Tim Donaghy, who started betting on basketball games that he was officiating.
It was reported that high-staking gamblers were informed of the bets that Donaghy was making. So they copied him, knowing that he was going to ensure that his own bets were successful given his position of officiating the games.
The scandal was so big that the FBI was alerted to the actions of Donaghy. Eventually, the referee was convicted of conspiracy to commit wire fraud and conspiracy to commit gambling information. As a result, he had to endure 15 months inside a federal prison.
Match fixing in the Canadian Soccer League
Canada's sports betting scene hasn't gone without cases of match-fixing, that's for sure. Back in 2012, broadcaster CBC unveiled a story that pointed the finger at a Canadian Soccer League player who allegedly accepted financial gain, in other words, took a bribe to fix a match.
Following investigations after the initial reports from CBC, it was found that the whole Canadian Soccer League had become corrupted, with suggestions that up to 42% of the games played during the 2009 campaign could've been fixed.
1919 Black Sox Scandal
One of the biggest match-fixing scandals of all time happened over a century ago, all the way back in 1919, when the Chicago White Sox got the nickname of the Black Sox because of allegations against some of their players.
After the MLB World Series in 1919, it was alleged that eight baseball players playing for the Chicago White Sox took money from gangsters to ensure that their team lost.
It was disputed for a long time whether the players actually went through with it or whether they simply lost the game anyway. They did lose, and although none of the eight accused were ever prosecuted by the law, they were all banned from baseball for life.
1993 Marseille bribery scandal
In 1993, the French soccer team Olympique de Marseille reached the final of the UEFA Champions League, Europe's premier knockout competition.
Before that game, Marseille president Bernard Tapie and general manager Jean-Pierre Bernes wanted their team to have an easy warm-up in their league match against Valenciennes, so they contacted players from the opposing team, proposing to pay if they made the game easy on Marseille.
Two opposing players accepted the bribe, but a third, Jacques Glassmann did not. Not only did Glassman refuse the bribe, but he revealed the goings on. Marseille ended up being stripped of their league title, while the four people involved in the bribing scandal were convicted of corruption. Jacques Glassmann, however, won the 1995 FIFA Fair Play Award.
Match-Fixing FAQ