Canadian Soccer League Betting Sites [ 2022 ]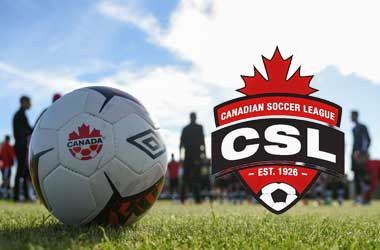 Soccer is a popular sport in Canada, and there are several leagues, such as the Canadian Soccer League, that prove how much residents of the Great White North adore this game.
If you consider yourself a sports fan and enjoy watching soccer, you can now make that activity even more exciting by betting on soccer matches.
In this comprehensive guide, we'll cover several things.
First, we'll show you some of Canada's best online sportsbooks and describe our selection process.
Moreover, we'll talk about CSL and soccer betting in general and cover popular betting markets for Canadian bettors.
Finally, we'll discuss the legal aspect of soccer betting in Canada and guide you through the betting process in online sportsbooks.
If you like soccer and are interested in betting on the popular sport (especially on CSL matches), please continue reading this article.
Our Top Recommended Canadian Soccer League Betting Sites

Dozens of sportsbooks offer soccer betting, but not all of them are good for you.
The majority of these sites aren't worth joining as they would not offer you a service worth your time and money. That's why we decided to do the grunt work and select suitable platforms for the Canadian market.
Please take a look at the list below and select a sportsbook that meets your needs. We placed each platform's welcome bonus next to it so that you can compare them as you scan the list.
If you're unsure which sportsbook you should join, make sure to read our guide and learn about our selection process.
How We Picked the Best Canadian Soccer League Betting Sites

Our list of the top Canadian Soccer League betting sites isn't random. Instead, our team of professional sports bettors analyzed a wide array of online bookies and created an assessment test to filter out the bad ones.
In other words, we carefully examined each sportsbook, its licences, odds, betting markets, bonuses, payment options and more, and ranked them afterwards.
In the end, we included the platforms that we consider best for betting on CSL.
Scroll down to find out how our selection process worked in detail.
Legality and Trustworthiness
Every online sportsbook needs to be licensed. However, only a handful of commissions are reputable and trustworthy enough to make a site worth visiting.
Several regulators, such as the UKGC, the MGA, Curacao and the Kahnawake Gaming Commission, proved reliable, so most platforms you can find on this page hold a licence from one of these organizations.
Here's the deal:
Licences aren't the only way to prove that a platform is fair and legal.
Namely, each of the sites we included is regularly checked by independent companies. They must undergo frequent auditing processes to ensure that they are fair and transparent.
Safety and Security
Being legal will not suffice if no security protocols are in place. Therefore, we ensured that the CSL betting sites highlighted on this page feature the best possible security, including
SSL encryption, KYC/AML procedures
and more.
Therefore, no matter which site you choose, you'll not have to worry about your sensitive data or money being stolen while making bets on the Canadian Soccer League.
CSL Betting Bonuses
Bonuses are an integral part of the online gambling industry. Many online sportsbooks in Canada offer all kinds of promotions to attract new bettors and retain regulars. However, some of the sites offer more competitive awards for newcomers than others.
We decided to rank sportsbooks based on their welcome bonuses, as we believe they can improve the overall betting experience for new users.
That's why we inspected free bet offers and other promotions that bettors get when they open accounts or make deposits.
Now:
We read the T&C section for every bonus we analyzed, as bonuses often have additional rules that can spoil the fun if you don't read them carefully.
Finally, we made sure that you can use your free bets for betting on the Canadian Soccer League.
Design, Interface, Experience
If you're new to online sports betting, you might not realize how important it is for an online sportsbook to get the design right. Small details in the interface could confuse newcomers and put them off, making them leave the site.
The user interface needs to be intuitive and beginner-friendly so that every newcomer could easily open an account, claim a bonus, and place a bet on the league they like — CSL in this case.
Not getting the interface right is one of the main reasons people avoid certain sportsbooks.
We're not saying that you'll like how every single platform presented in this article is laid out.
However, we created a stringent test and only included sites that ticked every box regarding design and interface. Still, it's up to you to choose the one that visually suits you.
Mobile Site and Apps for CSL Betting
Like it or not, the entire gambling industry is shifting to mobile devices. Opening a sports betting app or loading the site in a mobile browser is a much faster process than turning on your PC to place a bet.
CSL sportsbooks were quick to seize the opportunity and offer their services to Canadians who enjoy betting on the go.
Still, not every platform works well on phones and tablets, and we took it upon ourselves to test mobile soccer betting services.
Therefore, all platforms on this page ranked well for mobile CSL betting. However, not all of them have dedicated apps, so you'll have to access them via your mobile browser instead.
CSL Betting Markets
The Canadian Soccer League isn't as popular as MLS, let alone European or Southern American leagues.
Therefore, the number of betting markets for CSL might be smaller compared to the Champions League and other big competitions.
But there's some good news.
CSL is still soccer, and the vast majority of sportsbooks pay special attention to the world's most popular sport.
That's why you'll still find plenty of betting markets in many online sportsbooks, even if you bet on CSL. We'll discuss popular CSL bets a bit later!
Some bookies offer more betting markets for Canadian Soccer League than others. We made sure that the ones featured on this page offer markets popular among Canadian bettors.
Competitive Odds
Odds are the very essence of sports betting. They are one of the main things bettors check when choosing a platform to join.
There are only a handful of platforms that offer excellent odds for leagues such as CSL, and we put them all on the list.
However, we leave the last step to you — comparing the odds of individual CSL matches on sportsbooks featured on this page.
Live Betting/Streaming
Live betting is an exciting feature that lets you place bets on matches currently underway. It comes with a wide array of betting markets that make soccer even more thrilling.
Many Canadian soccer fans enjoy live betting, so we made sure that they have enough options when they join a sportsbook. Many of them also include CSL games in their respective in-play betting sections.
We couldn't find many sites that stream CSL matches, as it is not a very popular competition.
Therefore, we didn't consider live streaming an essential feature for this list, even though some sportsbooks might offer streams of other sports and leagues.
Payment Options
Making real-money bets on CSL means making a real-money deposit to a sportsbook of your choice. To do that, you need to use one of the payment methods accepted by the bookie.
Luckily, Canada is one of the best countries for online payments. You can use dozens of legit options, such as credit and debit cards (Visa and MasterCard), Interac, EntroPay, MuchBetter, Neteller, iDebit, ecoPayz, Rapid Transfer, Skrill, Trustly, and WebMoney, Wire Transfer and more.
Also, online sportsbooks usually have limits on how much you can deposit and withdraw. We selected those with big maximum and low minimum deposit and withdrawal limits.
Still, this ultimately depends on the payment method of your choice.
Is Soccer Betting Legal in Canada?

It's difficult to give a simple yes/no answer to this question.
While sports betting, in general, is not prohibited per se, the betting laws are pretty outdated and need to be revamped to stay in touch with the latest betting trends.
It's safe to say that online betting is legal up to a certain extent, as some provincial-run online betting services offer bets on various sports.
However, these are mainly focused on major professional leagues of popular sports in Canada, and you're unlikely to find the Canadian Soccer League on any of them. Even if you could, you wouldn't be able to place single-game bets, as they are prohibited in the Great White North.
Still, Canadian bettors can join international online sportsbooks licensed and regulated by offshore gambling commissions. They offer a much more comprehensive range of sports and competitions, including CSL.
How to Start Betting on the Canadian Soccer League
If you don't have prior experience in online betting, this short step-by-step guide should help you understand how to make your first bet.
Signup To A Sportsbook With CSL Markets
Choose one of the sportsbooks offered on this page and load the site in your browser
Find the button that opens the registration window (usually Join, Register, or Sign Up)
Enter your personal details, such as your email, password, username, and more. Some international sportsbooks will also ask you to choose a preferred language and currency (you should select CAD)
Complete the registration process and activate your account
Make A Deposit
Load the cashier page and select a preferred payment method
Enter the desired deposit amount, and opt-in for the free bet (welcome) bonus, if available
Wait for the funds to land in your sportsbook balance (most deposit methods are instant and shouldn't take longer than a couple of minutes to be processed)
Make A CSL Bet
Find CSL in the soccer section and select one of the available matches
Select preferred betting markets and start creating your betting slip
Different Types of Canadian Soccer League Bets
We already mentioned that you could make all kinds of bets on soccer matches, and CSL is no exception. Therefore, let's cover some of the most popular betting markets you can see in most featured sportsbooks.
Three-Way Moneyline
The Moneyline bet usually means betting on the outcome of a match. It's described as three-way since there are three possible outcomes — home win, away win, or draw.
Let's say that the Serbian White Eagles are about to play a home game against FC Vorkuta. If you believe that the Eagles will win, bet on the home team, whereas if you think Vorkuta is better, place your wager on Vorkuta. Finally, if you believe neither side has the upper hand, a draw bet is always an option.

Double Chance
We'll use the Eagles/Vorkuta match as an example to explain double chance bets.
This betting market is less risky as it allows betting on two out of the three possible outcomes.
There are three options: Eagles + draw, Vorkuta + draw, Eagles + Vorkuta. You bet that the game will end with the Eagles winning or a tie, in the first case. If you select the second one, it means that you're betting on Vorkuta winning or a draw. The last available bet is that either team will win, meaning the game will not end in a draw.
Draw No Bet
Draw no bet is similar to a three-way Moneyline, except there's no draw as an option. In case the final result is tied, your stake will be returned to you.
This betting market offers slightly lower odds compared to Moneyline, as it involves less risk.
Over/Under Goals
Guess whether the teams will score more or fewer goals than the sportsbook expects.
For example, if the suggested number of goals is 2.5 and you make an over bet, you're predicting that there will be a minimum of three goals in the game.
Over/Under — Others
The over/under system can be used for a wide array of stats. Bettors can wager on the number of corners, penalties, yellow cards, free kicks, and much more.
The number of over/under bets differs depending on the sportsbook, and they may not all be available in CSL.
Correct Score
This is a straightforward bet to make, yet very difficult to get right. All you have to do is predict the correct final score of the match.
The odds are usually very lucrative when predicting the final score, meaning you can receive a hefty reward if you make the right decision.
For example, if you think that the Eagles will win 2:1, just find that score under the Correct Score betting section and select it.
Half-Time/Full-Time
If guessing the match's outcome isn't challenging enough, you can always make it more exciting by guessing the half-time outcome as well.
This is one bet but consists of two three-way guesses. For example, if you think that the Serbian White Eagles and FC Workuta will end the first half in a draw and that the Eagles will win in the end, you can make such a prediction using the half-time/full-time betting market.
All you have to select is Draw/Serbian White Eagles and make a bet.
Naturally, guessing both parts of the match right requires skill and luck, so the odds are usually much higher in this betting market.
Both Teams to Score and Neither Team to Score
Sometimes, bettors don't like to bet on the outcome. Instead, they aim to make a profit by guessing whether someone would score a goal.
There are several options.
First, you can bet that just one side would score (home or away), but there's also an option to wager that both sides will score at least one goal. Finally, if you expect a boring match with no balls hitting the net, you can put your money on no one to score.

First and Last Goalscorer and Other Goalscorer Markets
Betting on goals comes with plenty of options, and the most popular one is guessing who's going to be the first to score a goal. You can bet on a team or an individual player.
Some sportsbooks even offer you a chance to bet on whether an individual player would score a goal or not. Sometimes, there's an option to bet on a player scoring a hat-trick (three goals in a single match), and that's a rare occasion, so it's reserved for the boldest bettors.

Asian Handicap
Asian handicap bets are sometimes referred to as spread bets in other sports.
When two teams play, one of which is the favourite has to win by a specific goal margin.
Let's say that the Eagles are the favourite.
The sportsbook will put a number next to their name. This number shows the number of goals they are handicapped by. For example, you'll see Eagles -1.5; this means the Eagles need to win and have a two-goal difference against their opponents so that you can win the bet.
Handicap bets are aimed at professional bettors, so we'll just leave it at this.
However, once you have enough experience and find an online sportsbook that offers Asian handicaps for CSL matches, make sure to read more about them.

Canadian Soccer League Betting Bonuses
There are several types of promotions you can get as a new and regular bettor in online sportsbooks. Let's check out the most popular ones.
Free Bets
Free bets are awarded after players open an account and make their first deposit (sometimes, they are required to make a qualifying first bet as well). The sportsbook will award a certain amount in betting credit after that, usually between C$10 and C$20.

Cash Bonuses
Cash bonuses are awarded on top of your deposit.
These are often displayed in percentages, so if you claim a 100% bonus, you'll receive a bonus amount that's the same as your deposit. Cash bonuses can be higher or lower than that. The ones that are lower than 100% are often referred to as reload bonuses.

Cashback Bonuses
Cashback bonuses are made to make you feel less sad once you lose money on betting by loading some of it back into your balance. For example, if you opt-in for a cashback bonus of 10% and end up losing C$100 on betting, you'll get C$10 back.

Canadian Soccer League Betting Tips

Here is some crucial advice when it comes to betting on sports — especially the Canadian Soccer League.
Don't let your emotions take over — It's just sports betting. It's supposed to be a fun activity;
Prepare for the league — CSL isn't available all year, so make sure to prepare for betting during the off-season by learning more about participants. After all, CSL has just a couple of participants, so it's easier to make a comprehensive analysis;
Watch live matches — Try watching how these teams perform live to understand their strengths and weaknesses;
Have a bankroll — Always know how much money you're willing to wager in advance.
In Conclusion
To sum up, the Canadian Soccer League may not be the most popular competition out there, but there are plenty of soccer fans in Canada interested in betting on it.
Luckily, several excellent online sportsbooks offer CSL and many other soccer tournaments worldwide, so feel free to examine them and select the one that meets your needs.
Canadian Soccer League Betting FAQ