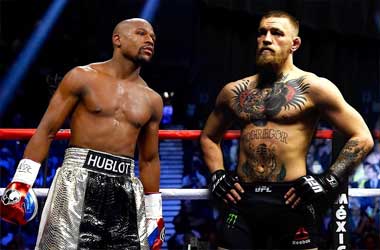 When the fight of the century between UFC's Conor McGregor and Floyd 'Money' Mayweather was announced, sportsbooks in Vegas had Mayweather at -2250 and the underdog McGregor at +950.
This is usually the complete opposite when the 'Notorious' McGregor fights in the Ultimate Fighting Championship (UFC) as he has been the favorite for quite sometime – but that's because its Mixed Martial Arts (MMA).
When it comes to boxing, McGregor is an amateur to say the least and it was no surprises that the bookies did not give McGregor much of a chance against Mayweather who has a 49-0 record and is considered one of the greatest boxers to have ever stepped into the ring. Boxing fans and analysts have also been playing down McGregor's chances of causing any damage to Mayweather.
However OddsShark.com has noticed that the trend has shifted quickly in the last week or so since the fight was announced. Sportsbooks in Vegas have noticed a stream of bets coming in to back McGregor and has caused the odds to shift significantly to Mayweather being at -550 and McGregor coming down to +375.
Mike Fight Promo
Only time will tell if those odds continue to improve for McGregor and it's quite a possibility considering the fact that McGregor is a master of mind games and will no doubt turn up the heat on Mayweather during press conferences, media events and social media in the coming weeks.
Right now it is hard to determine the real reason as to why bettors are backing McGregor. It is because they love an underdog and are hoping McGregor pulls of a surprise victory or if they truly believe that McGregor can surprise Mayweather with the left and knock him out. Experts suggest that if McGregor is to win, it will most likely be via KO or TKO as it hard to see McGregor going the distance with Mayweather.
While Mayweather is the favorite to win, bettors stand to make more money by picking the method in which Mayweather will win. Floyd hasn't won via KO for the last 6 years and hence has a -125 rating and a rating of +130 when it comes to a decision. One of Mayweather's coaches has gone on record to state that Mayweather will not be looking to take this into a decision and predicts that McGregor will be KO'd before the third round is over.