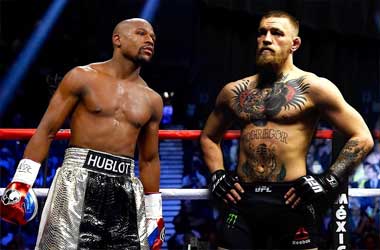 The biggest boxing match in the history of the sport between Floyd Mayweather and Conor McGregor is set to go down on August 26 in Las Vegas at the T-Mobile Arena.
The two fighters have been taking digs at each other for close to 12 months as rumors floated around of a possible fight.
Many fight analysts and fans did not believe that it would ever happen because there were too many different factors that stood in the way.
Mayweather Had To Come Out Of Retirement
Whether he wins or loses, Floyd Mayweather will go down as one of the greatest boxers in the history of the sport and he currently has a 49-0 record and will look to make it 50-0 when he takes on McGregor.
Mayweather had walked away from the sport because there was nothing left for him to achieve or prove but has decided to make a comeback for one last fight with McGregor because it will most likely end up being the biggest fight for both fighters in terms of revenue and pay per views.
USA TODAY Sports
McGregor Had To Get UFC Approval
Conor McGregor is not a boxer but a mixed martial artist who is contracted to the Ultimate Fighting Championship. He is without a doubt the biggest start in MMA and the UFC having won two belts in the 145 pound and 155 pound divisions. McGregor had taken a leave of absence for the last 6 months as he wanted to be around for the birth of his first child. Initially, Dana White UFC President was not very keen on allowing McGregor to cross-over but in the end he not only gave in to McGregor but also played a key role in putting the fight together.
Contracts Had To Be Signed
Boxing fans had to wait for years to get the Mayweather vs. Pacquiao signed and official. So when there were rumors of a Mayweather vs. McGregor fight many were skeptical and believed that if it did happen it would take quite awhile for both fighters to reach an agreement. While it did take a few months for it to happen, the fight has been officially confirmed for August 26 and barring injury, it will take place as per plan.
McGregor has already posted on his Instagram account and confirmed that the 'Fight is On' and UFC President Dana White told SportsCenter that the fight will take place at 154 pounds.