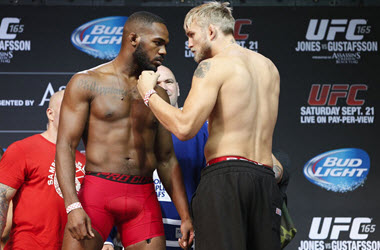 Recent reports have suggested that the UFC is working behind the scenes to put together a rematch between Alexander Gustafsson and Jon Jones for UFC 232.
ESPN's Ariel Helwani and Brett Okamoto reported that officials at the UFC are working hoping that rematch UFC fans have wanted to see for five years will take place at this year's UFC 232 in Las Vegas this December.
The two last fought in Toronto at UFC 165 in 2013. The match was tightly contested and saw Jon Jones win by unanimous decision and is seen as one of the greatest of all time MMA title fights in history. The match was also considered to be the toughest Jones ever fought.
At this stage, nothing has been signed, and a rematch has not been agreed to, but ESPN's Brett Okamoto stated that
"It's one of the greatest light heavyweight title fights in history, and I expect the rematch to be the same!!!!"
Jones and Gustafsson had agreed to a rematch on 2014 at UFC 178, but that failed to take place after Gustafsson has to withdraw from the rematch due to an injury. Unfortunately, the two fighters have not been paired against each other, but fans have delighted watching the two fighters go back and forth on social media increasing the rivalry between the two.
ESPN
Since UFC 165, Alexander Gustafsson is 3-2 and rebounded from his loss to Jones with a knock out in his fight against Jimi Manuwa only to be knocked out himself when he entered the ring against Anthony Johnson. Gustafsson then has a split decision in his title fight against Daniel Cormier. Since then, Gustafsson scored back-to-back wins against Glover Teixeira and Jan Błachowicz but has not fought in almost a year and a half.
Jon Jones has not fared as well and has dealt with a number of legal troubles, has failed drug tests, was stripped of his UFC title and was suspended by athletic commissions. However, Jones has not sat back registered four fights since his bout with Gustafsson.
The first of those was in 2014 when he fought Glover Teixeira in 2014, Daniel Cormier in 2015, and Ovince Saint Preux in 2016. Each bout ended in the unanimous decision in favour of Jones. Jones had a knockout decision against Cormier but saw it overturned to a no-contest decision after positive anabolic steroid testing.
That resulted in Jones being suspended, however, in recent developments, the United States Anti-Doping Agency has authorised Jones to compete once again. Should he test positive in the future, he could face a four-year suspension as a repeat offered, and at 31 years old, it would all but bring an end to his career.
Jones posted on his social media accounts after learning of the United States Anti-Doping Agency decision saying that,
"It's difficult to express myself at this moment, but I can definitely say my heart is filled with gratitude and appreciation. I want to thank all of you who have stood by me during the toughest stretch of my life. It has meant the world to me and always will. But now is the time to shift the focus front and centre to the road ahead. Greatness is what I'm chasing, and the path to reclaiming my throne is now officially open. Comeback Season begins now."
Whether the UFC is successful at booking Jones and Gustafsson for a rematch this December is yet to be seen, but for fans of MMA, UFC 232 is already looking to be the perfect event for bettors wanting in on the action will find an excellent selection of top-rated MMA sports betting sites that all offer lucrative sign-up bonuses.
Currently, UFC 232 has scheduled Corey Anderson to fight Ilir Latifi in the Light Heavyweight bout, Jessica Eye and Sijara Eubanks to compete in the Women's Flyweight bout and Ryan Hal will fight B.J. Penn in the Lightweight bout. The Featherweight bout will feature Arnold Allen against Gilbert Melendez, and the Welterweight bout will see Carlos Condit facing off against Michael Chiesa.