Toronto F.C. Continue To Struggle To Get Their First Win Of The Season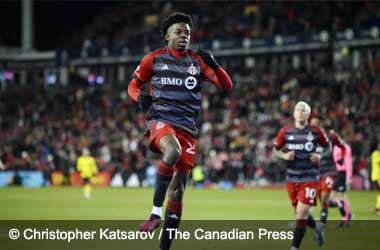 Summary
Toronto F.C. were held to a 1-1 draw against Columbus Crew on 11 March
Toronto F.C. have played three games so far and are yet to secure a win
Still not update on when star player Lorenzo Insigne will return to Toronto F.C.
Toronto F.C. (TFC) was very keen on securing their first win in the new Major League Soccer (MLS) season on Saturday night when they took on Columbus Crew. TFC were playing at home at the BMO Field and were confident that they could beat Columbus Crew in front of their home fans.
TFC Held To 1-1 Draw Against Columbus Crew
TFC have done well in recent times when they have played at BMO Field. Ground staff at BMO field had to work extra hard to get the pitch ready for the game as it was covered in snow from the previous night.
Jonathan Osorio, who plays midfield for TFC said at the start of the game that the team was excited to start their home game season even with the weather as it spurred the team on to put in a good performance when TFC fans would show up inspite of the weather and support them.
TFC fans did just that as over 25,000 fans packed the BMO arena to support the home team. Deandre Kerr gave TFC the lead in the 25th minute of the game as he found the back of the net to make it 1-0 in favour of TFC. Columbus Crew did their best to find an equalizer but TFC managed to close the first half and maintain their lead.
Columbus Crew continued to put pressure on the TFC defense and they finally buckled in the 75th minute when Jimmy Medranda who came on as a substitute scored to make it 1-1. The game finished in a draw, much to the disappointment of TFC fans and players!
TFC have now played 3 games in the MLS season and out of a potential 9 points, have only managed to secure 2.
TFC Waiting Anxiously For Lorenzo Insigne Return
Winger Federico Bernardeschi who plays for Italy and TFC said he was disappointed that the team could not finish on the winning side. TFC are really missing their star player Lorenzo Insigne who got injured during their opening game and is yet to recover from a groin strain. 
There is no clear update as to when Insigne will return and TFC does not want to rush him even though they continue to struggle to get their win first in this MLS season!