MLS Betting Sites in Canada [ 2023 ]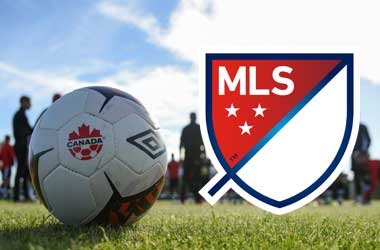 Major League Soccer (MLS) is the top soccer league in Canada and the USA.
Even though soccer isn't as developed in these two countries as many other sports with their own high-quality leagues (think the NBA or the NFL), Major League Soccer has helped bring the sport closer to the North American audience.
MLS's popularity keeps on rising, and so does the popularity of MLS betting, which is precisely the thing we will talk about today.
We will cover everything you need to know about the leading MLS betting sites in Canada so you can effectively and safely bet on exciting soccer matches.
If you are new to soccer, you'll love the MLS. Every season, top-quality young players from Canada and the US are joined by more and more experienced masters of the game from Europe and South America.
This is undoubtedly a great thing as these two continents consistently prove that they have some of the best soccer teams in the world, and thanks to these players, the MLS is beginning to resemble some of the best soccer leagues in the world.
So, with all of that in mind, let's begin with this detailed guide on the best MLS betting sites in Canada.
Our Top Recommended MLS Sportsbooks

If you have never placed bets on MLS, you need to find the best sportsbooks covering the league. The internet is a great thing, but it's filled with many questionable sites, especially when it comes to gambling.
We are here to help you stay safe and to allow you to spend and earn money on MLS betting in a safe and reputable environment, which is why we do our best to check betting websites for the Canadian market thoroughly.
We've ended up with the ultimate list of the best sportsbooks for MLS betting in Canada through careful research. We'll talk more about how we made this list possible, as a lot of work went into it. But for now, here are the sites we thoroughly recommend:
How We Chose the Best Major League Soccer Betting Sites in Canada

The list we've created for you is the final product of long and careful research.
Our team of professional sports bettors and other experts has made sure to check every good MLS betting site available for Canadian bettors, and only the best of the best were chosen.
We made sure to examine several essential features shared by every betting site, like legal status, security measures, bonuses, website design, betting markets, and more.
So, keep reading to learn how we looked at each feature and the things that made us choose these sites.
Legality and Reputation
When checking the legality of a betting site, the most important thing to do is check the licence it holds. Naturally, if a site has no licence, it's not a good place to bet.
The best betting sites out there typically hold quality licences, like the ones from the UK Gambling Commission, Malta Gaming Authority, Kahnawake Gaming Commission, Curacao eGaming, Gibraltar Regulatory Authority and a few others. We made sure to pick sites with these licences.
However, that's not all. We also check that they are regularly audited by third-party organizations known to audit gambling sites worldwide.
In the end, we believe that reputation is crucial, which is why we only choose websites that have near-perfect reputations on the web. This matters as it shows that a betting site is trustworthy and fair.
Safety and Security
Safety and security are probably as important as trustworthiness and legality. A betting site needs to be safe and secure from cyberattacks so you can feel safe depositing money on it. That's why the best gambling sites in the world use the top security measures available online.
Consequently, all the sites on our list use SSL encryption, which protects transactions and ensures no one can steal your money. However, they don't stop there; the sites also use other significant protective measures like KYC and AML.
Bonuses and Promotions
Bonuses and other promotions are an essential part of today's gambling world. Players love them as well, so it's practically impossible for you to find a sports betting site that doesn't offer a wide variety of bonus packages.
However, there are always sites that include weak bonuses no player would find useful, or ones with lousy wagering requirements and other stipulations that make bonuses less desirable.
That's why we've made sure that the sites you find on our lists have bonuses that benefit you, the player, not just the betting site.
You'll be able to find a wide variety of welcome bonuses that usually offer you a specific percentage of your deposit for free. Additionally, you'll often find cashback bonuses, free bet bonuses, and many other special promotions.
Website Design and User Experience
Website design matters a lot as you will have to spend a lot of time using the site if you're placing bets on it. Naturally, some feel that design is not overly important, but we believe it shows how much the operator cares.
Even if you don't care too much about the design, we're sure you agree that the user experience must be top-notch. A great site needs to be functional and easy to use for most players, so you can bet with ease, without having to spend hours learning how to place your first bet.
Mobile Site and App Quality
Mobile betting is huge today, as people spend more time on their phones than they do on their desktop computers and laptops. The world of sports betting used to be reserved for PC owners, but times have changed, and most people want to place wagers on their phones.
Most good sportsbooks take this into account and provide great mobile-friendly sites or even dedicated apps. However, some don't genuinely care about their mobile users, which is why we had to make sure every MLS betting site on our list had a mobile-optimized site, offering the same features as its desktop counterparts.
MLS Betting Markets
The main thing every MLS betting platform needs to have is, well, a wide variety of MLS betting markets. Without them, there's hardly a point in calling it a great Major League Soccer betting site.
The good thing here is that all the leading sportsbooks offer soccer, and most of them cover Major League Soccer.
The sites we've included in our list are precisely like that, but we've also paid particular attention to the variety of MLS betting markets.
Odds Quality
Many players believe that odds are mostly the same in all sportsbooks, but this is not true. There are slight deviations that are more than enough to change how much you earn in the long run.
That's why we've made sure to include only betting sites that offer above-average odds — those that will eventually earn you more than the odds on other sites, even though it might not seem like it at first.
Availability of Live Betting
Live betting used to be available only in brick-and-mortar betting shops and leading online sportsbooks. Today, you can find them on many betting sites, but not all.
That's why we had to make sure the MLS betting sites we recommend also have live betting so you can enjoy the thrill of betting while the match unfolds.
Payment Methods
In the age of the internet, there are countless quality payment solutions outside of the traditional credit/debit card payments and bank transfers.
That's why we've made sure to find sportsbooks that offer a range of alternative payment options, along with the obvious ones.
The sites on our top list will most notably have payment methods like Neteller, Skrill, PayPal, Interac, EntroPay, MuchBetter, EcoPayz, and many others quite popular in Canada.
Naturally, not every site will support all of these payment methods. Still, each will support a wide range of them, so you'll always have enough options when it comes to depositing and withdrawing money.
Customer Service
In the end, the sites on our top list will also have a high-quality customer support section. We believe that customer service matters as almost every player has to talk to a customer service representative at some point.
Quality customer service means the site has responsive and helpful agents, a wide range of ways to reach them (live chat, phone, email), and detailed Help and FAQ sections. You can find all of this on the leading MLS betting sites we recommend.
Is Soccer Betting Legal in Canada?

As laws and regulations are never simple, this question requires more than a "yes" or "no" answer.
The problem is that Canada's gambling laws are a bit outdated and require a lot of reform to account for the constant changes in the online gambling market.
The good thing is that Canadians can bet on MLS, as much as they can bet on any other sports, as long as the betting site is international. The ones based in Canada have to abide by all kinds of rules, so it's not always clear whether you can place bets or even which bets you can place.
However, all the betting sites on our list are entirely legal for Canadians, so there's no reason to fear that you'll be breaking the law while using them.
How to Start Betting on Major League Soccer
If you're new to sports betting, you should probably read our step-by-step guide. It explains most forms of sports betting, including MLS.
Signup To A Sportsbook With MLS Markets
Choose a betting site from our list.
Find a Sign Up, Join, or Register button on the site, click it, and follow the registration process to create an account.
Fill in all the required fields, making sure to use the correct information.
Choose the Canadian Dollar as your preferred currency, if available.
Follow the remaining instructions on how to activate your account (every website leads you through the process step-by-step, so it will always be straightforward).
Make A Deposit
Visit the Cashier page of your account and choose a deposit method.
Deposit the desired amount by following the steps, and make sure to collect the welcome bonus (you will need to check the requirements for the bonus beforehand, so you know the minimum amount you need to deposit).
Wait for the money to reach your account. This should happen instantaneously.
Make A MLS Bet
Find where the betting markets are listed on the site and choose Major League Soccer. It should be easy to find in the soccer section.
Start placing bets!
MLS Betting in Canada
Types of Bets in Major League Soccer
Major League Soccer, just like any other soccer league, supports a wide range of different bets. As soccer has always been a massively popular sport throughout the world, people have invented many bets. That's why today, most bettors expect to see a wide range of betting options on the sites they join.
With that in mind, let's talk about the most popular bets you'll be able to place on the best MLS betting sites in Canada.
Total Goals Under/Over
Totals are one of the most popular bets in soccer and many other sports as well. It requires you to guess if the total score in a game will go over or under a specific number. This incredibly simple yet strangely versatile bet can cover many possible scores, so you can choose from a wide range of options.

1×2 or Moneyline
The most common bet in most sports, including soccer, is the Moneyline or 1×2 wager. The name explains it, as you choose to either bet on the home team (1), the away team (2), or a draw (x). Moneyline bets in baseball, basketball, and other sports work in the same way.

Correct Score
There's not much to explain about this bet. Your objective is to guess the correct score of the game, and that's it. If you've ever watched soccer, you'll know that this is not always a hard bet, as certain matches are highly predictable. However, others aren't, so you'll usually find great odds for this type of bet.

Both Teams
This great bet is a favourite of many. You choose whether to bet on both teams scoring or not, and that's it. It's an exciting bet as a wide variety of factors can influence whether both teams will score.

Double Chance
Double chance bets are perfect for tough matches where the outcome is hard to guess. That's because this bet lets you pick two of the three possible outcomes of a game, making it much easier to get right. However, as you might expect, the odds are not as good as with other bets.

Handicap
Handicap bets come in many shapes and forms, but the essence remains the same. The team that is expected to win the match starts with a "handicap." That way, the sides become more evenly matched, and you get much better odds than you would otherwise.

Half-Time/Full-Time
This bet is perfect for risk-takers as it requires you to bet on each half of a match. This means you'll have to correctly guess the result at half-time and the end of the match. There are nine possible combinations, so you have plenty of options to choose from.

Top Three Finishers
This is a special bet that requires you to guess which team will finish in either first, second, or third place at the end of the regular MLS season. Playoffs do not count towards this bet, and the margin of error is quite tight, so you need to think carefully. The great thing about this bet is that it is long-term, so you can play it well in advance and get incredible odds.

MLS Cup Winner
This bet is simple but hard to win, as you're betting on a team to win the MLS Cup. You can expect to find this bet on any MLS betting site. The odds are always high, meaning the potential wins can be truly massive.

Reaching the Playoffs
This is another special bet where you're betting on which teams will reach the playoffs. If you pick one of the best teams in the league, the odds will not be great. However, choosing one of the underdogs can bring huge profits, provided you get it right, of course.

Useful Tips for Betting on MLS

MLS betting is as unique as the league itself, so there are a few essential tips and strategies you need to know about:
Never forget about the home-field advantage — most MLS matches end with a home win (as many as 60% or 70% in most seasons), so consider that when placing your bet.
Don't automatically side with the team with the best regular-season record — teams in the MLS don't usually perform like teams in the NFL or the NBA, meaning that those with the best regular-season records don't usually go on to win the playoffs.Thus, it's better to side with the teams that ended on a high note or had a winning streak near the end of the regular season.
Don't forget about the draw — even though matches in most sports in the US and Canada end with one team winning, soccer matches can easily end in a tie, so you can't disregard that when placing bets.
Quality over quantity — MLS bettors tend to place many bets, but it's much better for you to look for value and create good betting slips, even if you don't end up making many of them.
Conclusion
So, there you have it — everything you need to know about the best Major League Soccer betting sites in Canada. From how we choose the sites, the bets you can place on them, what tips and strategies to use, to the list of the best MLS betting sites.
Now that you have all the knowledge you need to start betting on the MLS, all that's left for you to do is pick a site on our list, and let the fun and excitement begin!
MLS Betting FAQ