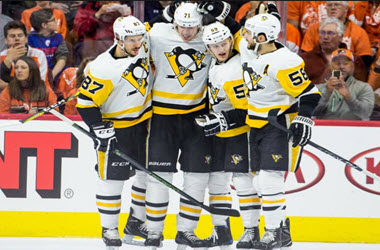 The Pittsburgh Penguins and the Edmonton Oilers met last night in what was another show of superiority as Connor McDavid used his arsenal of puck handling tricks in hopes of catching up. However, Matt Murray wasn't having any of it as the Penguins held off the Oilers to earn a 3-1 victory.
McDavid came charging to towards Murry dangling the puck on his stick in a last ditch effort to reduce the two goal deficit after going in on a penalty shot but failed to put it past Murry, who was waiting hoping to defy the many moves McDavid seems to have in his arsenal. Commenting on the failed bid, McDavid said,
"I think maybe he knew I was going to do it. So, got to find something new."
The save was one of Murry's best of the night and one that was instrumental in helping the Penguins to win back-to-back games as they fight to remain in the middle of the Eastern Conference.
The Edmonton Oilers have lost the last six games against the Pittsburgh Penguins and earned two points for the win, ones that were vital in their efforts to remain in the playoff hunt. The fact they were without Evgeni Malkin, who is suspended for a high stick incident, shows their determination.
"It's a great challenge. He's pretty tough to defend. A lot of times you can be in good spots and good positionally but with his speed if you're even you're probably in trouble."
Sportsnet
Theodor Blueger, Jared McCann and Bryan Rust scored for Pittsburgh, while Sidney Crosby, Matt Cullen, Brian Dumoulin and Kris Letang earned assists. Matt Murray had 39 saves for the night.
Leon Draisaitl scored Edmonton's only goal in the first period, and assists went to Oscar Klefbom and Connor McDavid. Mikko Koskinen stopped 33 shots. Commenting on the night, McDavid said,
"We had a bunch of chances to tie it. I have to bear down on a couple. Credit to them. They had that four-minute stretch where they scored two and held on."
Last night was the second time the two teams met this season. Pittsburgh came into last night one point above Carolina for the second wild card spot in the Eastern Conference. The win on Monday against Philadelphia helped them to gain a slight advantage over the Hurricanes who both are battling to earn the wild card spot.
Olli Maata went out in the first period with an injury to his upper body that will see him on the sidelines for an indefinite period of time. That forced Coach Mike Sullivan to make line changes with his defensemen that saw Chad Ruhwedel replacing Maata, his first appearance since November.
The Penguins next will face the Calgary Flames on Friday before heading to New York to meet the New York Rangers on Saturday. Punters looking to follow the Penguins in their bid to earn the last wild card spot will find a fantastic range of signup promotions with our leading Canadian friendly sports betting sites. Register today and take advantage of the many promotions and bonus offers before the Playoffs get underway.