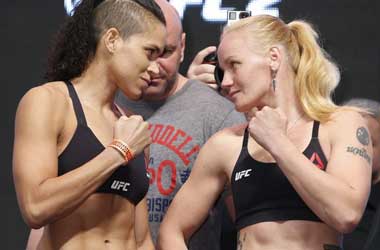 UFC 215 comes to Rogers Place in Edmonton, Canada on September 9 and will feature Amanda Nunes vs. Valentina Shevchenko for the women's bantamweight title. Combate reported that the fight was booked for UFC 215 but did not confirm if it would be the Main Event or the Co-Main event.
The two were expected to fight at UFC 213 but Nunes pulled out of the fight with less than 24 hours notice after she complained of health issues, even though she had medical clearance to fight.
UFC President Dana White was not impressed and promised that he would not let Nunes be the Main Event again.
Since then Nunes has tried to clear the air by stating that she was suffering from sinusitis and her head felt heavy. She did not want to fight and get punched in the head and thought it was in her best interests to back out. Shevchenko wasn't very happy with the last minute withdrawal and did not buy into the sinusitis excuse.
Nunes has fought Shevchenko before in the UFC in a 3 round bout which was a close fight and went to the judges. Nunes won on points but those who watched that fight believed had it been a 5 round fight, Shevchenko would have won as Nunes was gassing out.
This time around it will be a 5 round fight for the bantamweight title and Shevchenko has looked very confident in the UFC Embedded series that was released in the lead up to UFC 213. Nunes has played down her cardio issues in the first fight stating that she had only trained for three rounds and will be prepared for a 5 round bout.
The Main Card for UFC 215 has already been finalized except for the Main Event and co-main event. The fights that have been confirmed so far include Jeremy Stephens vs. Gilbert Melendez, Ilir Latifi vs. Tyson Pedro, Canada's Gavin Tucker vs. Rick Glenn and Francis Ngannou vs. Junior Dos Santos.
Should Dana White have a change of heart and re-book Nunes vs. Shevchenko as the Main Event, the match between Ngannou vs. Dos Santos could be booked as the co-main event. However the UFC has still not confirmed the Nunes vs. Shevchenko card for UFC 215 and the official UFC website has the Main Event blocked with 'To Be Announced'.