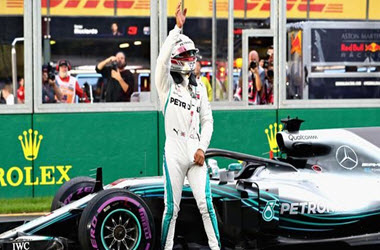 Lewis Hamilton, after posting the fastest time during the practice session, repeated his efforts to earn the pole position for Sunday's opening F1 race in Australia and won his sixth straight pole position.
Hamilton, who won his fifth championship last year took pole position just ahead of teammate, Valtteri Bottas with a time of 1 minute, 20.486 seconds during the qualifying session on Saturday. Hamilton's pole on Sunday is his eighth in Australia matching that of Ayrton Senna and Michael Schumacher record for having earned pole at the same track. Commenting, Hamilton said,
"Oh man. I'm shaking it was so close out there. I'm so proud. Valtteri did an exceptional job out there, so close."
Valtteri Bottas was close behind at 1:20.598 putting both Mercedes at the front of the grid for Sunday's race. Sebastian Vettel, the defending champion recorded the third fastest time, and Max Verstappen was fourth.
Autosport
Sunday will be the 84th time that Lewis Hamilton has started in the pole position, and it cements his position early on that he may continue dominating the sport. He was fastest in all practise sessions, and while he did not expect to be faster than the Ferraris, he was by 7/10th of a second. Speaking to the media about the car's performance, Hamilton said,
"I felt good that we had a decent package to deal with, but we were aware we may be slightly behind; that's what we thought when we saw a summary of testing. Valtteri and I have been pushing the car to its absolute limits. This is the first time we've unleashed the full potential of the car, and I'm so happy to have a car that I can fight with."
Hamilton was unaware of the record he now shares with Senna and Schumacher. When asked, he claimed to be unaware of it but will be more focused on the race head. Currently, Ferrari has not been able to match the speed of Mercedes, but that seems not to be affecting Vettel, who commented, when asked if he thinks they can win tomorrow, stated,
"Of course, I think we can. We have a good race car. We're in good form. Obviously, Mercedes are clear favourites, but we're here to race."
Ferrari's Charles Leclerc was fastest during qualifying on the first quarter but fell behind in the second and third. Kevin Magnussen and Romain Grosjean of Team Hass with 6th and 7th faster and Lando Norris of McLaren was 8th. Daniel Ricciardo and Nico Hulkenberg failed to participate in the final rounds of qualifying and started 11th and 12th on the grid.
Team Williams continues in their strugglesin Formula 1 to put together a competitive car. Both Robert Kubica and George Russell posted the slowest times. Kubica, who is making a return to F1 this year, after sustaining serious injuries in 2011 while participating in a rally race, ended up going off the track.
The Australian Grand Prix will get underway on Sunday in Melbourne, Australia. For F1 punters, it is the perfect time to register with leading F1 sportsbooks such as bet365. Signing up today will see new punters enjoying up to $200 in welcome bonuses. Register today and get prepared for the F1 season ahead!