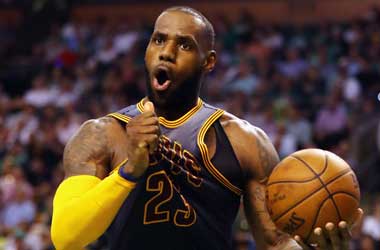 The Cleveland Cavaliers started the season as one of the favourites to make it to another NBA Championship final but they have had a horrible start to the season losing 7 out of the 12 games they have played till date.
This is the first time in a long time that the Cavaliers have proven to be so vulnerable and beatable; giving other NBA franchises the self-confidence to believe that they can now take out the powerful Cleveland Cavaliers.
The Cavaliers have struggled against the likes of Brooklyn Nets, New Orleans Pelicans and New York Knicks because their defense has been extremely weak. The Cavaliers don't have Kyrie Irving anymore as they traded him for Isaiah Thomas who is yet to play this season as he is recovering from an injury.
Cleveland fans remain hopeful that the Cavaliers will be able to turnaround their poor run once Isaiah Thomas returns but their star player LeBron James says that the Cavaliers should not be pressurising Isaiah Thomas to return before he is fully fit and instead called on his teammates to step up and get back on a winning note.
NBA on ESPN
In a statement, LeBron James said
We can't rely on just one person. We can't rely on just one person for us to be as good as we want to be, whether it's Isaiah Thomas or myself or Tristan Thompson being out. We have guys who have to step up
The Cavaliers lost their 7th game of the season on Thursday to the Houston Rockets 117-113 and once again disappointed their fans. James was pretty open about the string of defeats and said that it was difficult for everyone including himself to find the team cohesiveness as the Cavaliers now had a brand new squad as 8 players had joined the franchise this season.
Tyronn Lue, the coach of the Cleveland Cavaliers is feeling the pressure with every loss but knows that it is going to take time for his new set of players to build camaraderie and find a winning rhythm. The Cavaliers have not done too bad offensively and it makes Lue's job a little easier because he knows that the biggest concern for the Cavaliers right now is their defence.
There is no definite timeframe as to when Isaiah Thomas will make his return but till then the Cavaliers will have to find solutions quickly if they want to go back to being one of the best teams in the NBA.