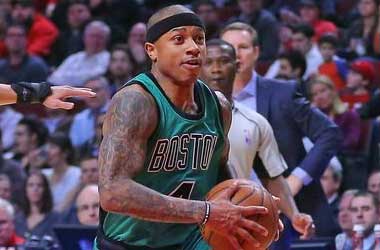 Fans of the Cleveland Cavaliers were surprised in August when the Cavaliers announced that they had decided to trade one of their star players in Kyrie Irving to Boston Celtics in exchange for a packaged deal.
LeBron James and Kyrie Irving were instrumental in helping the Cavaliers become one of the dominant teams in the NBA, helping them to reach three consecutive NBA finals which included the 2016 NBA Championship victory.
The Cavaliers got Isaiah Thomas as part of the packaged deal and he was expected to take Irving's place. However that isn't going to be happening anytime soon as Thomas has been battling a hip injury and will not be available at the start of the season.
The 28 year old point guard is expected to wear the No 3 Cavaliers jersey and establish a partnership with Lebron James and help the Cavaliers continue their dominance in the absence of Irving.
Ximo Pierto
Thomas has had problems with his hip during the Eastern Conference finals when the Celtics took on Cleveland. He has also had to deal with a lot of emotional trauma recently which included losing his sister in a car accident and seeing his mother pass away soon after he signed with the Cleveland. New general manager Koby Altman was very defensive in answering questions on the extent of Thomas's injury and did not confirm a potential date for his Cavaliers debut.
In a statement, Altman said
We're not going to rush it at all. The goal is to bring him back at some point this year and be healthy and compete and get back to IT status. That's our goal and our responsibility to him. We're not going to comment on the injury and we're not going to comment on a timetable
Altman did confirm that they had put together a rehab plan for Thomas and surgery was not part of that plan. Thomas did speak to members of the media and stated that he has resumed weight training but is yet to start running and wasn't sure when he would be able to. Thomas was also candid in admitting that he was surprised that the Celtics decided to trade him but after praying and thinking about the transfer, he decided to go ahead as it gave him the opportunity to be a part of a team that had a great chance of becoming NBA Champions yet again.