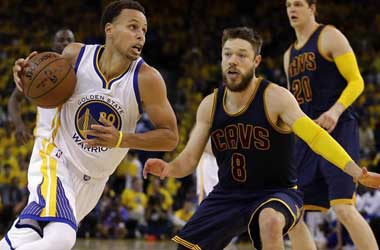 Golden State Warriors (GSW) had a 1-0 lead in the 7 game NBA Finals and were full of confidence when they took on the Cleveland Cavaliers (CC) on Sunday night at the Oracle Arena in Oakland. The CC were hoping they could come back after a rather sluggish performance in Game 1 and even the scores after Sunday night.
That wasn't the case as Stephen Curry put in a spectacular performance to ensure GSW secured its second win with a commanding 132-113 scoreline. The GSW welcomed coach Steve Kerr who was absent for the last eleven games due to complications from a back surgery he went through a couple of years ago. The welcome was perfect as the GSW dominated the CC even though their star player LeBron James put in an outstanding performance.
However it was Stephen Curry who stole the show and his epic dribbling skills against James will be one of the most watched basketball clips on social media and certain have thousands of people talking. Curry also achieved his first playoff career triple-double and ended up finishing with 32 points, 11 assists and 10 rebounds. He was well supported by Kevin Durant who also had a fine game and ensured the CC would not be able to make any sort of comeback.
Golden State Cavaliers
The Cavaliers have to come back strong in the next two games in order to even that scoreline and put the pressure back on the GSW. They will have the home advantage for Games 3 and 4 which will be played in Cleveland. The CC also have the experience of coming back as they showed last year when they were down 1-3 to the Warriors but bounced back in style.
For them to do that, they need LeBron James to dominate even more and a lot of support from the likes of Kevin Love and Kyrie Irving. GSW will want to win Game 3 desperately as that would mean beating the CC at home and gaining a huge psychological advantage and putting just one game away from the NBA Championships.
GSW Coach Steve Kerr was happy to return and see his side perform so well. In a statement, he jokingly said
I just think the numbers are totally deceiving. The team was just totally falling apart at the seams so I just had to get back to make sure we righted the ship.