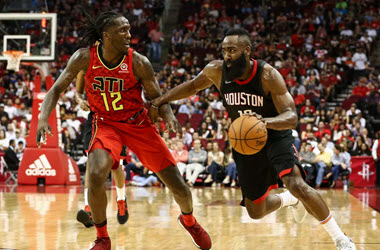 The Houston Rockets wasted little time putting James Harden to work last night in their victory over the Atlanta Hawks. Harden helped Houston defeat the Hawks 119-111 scoring 28 points and bringing an end to his thirty-two game 30 point streak.
The NBA player with the longest streak of 30 or more points is Wilt Chamberlain, who went 65 games in a row scoring 30 or more points in a game. Commenting on the pressure, Harden said he is happy it is over and had zero expectations he would match Chamberlains record. Harden added,
"Yeah I am. It was cool, but I knew I wasn't going to get to No. 1."
The Houston Rockets faced tough opposition by Atlanta Hawk's Trae Young, who in his rookie season, scored 36 points and set his own personal record. Harden had been off when the Rockets battled the Golden State Warriors as a result of an injury to his neck and was unsuccessful in all 3-pointer attempts he made, evident that he is still not 100% Harden stated that it was the first time he was ok to move in the past few days adding,
"It kind of felt good to go out there and just move it and run around. I hadn't really done any movement or working out. I've been in bed really."
House of Highlights
However, even not at his full strength, Harden managed to score 28 points and would have had a specular game had he bagged his 3-pointer attempts. As the final seconds ticked, he even attempted a basket from half court. Asked if his injury impacted his shot, he was defiant sating that shots are missed, we won the game.
The last Harden fell short of scoring 30 points was in the earlier part of December against Portland, one that the Rockets won. While he fell one short of 30, he has also scored over 50 points four times and has a career high of 61 points against the Knicks earlier in January. Coach Mike D'Antoni commenting on Harden said,
"Eventually it was going to have to end one of these days. He's unbelievable. He'll start another one."
Adding to the Rockets points last night was Chris Paul who scored 20, and Eric Gordon, who scored four three-pointers and 16 points total. The Hawks did manage to reduce the Rockets lead to five with minutes to spare in the fourth, but Houston recovered those given up extended that lead by another 3 points before the buzzer sounded.
Atlanta came out strong in the fourth quarter scoring nine points before Houston got focused. That included Trae Young bagging a three-pointer and brought the lead to one before P.J. Tucker scored one himself and that seemed to give Houston the energy to finish the job.
Young was on fire last night scoring seven three-pointers for the night and was instrumental in keeping the Rockets on their toes. Young continued to push and put Atlanta back in the game after point bursts by Harden. In post-game media interviews, Young commented that.
Ex-Raptors Vince Carter put Atlanta once again within one of the Rockets in the third quarter only to watch as Houston tacked on five points in response late in the third to end the quarter 82-76. Atlanta's Alex Len added to that with a 3 pointer before the buzzer to make it 90-79.
Punters keen on the NBA, and the Houston Rockets will find a fantastic range of sportsbooks offering superior odds on the NBA along with exclusive NBA promotions. One of those recommended by Betting.ca is bet365, one of the premier bookmakers online. Register today and claim up to $200 in signup bonuses.