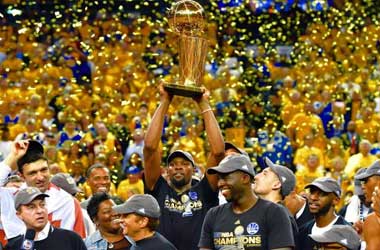 The Golden State Warriors (GSW) overcame the Cleveland Cavaliers to win their second NBA Championships in three years after beating them 4-1 in a 7 match playoff. What was impressive about the GSW in this season was how dominant and confident they were which helped them run through opposition teams.
Steve Kerr, coach of the GSW put it down to their overall team strength and the fact that every player knew his role which made his job easier.
Kerr has now led GSW to three consecutive NBA finals and GSW have won two of those finals. GSW lost to the Cavaliers in 2016 as LeBron James put up an excellent performance and walked away with the MVP award last year.
Although the Cavaliers were defending champions, the Warriors had a big advantage due to the fact that they managed to sign Kevin Durant this season. Durant put on a spectacular performance during the finals that earned him a MVP award. He scored 39 points during Game 5 to help the Warriors win 129-120 and clinch the NBA Championship in the process. Durant has been dominant all season and has fitted in well with the team as there were concerns initially that too much star power might not let the team gel well.
NBA
However Kerr stated that his star players like Stephen Curry were happy to let Durant take the lead at the start of the season and Curry appeared a backseat. However it wasn't long before the team managed to figure out their roles and Curry realized that there was enough opportunity for him to continue to play a lead role in the team. Together Curry and Durant proved too much for opposition teams and were well supported at the back by their teammates.
In a statement, Kerr said
Some teams wouldn't embrace a guy who came into a situation like ours. It looks like it was easy, but guys like Steph Curry welcoming him and kind of let him shine — it worked out like it should. If you want to win, it doesn't matter. It's not about who scored what. It's about winning. I think (Curry) knew that. He won a championship, and then we were close and didn't win one. So you have a clear sense of what matters when you go through that stuff.
GSW will once again be the basketball team to beat next season and other NBA teams will have to come up with a solid strategy if they want to dethrone the current NBA champions.