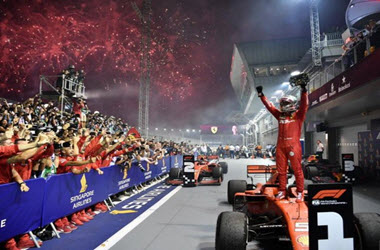 Ferrari's decision to call Sebastian Vettel in for an early pit stop on Sunday at the Singapore Grand Prix proved to be the trick needed to bring an end to Vettel's going winless for the last 13 months.
Vettel, who had not won a race since the 2018 Belgian Grand Prix, stated on the grid in third and finished ahead of teammate Charles Leclerc to give Ferrari a much needed 1-2 finish. While a great day for Ferrari, Leclerc was not pleased with the team's strategy in the pits. Speaking to the media after the race, Vettel said,
"Obviously the start of the season has been difficult for us but in recent weeks we started to come alive. It's been incredible to get so much support from the fans and I tried to put it all into the track today and into the car and I'm glad it paid off."
Max Verstappen finished third while point's leader Lewis Hamilton finished fourth and Valtteri Bottas was fifth. There are six races left in the season and Hamilton, who has a 65 point lead in the driver's championship, has struggled against the Ferrari's in the last several races. With the race winner getting 25 points, the championship is far from decided.
All the emotion of that 392 day wait between wins, unleashed 🥺#F1 #SingaporeGP pic.twitter.com/HnZ0MCW1t1

— Formula 1 (@F1) September 22, 2019
Ferrari wasn't favoured to win at Singapore with both Vettel and Leclerc showing unfavourable odds as reported in Betting.ca's Singapore Grand Prix 2019 Betting Preview & Latest Odds. With the Russian Grand Prix only a week away, punters will find generous offers available with the likes of Bet365, one of the world's preeminent bookmakers.
Leclerc, who started in pole position held onto the lead at Marina Bay until he pitted on lap 21. After he rejoined the race Vettel, who had pitted earlier on the 20th lap was in the lead, and Leclerc's displeasure with that was overheard on the team radio. Commenting on the teams' pit strategy, Vettel stated that it was not his decision adding,
"It was a very late call. I thought it was a bit early because I wasn't sure we can make the tires last in the second stint but, yeah, then I just gave it everything in the outlap because I saw the two cars in front of me not pitting, especially Lewis. I was then very surprised a lap later to come out ahead."
Leclerc, who had won the last two races for Ferrari looked like he was on his way to winning another, took the high road when asked about Ferrari's pit strategy stating,
"It's always difficult to lose a win like that but in the end it's a 1-2 for the team. We arrived here hoping for a podium and come back with a 1-2 so are extremely happy."
However, during the race, the young driver was not pleased when he was instructed to save the engine with 15 laps remaining and was overheard on the radio saying,
"I just don't think it's fair, but I won't do anything stupid."
Alexander Albon, who drives for Red Bull placed sixth and McLaren's Lando Norris was seventh, Pierre Gasly was eighth while Nico Hulkenberg finished 9th and Antonio Giovinnazi was 10th. Canada's Lance Stroll was well behind finishing 13th and 36.419 second behind race winner Vettel.