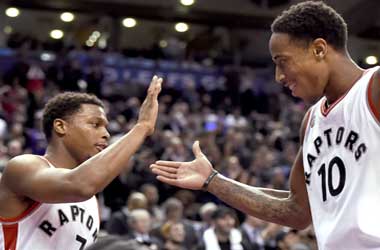 Kyle Lowry has been voted to be a reserve for the All-Star game by the head coaches for the Eastern Conference. This is another nod in the direction of the talented player, and the fourth time he has been voted a reserve.
Lowry, while may not fare as well as some others, should not be a surprise choice for being a reserve. The Raptors player is considered one of the most valuable members for the second place Toronto Raptors and those on winning teams are often rewarded.
While this year's candidacy was not as clear than previous years, it clearly shows how he is now viewed by other coaches in the NBA as a veteran point guard as it was those same coaches that saw him not appearing in an All-Star game to date.
It was the 2013-2014 season that saw Kyle Lowry become a star player. It was the year that he helped see the Raptors respected and make it to the finals in the NBA playoffs. Yet, that same year saw teammate DeMar DeRozan given the nod to make the All-Star game.
DeRozan was most certainly deserving of the honour as he was a big contributor to Toronto's turnaround and it was the coaches that saw the potential and value he brought to the team. DeRozan has a throwback style and can be a rather polarising on the court, and the result has seen him rewarded by the NBA. He has a strong work ethic and a likeable low-maintenance reputation.
However, Lowry was acquired by the Raptors for a discounted price and does not have an equal reputation as DeRozan. The perception is he is more combative, self-centred and can be, at times, challenging to work with.
Skepticism about the Raptors rise from near obscurity quickly turned into elation as the team were contenders for the playoffs. However, even with all of Lowry's efforts, there were those who were wary of the player. As with any other situation, coaches talk among themselves, and many had heard comments that were less than flattering, especially when it came to Houston's Kevin McHale.
This is not something new for a rookie player, many before him displayed poor behaviour on the court as they adjust to the level of play. Many also have had stellar breakout years only to return to mediocre play the following season. However, for Lowry, this wasn't the case as he returned stronger and better, and that has continued with each passing season.
The forty-two games played this season; Lowry is ranked eighteen for win shares in the NBA and twelve in value. He has proven to be successful in three-pointers and passing, and for Toronto, a team that places value on three-pointers, Lowry is a cut above the rest.
"His shooting has been off the charts the last couple games."
His performance against San Antonio and Minnesota saw Lowry taking forty-one shots and scoring sixty-four points, and he succeeded in ten of his nineteen three-pointer attempts.
Lowry's post game interview saw the player praising teammates and looking forward to the All-Star announcement.
Raptors HQ
Casey continued post game that,
"I think that's where he really contributes on the offensive end. But then defensively, Kyle's such a competitor. He's probably one of the most competitive guys in our league right now when it comes to loose balls, taking charges, all the winning plays you have to have. That's what he brings. He sets the tone for us from that standpoint."
While still stubborn and picky by nature, it is not a negative as Lowry has shown, he is a winning player and is deserving of being selected as an All-Star. The first two selections to the All-Star reserve list was the result of fans. However, the other two were as a result of votes from coaches, and for Lowry, this meant a lot. It was proof that he has been recognised for his contributions in Toronto and has earned respect from other coaches.
His value as a player is not to see as much of what Lowry does not always amount to improving his numbers, but does make the difference when it comes to winning games. He plays an integral part in setting up DeRozan, and while he has a smaller stature and may not be as fast on the court as others, he is always active on the court contributing to plays against the competition.
The Raptors will be visiting the Philadelphia 76ers tonight at 7:30pm, and will play host to the Utah Jazz on Friday. For NBA punters, the next two games are the perfect lead up to Sunday evening's game against the Los Angeles Lakers, and an ideal time to check odds with NBA sportsbetting sites.