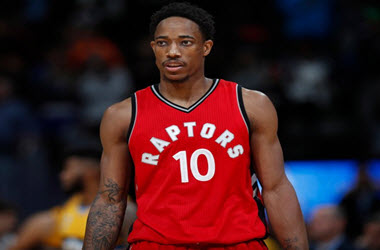 The changes continue with the Toronto Raptors. First, it was Coach Dwane Casey, and now it is DeMar DeRozan. After another failed championship run, the Raptors announced they traded DeRozan to the San Antonio for Kawhi Leonard.
The deal, which included Toronto giving up Jakob Poeltl, a 219 draft pick, was confirmed via a news release and will see Danny Green heading to Toronto as part of the trade. This news comes on the heels of the surprise firing of Dwane Casey. Toronto won the Eastern Conference last season but failed to progress in the finals after losing in the second round to the Cleveland Cavaliers.
DeMar DeRozan was the leading scorer for the Raptors. He was one of the most popular players on the team and played for nine seasons. At the age of 28, a Compton, California native, the trade came as a surprise to the star forward, who was not looking to be traded.
Commenting on the trade, DeRozan posted,
"Be told one thing & the outcome another. Can't trust em. Ain't no loyalty in this game. Sell you out quick for a little bit of nothing… Soon you'll understand … Don't disturb."
Kawhi Leonard has played with the Spurs for seven years however last season only played in nine games as a result of a leg injury. At 27, he helped San Antonio win the 2014 NBA Championships and was the recipient of the NBA Finals MVP award. After being out much of the season, the relationship between the Spurs and Leonard turned negative enough that he requested to be traded.
CBC News
Should Kawhi come to Toronto healthy, he will be a solid addition to a star lineup that includes Serge Ibaka, Jonas Valanciunas and Kyle Lowry. Joining that list includes younger less season veterans such as Pascal Siakam, Delon Wright, Pascal Siakam and O.G. Anunoby.
In his last full season, Leonard has an averaged 25.5 points per game, and those efforts saw him third in the voting for the NBA MVP. While DeRozan had three years left in his current contract with the Raptors, Leonard was a free agent and therefore will help Toronto save with its salary cap.
There is little doubt that DeMar was the top player in the Raptors lineup, and his chemistry with Lowry was well-documented. Drafter ninth overall in 2009, he was a constant starter for the Raptors that helped the franchise to the NBA playoffs five years in a row. To date, DeRozan is the Raptors all-time points leader with 13,296, he made 4,716 field goals, 3,539 free throws made and played 675 games.
Teammates sounded off on the loss of DeMar on Wednesday with DeMarre Carroll posting on Twitter that,
No matter what…When I think of Toronto Raptors Basketball… I think of DeMar Derozan…He deserves a statue…🤷🏾♂️🤷🏾♂️💯💯💯

— DeMarre Carroll (@DeMarreCarroll1) July 18, 2018
Danny Green played 60 games last season for the Spurs and is considered a threat when it comes to bagging three-pointers. At 31, his per game average is 8.6, and he has played the majority of his professional basketball career with San Antonio. Jakob Poeltl had an average of 6.9 points per game and 4.8 rebounded. He was a key bench player for the Raptors last season and will be playing in his third NBA season this year.
With the NBA season getting underway in October, how the trades will impacxt each team will be seen. For Toromto fans, losing DeMar was a blow many are angry with, however, with the additon of Leonard, a seasoned veteran and NBA Champion, it could be the shake up this team needed. As for punters lookinbg forward to the new season, our top Canadians basketball sports betting sites have all the NBA actionyou crave – why not register today and get prepared for the upcoming season in advance.