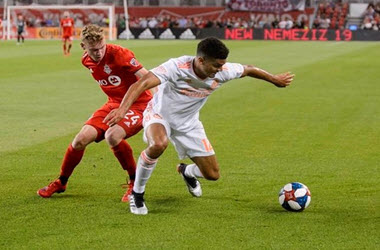 As the Toronto FC took to the field on Wednesday against the Atlanta United, it was a night full of nerves and memories that Canada's Jacob Shaffelburg will not soon forget.
Shaffelburg was making his debut as a starter for the Toronto FC and in front of a packed house, the teenager, who calls Port Williams, Nova Scotia home, said his nerves were getting the better of him during the lead up to the lick off at BMO Field.
Before Jacob Shaffelburg and his teammates took to the field, several tried to calm those nerves telling his just to be himself and relax. After the game got underway, it wasn't long before Shaffelburg got in the middle of it making it just another game.
The night not only set a record for Shaffelburg, but also for TFC after the teen got into a back and forth with United's Marky Delgado before taking possession and passing to teammate Tsubasa Endoh, who sent it on point scoring TFC's first goal on the night, and setting a record for the fastest goal (29 seconds) in its history.
Shaffelburg, who also assisted on Alejandro Pozuelo first half goal, commented post-match,
"It was crazy. Leading up to it, I was nervous, but once I got out onto the field, it felt like a normal game. It was an amazing feeling to be out there, the most fans I've ever played in front of. I gave my mom a big hug after the match. She was all teared up."
Toronto FC
Jacob Shaffelburg has a number of supporters on hand to cheer him on for his first start in the stands including both his parents, Linda and Michael. Also on hand as TFC defeated the Atlanta United were his Toronto FC II teammates, well former teammates at the moment.
Greg Vanney, head coach for TFC commented that his performance as a starter was outstanding. Four days previously Shaffelburg was put in as a substitute at the 59th minute mark in TFC's match and subsequent loss against Dallas
TFC visits D.C. United will play host to Toronto on Saturday, and from all accounts, Jacob Shaffelburg will be joining the team. For punters, the win was positive news and a prime opportunity to place bets with leading soccer sportsbooks during a year that has seen TFC struggle. Commenting on Shaffelburg, Vanney stated,
"There are a lot of things he can learn and a lot of things he can do more efficiently on the defensive side, so he's not doing so much running from end line to end line, but the kid can run all day. He's incredibly fast, and he puts a ton of pressure on the back line and outside backs of the defensive side."
Shaffelburg comes from a small community where sports are a big part of the social fabric. Drake Batherson, a neighbour of Shaffelburg's last season, played for the Ottawa Senators, and while hockey was big, Shaffelburg chose soccer, as did his brother and sister, Jessica and Zach.
In his final year in high school, the University of Virginia offered Shaffelburg a scholarship. However, he opted to sign a contract to join the TFC Academy and spent a year honing his skills before being added to the TFC list of homegrown players.
Admired for his speed and personality, coach Vanney said, Shaffelburg does not seem to be in awe of much adding,
" But he needs to continue to be himself and be aggressive, and we'll keep teaching him as he goes. I'm not going to put any pressure on him to play this way every game. It's a career. There are steps. He was fantastic on Wednesday. I think he can make a difference in this league."