Canada Soccer Under Pressure To Offer Jersey Sales Percentage To All Players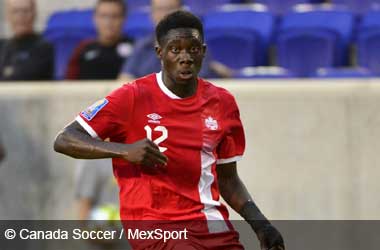 Summary
Canada Soccer offers only Alphonso Davies jersey licensing rights
Canada Soccer did not disclose any terms of the agreement and kept things private
The Players Association is fighting for Canada Soccer to treat all players equal
The Canadian's men's National Team is currently training hard as they prepare for the 2022 FIFA World Cup which starts on the 20th of Nov in Qatar and finishes on 18 December. Canada Soccer which governs soccer in Canada has a lot on its plate right now as it deals with issues on the field and off-the field. 
While the main focus in the FIFA World Cup, Canada Soccer is also facing pressure from The Canadian Men's National Soccer Team Players Association (PA) over jersey sales and licensing fees.
Canada Soccer Grants Alphonso Davies Jersey Licensing Rights
As the FIFA World Cup approaches, Canada Soccer is expecting an increase in jersey sales as Canadians look to don the jerseys of their favorite players and show their support.  Alphonso Davies (pictured) is arguably the most popular player for Team Canada right now and the demand for his jersey is a lot more than any other player.
Alphonso Davies and his agent Nick Huoseh recently informed the biggest online retailer of sports jerseys – Fanatics to stop selling jerseys with Alphonso Davies name and number on the back. Nick Huoseh said it wasn't fair as his client  Alphonso Davies wasn't getting any revenue from the sale of his jersey. 
Canada Soccer decided to sort the matter out real quick as news broke that the organization had signed a jersey licensing rights with Davies that will allow him to get a cut on all of his jersey sales. Canada Soccer has not disclosed any details of the licensing deal.
Players Association Wants Licensing Deal With All Players
Alphonso Davies is now the only Canadian soccer player in the men's and women's team who has a licensing deal with Canada Soccer. The Players Association has put pressure on Canada Soccer to treat all players with equality and offer all players a jersey licensing agreement so that they can benefit financially from the sale of their jerseys. 
Canada Soccer has refused to comment on the matter so far claiming that they are in talks with the men and women's national team for the last few months and are trying to reach a mutual agreement.
Don't forget to check our site for the latest odds for next month's FIFA World Cup in Qatar – Can Canada get to the knockouts?