Canada Learn Valuable Lessons Ahead Of Qatar 2022 After Uruguay Loss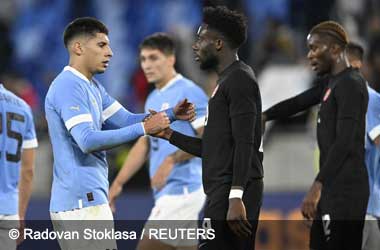 Summary
Canada lost their world cup friendly match against Uruguay 0-2
Uruguay exposed multiple weaknesses in Team Canada
Canada need to work on their weaknesses quickly ahead of the 2022 World Cup
Canada is currently playing world cup friendly games in the lead up to the 2022 FIFA World Cup in Qatar and being unsure of financial payments owed to them. Canada had a good showing in their world cup friendly against Qatar last week and finished with a 2-0 win.
They had a tougher challenge this week when they took on the 13th ranked Uruguay in Bratislava, Slovakia and did not have a great outing.
Canada Lose 0-2 To Uruguay
Canada had a tough test on their hands when they took on South American powerhouse Uruguay as Uruguay has a fantastic team with top stars including Luis Suarez and Darwin Nunez who plays for Liverpool.
Canada had a mixed game against Uruguay as the Canadians controlled the majority of the game, having more possession of the ball than Uruguay. The first half of the game, Canada finished with 59-41 in terms of possession and overall finished the game with a possession rate of 55-45.
Canada had multiple chances to score but for some reason could not get their act together and put the ball at the back of the net. They ended up making a number of mistakes with their defense that allowed Uruguay to score twice and finish on a winning note.
Head coach for Canada, John Herdman said the team was disappointed with their performance as they did not capitalize on their opportunities when presented to them. Herdman said his team realized that if they make similar mistakes during the 2022 World Cup, their World Cup campaign will be a very short one!
Canada Have Multiple Areas To Fix
Canada has played just about all of its football games since 2020 against teams that belong to the Confederation of North, Central America and Caribbean Association Football (Concaf). Canada has done well as a team in qualifying for the World Cup in Qatar but know that their journey in the World Cup is going to be a really tough.
Canada are part of Group F which consists of top teams such as Belgium, Morocco and Croatia, which you can take a look at the latest live odds with Betting.ca.
Canada will have one more world cup friendly match against Japan on Nov 17 in Dubai before they enter the World Cup and take on Belgium in their first outing on Nov 23.