Moneyline vs Point Spread Betting: Pros and Cons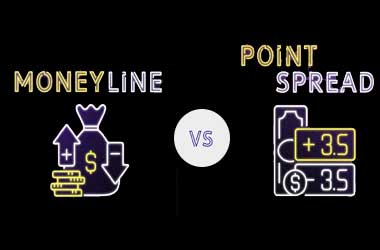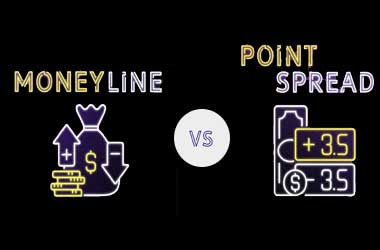 Online betting has become one of Canadians' most popular online kinds of entertainment. There are hundreds of sports events worldwide, and people don't want to lose the opportunity to win easy money. Whenever you are a new or experienced bettor, you must know the difference between several available online bets.
Before placing a bet, you must decide which one you want to use: a Moneyline bet or a point spread bet. Both of them have significant pros and cons for players. If you don't know the difference between them- don't worry. This article will highlight the things you must consider before placing a Moneyline or a spread bet.
What Is a Moneyline Bet?
Simply explained: A Moneyline bet is when you choose which team will win the competition. For example, for NHL Stanley Cup 2022, the odds look like this:
Colorado Avalanche: -130
New York Rangers: +650
The team with minus odds is usually the favourite among bettors and has a greater chance of winning.
Pros of Choosing Moneyline Betting
Moneyline betting is the simplest way to win money. It doesn't require any complicated strategies or calculations. Usually, it's straightforward for everyone. Players have to wager on their favourite team, who will presumably win the game, or they lose their money.
It's very easy to convert betting odds in percentage and decide if a wager is worth pursuing or not. Smart bettors usually stick with Moneyline underdogs or spread betting when betting on favourites. Unfortunately, betting large Moneyline favourites is the road to ruin for most bettors.
On the flip side, because underdogs win less often, the oddsmakers need to make them more attractive to bettors so they can entice even betting on both sides. To make them more appealing, oddsmakers add a sweetener to underdogs in the form of plus money. This affords bigger payouts on underdogs when they win. Whatever price is listed after the plus sign next to the underdog, a bettor will win that additional amount if they pull off the victory.
Cons of Choosing Moneyline Betting
The biggest disadvantage would be that payouts placed on these bets are usually minimal. If you bet on the underdog, the wins will be higher, but the chance of it happening is low. You need to know the breakeven percentage of a bet at the odds you're taking. That's the percentage of bets you must win at those to make money.
What Is Point Spread Betting?
A point spread bet is when bookmakers set a specific number of points for a team to win by for the bet to cash. The spread bet can look like this:
Colorado Avalanche: (+5) -110
New York Rangers: (-5) -110
The favourite team has to win with more than the number displayed, while the team with a plus number has to lose with fewer than the mentioned number.
Pros of Point Spread Betting
Compared to Moneyline bets, point spread betting has better payouts. If you want to make good money on betting, that's how to do it.
Whereas the majority of the public likes to bet Moneyline and root strictly for the winner instead of having to worry about covering a spread, the pro bettor will more times than not opt for betting on the spread as it minimizes the potential risk while still preserving their initial lean, provided of course the team can cover the points needed to win.
One of the other huge advantages of spread betting over most other forms of gambling is that it allows opposing teams and players, effectively meaning the punter is laying them as a bookmaker would. Rather than saying a team will do well, we can specifically back them to do badly in an individual game or throughout a season.
In the same way, it is possible to back against events happening – such as points being scored in a rugby match, corners in a football game, or the number of birdies on a specific hole in a golf tournament. In fact, one can bet on almost anything that can be logged numerically.
Cons of Point Spread Betting
Point Spread Betting involves wagering strategies against bookmakers' more complicated odds. If Moneyline betting is simple because you just pick the team to win, spread betting has more calculation techniques for winning and is not based on pure luck.
But while spread betting is a gamble like any other form of punting, it also needs a dramatically different temperament and mindset. When any other gambler puts down his money, he knows that he is doing exactly that. He is putting down a set amount of money that is the most he can lose. Whether it is backing a horse in the local bookmakers or laying a cricket team on a betting exchange, the stake is predetermined. You can lose big, but you know how big that will be. It's tough to choose that will not just win but win or lose by a particular number of points.
What Is the Best Option for Betting?
We gave you the basic information about Moneyline and point spread betting, but that would not be enough if you want to become a professional bettor. Each one of these options has its advantages and disadvantages.
We recommend beginners start with Moneyline betting and get a feel for the games. In time, you can move to spread betting and improve your strategies for winning money. But if you are a professional, then improving your point spread betting strategies would be the right choice.
Overall, players decide whether to choose Moneyline or spread betting. The only advice is to learn all the rules and calculations to get the most out of your wagers.
Best Sites to Bet Online