Adesanya vs Vettori 2 Predictions, Odds & Betting Sites for UFC 263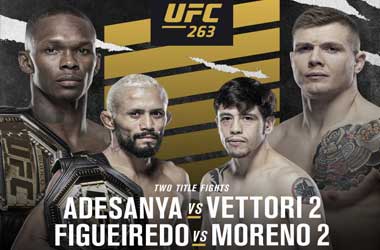 The UFC is gearing up centre stage as it rolls into the Gila River Arena in Arizona on the 12th of June. UFC will see Israel Adesanya and Marvin Vettori once again meeting to battle it out for the UFC Middleweight Championship. Adesanya and Vettori first met in 2018 in a fight that ended with a split decision.
However, in this bout, the two will go two extra rounds that might see Vettori defeat the champion.
The rematch between Adesanya and Vettori has been in the making for three years and will be the highlight of the night.
However, theirs is not the only title bout as Deiveson Figueiredo, and Brandon Moreno meet for a Flyweight title bout. The two had one of the best ranked fights in 2020 that ended in a majority draw.
Best Online Sportsbooks To Bet On UFC 263
While attention will mostly be focused on the two title bouts, the fight card isn't without merit as Leon Edwards will take on Nate Diaz and Demian Maia and Belal Muhammad both square off its welterweight bouts. Also joining the fight card is the usual combination of prelims with several lightweight bouts featuring Drew Dober vs Brad Riddell and Eryk Anders vs Darren Steward.
However, for our UFC 263 fight analysis, we will focus on the title fights between Adesanya vs Vettori, Deiveson Figueiredo vs Brandon Moreno and the non-title bout between Leon Edwards vs Nate Diaz.
Dreist Studios
UFC263 Fight Analysis
Odds have been provided by Bet365 and are accurate as of 06/06/2021
Israel Adesanya vs. Marvin Vettori
Odds to win: Israel Adesanya -250 / Marvin Vettori +200
As a current undefeated champion in the middleweight division, Israel Adesanya is heading into his first fight after his attempt to win the light heavyweight championship against Jan Blachowicz ended in his first professional loss. While Adesanya's attempts at becoming a two-division champion were admirable, they were stopped short, and his return is to defend his middleweight title.
There is no doubt that Adesanya's career in the UFC speaks for itself. The Nigerian bord fighter has a proven track record with an 80-5 record in kickboxing and a 6-1 record in boxing. When you consider the talent, he has racked up over the years, its not difficult to see the threat he poses to challengers.
However, Italy's Marvin Vettori is no slouch and is a genuine challenger that could dethrone Adesanya and cost him his title. This will be the second time that Vettori will enter the cage in an attempt to take the title from Adesanya. Since joining the MMA, Vettori has reach new heights as he refined his striking skills under the guidance of Rafael Cordeiro, Markus Mollica and Mark Munoz.
The dream team of coaches have helped build strength and improve his wrestling skills, and with a five bout win streak, it appears this is a different fighter than the first match and one that Adesanya will need to keep under control.
Deiveson Figueiredo vs Brandon Moreno
Odds to win: Deiveson Figueiredo -250 / Brandon Moreno +200
Deiveson Figueiredo and Brandon Moreno will also square off in a flyweight title bout that is being touted as a rematch to when the two met at UFC 256, one that Deiveson Figueiredo won. Since defending his title in November, Figueiredo increased in win record to 20-1 with a win against Alex Perez.
There is no doubt Moreno will have his work cut out for him as Figueiredo put away his last four opponents in the first round. This will be Moreno's first crack at a title, and one his is hoping his height and reach advantage will give him an edge.
While Moreno has a respectable submission win record, his TKO's pale in comparison to Figueiredo. However, Moreno has a slightly better land per min record, but at the same time, Figueiredo is superior in defence and takedown accuracy. Ultimately, this will not be a one rounder and has the potential to go to the third round.
Leon Edwards vs Nate Diaz
Odds to win: Leon Edwards -500 / Nate Diaz +380
Ranked as the third best welterweight in the world, Leon Edwards is set to take on Nate Diaz in what he hopes will give him a shot at a title bout against Kamaru Usman. That is a tall order considering Usman is undefeated since 2015. However, Edwards enters the cage with an 18-3 record, with eight of those being decision bouts.
The bottom line is Edwards is a skilled striker, but so is Diaz. His biggest problem is the age difference, and that might result in Diaz biting off more than he can chew. At 36, the American is nearing the end of his career and is in need of a big win if he is hoping to secure a title fight. Edwards will need to remember that Diaz can be dangerous, and his conditioning is superb. With a 21-12 record and a two inch reach advantage, Diaz is still the underdog.