Oliveira vs Chandler Predictions, Odds & Betting Sites for UFC 262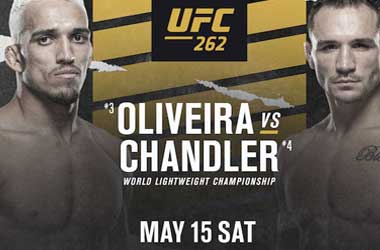 Adoring fans in Texas wait for the UFCs to return on May 15th at the Toyota Centre in Houston. It'll mark the first time UFC has held an event in Texas since July 2019, prompting state-wide excitement with fans.
This pay-per-view event will see Charles Oliveira and Michael Chandler compete for the "UFC Lightweight Championship Belt", a belt that hasn't been claimed by any fighter since Tony Ferguson lost to Justin Gaethje at UFC 254.
This will be the first time Oliveira and Chandler have fought for a championship belt.
For Charles Oliveira, his career in mixed martial arts depends on this fight as he has competed in the UFC for ten years without achieving champion status. It's the opposite spectrum for Michael Chandler, a relative newcomer into the Ultimate Fighting Championship. He defeated Dan Hooker at UFC 257 with a total knockout submission, showing that his skills are on par with previous and current champions. It's not surprising, considering that Chandler held three championship belts in Bellator MMA and defended his title in eleven fights.
Best Online Sportsbooks To Bet On UFC 262
UFC 262 will also see Tony Ferguson returns to the octagon for the first time since losing to Charles Oliveira in December 2020. It marked Ferguson's second consecutive loss and his losing the opportuning at taking a shot for the "UFC Lightweight Championship Belt". That opportunity instead when to Oliveira, and it's no coincidence that Ferguson is competing on the same night as the Chandler and Oliveira title bout as UFC CEO Dana White will likely be evaluating if Ferguson will be resigned in 2022.
The female division will also be a focus on the 15th as one of the competition's most respected fighters, Katlyn Chookagian, returns to square off against Viviane Araujo. The five-year veteran, Katlyn Chookagian, is expected to be dominated by the younger & fiercer Araujo, as recent efforts from Viviane indicate her performance is more robust than Katlyn's.
The night will also include preliminary fights before the official main card lineup for UFC 262. This includes Andrea Lee vs Antonina Shevchenko. The sister of Valentina Shevchenko, Antonina first appearance in a UFV event in April 2019 and has gone on to win two of her four fights in the UFC. It's expected that she'll defeat Andrea Lee, as Shevchenko acquired "Performance of the Night" when last competing in November 2020 at UFC 255.
Below we've highlighted the three most anticipated matches for UFC 262. We've provided predictions and odds for bettors to assess which fighter will win their respective matches. Regardless of who wins the main event, it'll be a memorable pay-per-view thanks to Chandler or Oliveira becoming the new "UFC Lightweight Champion".
UFC – Ultimate Fighting Championship
UFC262 Fight Analysis
Odds have been provided by Bet365 and are accurate as of 10/05/2021
Charles Oliveira vs Michael Chandler
Odds to win: Charles Oliveira -125 / Michael Chandler +100
Fans will remember the championship matchup between Michael Chandler and Charles Oliveira for months to come. Both fighters have notable traits that could lean in their favour. However, Michael Chandler's looking to succeed Tony Ferguson as "UFC Lightweight Champion", and with Chandler's history in mixed martial arts, the odds are in his favour. This American native has impressed Dana White & other UFC champs during his time with Bellator, and that ultimately led to his almost immediate opportunity to contend for the lightweight division belt.
Michael Chandler won't have an easy time accomplishing his goal of walking away victor as Oliveira will fight diligently to earn his first title. He'll combat the wrestling skills of Michael by imposing Brazilian Jiu-Jitsu, which was taught to Oliveira by former Brazilian champions. Depending on how long Oliveira can avoid being taken down to the matt will make a substantial difference in the outcome of this fight. However, Michael is infamous for imposing fast takedowns without giving any physical warning to his opponent. Subsequently, this battle will come down to who makes a mistake first.
Tony Ferguson vs Beneil Dariush
Odds to win: Tony Ferguson -140 / Beneil Dariush -170
After losing two fights consecutively, Tony Ferguson will look to regain his former momentum and become a likely contender for the UFC Hall of Fame. He's heading the co-main event for UFC 262, which some analysts suspect could mentally affect Ferguson as he battles against Beneil Dariush. Tony knows that either Oliveira or Chandler are competing for his former lightweight championship belt on the same ticket, and that could see Ferguson making some unexpected mistakes.
Nobody can deny that Ferguson is an incredible fighter who lost his momentum after being defeated by Justin Gaethje. The damage done to Ferguson was substantial and required extensive hospital treatments. When the UFC welcomed him to fight Charles Oliveira, there was a noticeable change in Fergusons stamina and power. There are some that hope he'll return to his former strength by training with Freddie Roach, a renowned coach who's trained Manny Pacquaio and other famous fighters, but only time will tell.
It's an unlikely reality that Ferguson will overcome Beneil Dariush, who's five years younger and equally skilled. The bottom line, it will come down to stamina for this co-main event, but ultimately, the odds are in favour of Beneil.
Katlyn Chookagian vs Viviane Araujo
Odds to win: Katlyn Chookagian -138 / Viviane Araujo +110
There's another fight that UFC are highly anticipating, Katlyn Chookagian vs Viviane Araujo. After losing to Valentina Shevchenko in February 2020, it's been a dramatic period for Katlyn's career. Since then, Chookagian has competed three times in twelve months and defeated the sister of Valentina Shevchenko, Antonina Shevchenko, before losing to Jessica Andrade. The most recent fight with Katlyn "The Blonde Fighter" Chookagian saw her defeat Cynthia Calvillo, which has provided her with another opportunity to compete against Valentina Shevchenko in the future. Whoever wins this fight will face off against Valentina Shevchenko in a title bout for the Bantamweight division.
Viviane Araujo started fighting in the UFC Bantamweight division in May 2019 and has flourished, winning four of her five fights. Her fighting statistics are superior to Chookagian's on every level, and that has many predicting she will walk away with the win., and subsequently, a future title bout against Valentina Shevchenko.