Poirier vs McGregor 2 Predictions, Odds & Betting sites for UFC 257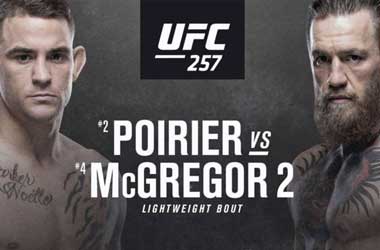 The UFC is setting the stage for what is expected to be a night of intense action in the Octagon when it arrives on Yas Island and sets up shop in the Etihad Area in Abu Dhabi on the 24th of January.
On Saturday, the main event will see Conor McGregor, undoubtedly the biggest star in the UFC, returning in a five-round lightweight fight against Dustin Poirier.
While many consider McGregor the best in the UFC, of late, the Irishman hasn't been at his best, and Saturday's fight will give oddsmakers a good opportunity to gauge whether McGregor still has what it takes to fight against opponents like Poirier.
With Poirier's recent performances, he has the skills needed to show and capitalize on any weaknesses McGregor has exposed.
Considering this is not their first fight when they last entered the Octagon in 2014, they were still rising stars on the UFC. In their last fight, McGregor came away with a blistering win that saw the fight over in less than two minutes.
Best Online Sportsbooks To Bet On UFC 257
However, a lot has changed since then as Poirier, and he has improved the leg kicks and strikes he displayed in their last fight. The biggest problem for Poirier will be keeping McGregor in control and taking charge of the fight, no small task against an opponent such as McGregor.
That said, the upcoming fight is deserving of evaluation and determining who has the upper hand. At the moment, the oddsmakers are favouring McGregor over Poirier, but let's see if we agree with that assessment.
MMA Sports Planet
UFC257 Fight Analysis
Odds have been provided by Sports Interaction and are accurate as of 19/01/2021
Dustin Poirier vs Conor McGregor
Odds to win: Dustin Poirier 3.00 / Conor McGregor 1.36
The six years that have passed since McGregor and Poirier last met is a lifetime in terms of mixed martial arts. Both were hungry back then, and while both may still be, they good life and the money that has come from high profile fights has seen problems arise for McGregor.
McGregor's most famous bout and biggest payday was when he fought Floyd Mayweather, it was also one that saw him humbled. Since that fight, there have been a number of disturbing incidents that were far from favourable for McGregor's reputation. He also has been living large and the good life resulted in two other losses, one against Khabib Nurmagomedov and the other against Nate Diaz.
From all accounts, it seemed like McGregor went from being hungry to being full, and it showed. However, his comeback bout against Donald Cerrone looked like the McGregor we love, but since 2016, he has only had two fights. Meanwhile, Poirier has remained active with his last fight coming June when he won by decision against Dan Hooker. While Poirier's next fight against Khabib resulted in a loss, he has racked up wins against Eddie Alvarez and Justin Gaethje as well as an interim title win over Max Holloway.
Our Prediction: McGregor by decision
Dan Hooker vs Michael Chandler
Odds to win: Dan Hooker 1.74 / Michael Chandler 2.10
While talk may be focused around the McGregor/Poirier fight, UFC 257 see Michael Chandler, a former Bellator lightweight champion, making his debut in the UFC against Dan Hooker. Considering Hooker is ranked 6th overall in the UFC lightweight division, Chandler is going to have his hands full and will need to be at his best if he hopes to score a victory.
While Hooker has seen some tough losses, including one against Dustin Poirier, he is arguably one of the most improved fighters in the UFC. His fight again, Poirier is one of the most talked about battles that came out of 2020. The problem for Chandler, who is more than capable in his own right, is Hookers style, and adjusting to it will be one of his greater challenges during the fight.
The reality is, the fight is expected to be short and highly entertaining, and while Hooker has a slight advantage, the fight is being seen as somewhat even. However, Hooker has been the favourite is eight of his previous eleven fights and has more experience and a proven track record. Therefore, our money is behind Hooker to come away with a win. However, it could go either way if Chandler does damage early in the bout.
Our Prediction: Dan Hooker by decision