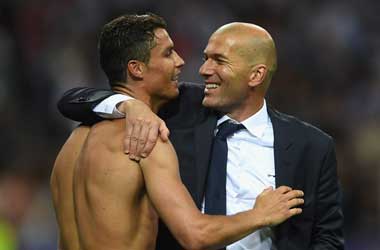 Cristiano Ronaldo is arguably the greatest soccer player of this generation and has been instrumental in helping his club Real Madrid dominate for a number of years.
During the 2016-2017 season, Ronaldo has helped Real Madrid win the La Liga, the UEFA Super Cup and the UEFA Champions League.
Zinedine Zidane , the former French great who is now coach for Real Madrid relies heavily on Ronaldo and has a good relationship with the Portuguese star.
He recently addressed rumors that Cristiano Ronaldo might be leaving Real Madrid to go back to his old club Manchester United who he left 8 years ago.
In a statement, Zidane said
I only believe in one thing — whenever I've spoken to him, he has been very relaxed. He's on holiday and he will be back with us on the 5th of August. I listen, just like everyone else, but the only thing I'm concerned with is what he wants to do with Real Madrid. He'll be here with us on the fifth and I think he'll stay for the next 2 or 3 years he's got left with us
Real Madrid are currently in the United States as they are getting ready to play a tune up match against Manchester City on the 26th of July in Los Angeles. They will they play arch rivals Barcelona in Miami over the weekend and will not have Ronaldo for both these warm up matches.
Sports Illustrated
However Zidane is not very concerned about his absence saying that Ronaldo deserves the holiday and he is confident that his star player will be in the right frame of mind once he gets back on 5th August. Real Madrid will play their first competitive soccer match in the European Super Cup on August 8 and Zidane will want to field the strongest team possible to get Real Madrid off to a good start.
Zidane confirmed that while Ronaldo is expected to remain at Real Madrid, the club had lost two players in Danilo and Alvaro Morata.
Manchester United coach Jose Mourinho would love to be able to get Cristiano Ronaldo on board but he had been very candid in saying that the club is not even thinking about Ronaldo as they have no reason to believe that he wants to leave Real Madrid. Mourinho stated that it was 'mission impossible' to try and bring Ronaldo over and he wasn't wasting any time thinking about such a move.