Jets & Maple Leafs Show Support For LGBTQ+ Community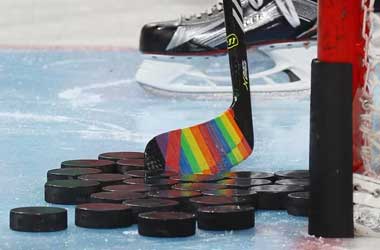 Summary
Winnipeg Jets and Toronto Maple Leafs throw full support behind Pride Night
Maple Leafs celebrate with multiple events including a live drag show
Jets will wear pre-game Pride Jerseys to show that visibility and support for the LGBTQ+ community matters
Two Canadian NHL teams have come out in strong support for the LGBTQ+ community by celebrating Pride Night. The Winnipeg Jets and Toronto Maple Leafs have not had any second thoughts in speaking out and hosting special events to show Canadians what their stance is when it comes to the LGBTQ+ community.
Toronto Maple Leafs Hosts Live Drag Show
The Toronto Maple Leafs have made it a point to show support for the LGBTQ+ community by celebrating Pride nights since 2017. The Toronto Maple Leafs celebrated Pride Night on April 03 by putting together a number of special events to highlight the LGBTQ+ community.
The Maple Leafs decided to use "Man! I Feel Like A Woman!" by pop artist's Shania Twain as an apt song to celebrate Pride night. Head coach Sheldon Keefe and a number of Toronto players wore Pride-Rainbow themed T-shirts during a media day on April 03 but did not wear any Pride themed jerseys during the pre-game warm-ups.
However, Toronto players did use rainbow sticky tape and Pride decals on their helmets when they did their pregame skate before taking on the Columbus Blue Jackets. The Toronto Maple Leafs would go on to win their game against the Columbus Blue Jackets 2-1.
Winnipeg Jets To Wear Rainbow Jerseys During Pregame Warm-up
The Winnipeg Jets said that their players will show support for the LGBTQ+ community on April 05 as they will wear rainbow jerseys during the pregame warm-up session. Multiple players from the Jets spoke to media to reaffirm their support for diversity and inclusion after James Reimer of the San Jose Sharks refused to wear a Pride Jersey a few weeks ago.
In a statement, Josh Morrissey who plays as a defenseman for the Jets said
Personally, I feel people in the community and whatnot, through Pride and other initiatives and people that are supported by our Pride Night, deserve to be recognized and be supported. I truly believe hockey is for everybody and everybody should feel comfortable coming to the rink, as a spectator, player, fan, anything like that. I just feel strongly about supporting it and believing that everyone should be supported in what they do.