James Reimer Refuses To Support NHL 'Pride Night' Over Beliefs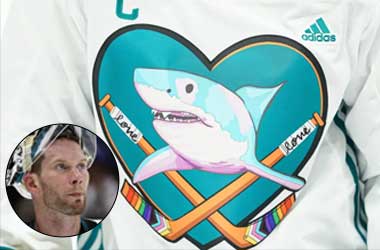 Summary
San Jose Sharks decided to support Pride Night by wearing Pride themed jerseys against New York Islanders
James Reimer refuses to pay Pride Jersey over Christian beliefs
You Can Play Project says disappointed that religion is being used to not support LGBTQIA+ community
San Jose Sharks decided that they would show their support for the LGBTQIA+ community by celebrating Pride Night on 18 March.
The Sharks decided to wear Prided themed jerseys for their game against the New York Islanders on Saturday night. 
Canadian Goalie Refuses To Wear Pride jersey 
James Reimer who was born in Manitoba, Canada and players as a goalie for the Sharks made it clear to the team that he was not going to wear the Pride jersey and be part of the warm up activities as it went against his religious Christian beliefs.
NHL players have generally had no problem wearing Pride themed jerseys or hand bands to support the LGBTQIA+ community and send a message that everyone is inclusive in sport. The one exception prior to James Reimer refusing to wear a Pride jersey was Ivan Provorov who plays for the Philadelphia Flyers.
Provorov who is Russian orthodox refused to support the Pride initiative in January 2023 stating that it was against his religious beliefs. Reimer is now the second player in the NHL to not support Pride initiatives claiming that it would violate his Christian beliefs. 
San Jose Sharks released a statement and said that as a team they fully supported the LGBTQIA+ community and encouraged others to be active in their support but at the same time respected the rights of individuals to express their own beliefs and opinions. 
You Can Play Project which promotes including everyone in sports released a statement and said it was disappointed to see athletes not back the Pride initiative and use religion as an excuse.
James Reimer Clarifies His Stance On Pride
Reimer released a statement and clarified that he believes everyone has value and that the LGBTQIA+ community should be fully welcome in all aspects of hockey. However, he regarded the Bible and Jesus Christ as the highest authority in his life and he was not willing to endorse something that was contrary to the Bible. 
Reimer said that in his 13 year NHL career, he has chosen to live his life based on his religious beliefs that taught him to love everyone but also choose to stand up for his Christian faith.