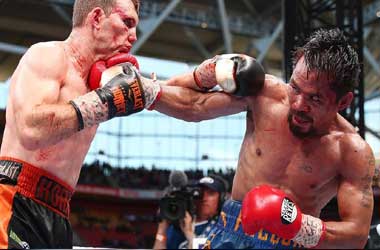 Manny 'Pacman' Pacquiao fans expected the veteran boxer to add another win to his illustrious career when he took on Aussie Jeff Horn on 02 July in Brisbane. The Pacman had a slow start as Horn dominated the first few rounds but soon started running out of gas.
Pacquiao seemed to find his rhythm after that and had Horn in trouble on numerous occasions but wasn't able to finish the fight. The decision was left to the three judges Ramon Cerdan, Chris Flores and Waleksa Roldan who scored the fight 115-113, 115-113 and 117-111 in favor of Horn.
The unanimous decision shocked boxing fans throughout the world as many believed that Pacquiao had done more than enough to retain his WBO welterweight title.
While the fans were visibly upset, the Pacman remained cool and did not show much disappointment. He stated during his post match interview that he was interested in invoking the rematch clause and wanted another crack at Horn who was willing to give Pacquiao the rematch provided it once again took place in Australia.
ESNEWS
Things have changed in the last one week as Pacquiao does not seem to be too keen in going ahead with the rematch. Instead the Games and Amusements Board's (GAB) in the Philippines has approached the World Boxing Organization (WBO) and have asked for a review to be conducted in the controversial decision. The GAB stated that they believe the judging was fixed and hence asked the WBO to conduct a review to maintain the integrity of the sport.
The WBO has agreed to proceed with a review and has appointed 5 individual judges to watch the match and score each of the rounds. An average score will be taken for each of the rounds to determine which fighter ended up winning each round and the match. The WBO has confirmed that it will not reverse the decision or strip Horn of the title, should any fixing claims emerge.
The reason for the review is to allow boxing fans to know for certain who the eventual winner was. WBO President Francisco Valcarcel stated that Pacquiao had the opportunity of invoking the rematch clause if he wanted to fight again and hence no decision will be reversed. There have been rumors that both Horn and Pacquiao are more interested in setting up their fight with Floyd Mayweather who is set to face UFC Fighter Conor McGregor on August 26.