Horn Creates Boxing History With Major Upset Against Pacquiao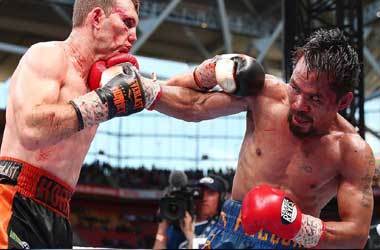 Australian Jeff Horn took on WBO welterweight champion and legend Manny Pacquiao in Brisbane, Australia on 02 July. Both bookies and fans expected Pacquiao to finish the night with a win.
That wasn't the case as one of the greatest upsets in boxing history took place when the challenger Horn defeated Pacquiao via decision become the new WBO welterweight champion.
Horn won via unanimous decision 117-111, 115-113 and 115-113 but boxing fans were not happy with the decision and took to social media to tell Pacquiao that he was robbed. Boxing commentators were also left shocked with the decision and some went on record to say that it was decisions like this that robbed boxing and left a bitter taste with the fans.
Horn came out on fire and was on top for the first four rounds as Pacquiao looked sluggish and was struggling to find his rhythm. Horn also had the home crowd on his side but he started to gas mid-way and then Pacquiao turned it on. There were some boos from the crowd as Horn appeared to strike Pacquiao a few times with his elbows and also with his head.
However Manny Pacquiao was gracious in defeat and said
He was a tough opponent. I didn't expect his toughness in the ring. The head butts affected me a lot because a lot of blood came out of my head". Referring to the decision, Pacquiao said "I didn't expect that … that's part of the game. That's the decision of the judges. I respect that
The fight contract between Pacquiao and Horn had a re-match clause and Pacquiao wasted no time in saying that he would be interested in a re-match when he was asked the question. However that does not appear to on the agenda for Horn right now as he seems interested in getting a crack at Floyd 'Money' Mayweather. Horn has a 17-1 fight record and Mayweather has a 49-0 record but it is highly unlikely that Mayweather will accept the challenge.
Mayweather is coming out of retirement to fight UFC star Conor McGregor on August 26 in Las Vegas is what is being billed as the 'money fight'. Mayweather will most likely retire once again after the McGregor match but there is a slim chance that he might change his mind and take on Horn given the fact that he defeated Pacquiao – who is considered to be one of the greatest boxers of this generation.