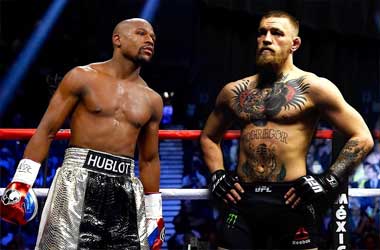 The fight between boxing great Floyd Mayweather and UFC's Conor McGregor is being billed as the 'Money Fight' as both boxers are expected to take home a purse that is in excess of $100 million each. The fight has been in the news for the last 18 months as both fighters have used social media to take jabs at each other and McGregor succeeded in getting Mayweather to come out of retirement and agree to fight him.
The Money Fight is scheduled to take place on August 26 in Las Vegas, Nevada and the promoters are planning a world-wide promotional tour to bring the fight even more media attention.
UFC President Dana White went on record yesterday to confirm that one of the stops on the tour would be in London but there would be no stopover in Ireland – where McGregor lives.
When Mayweather fought Canelo, fight promoters did a whirlwind promotion covering 10 cities in 11 days which would have been draining on the fighters. This time around, Stephen Espinoza, VP of Showtime Sports stated that it is highly unlikely that the 'Money Fight' promoters would go with such a tight schedule as both fighters are interested in sticking to their training and preparing for the actual fight.
BT Sport
That being said a promotional tour will take place most likely in July and have less than 10 stops – but apart from London, there is no clarity as of now as to how many stops will be outside the United States. The promoters will most likely do stops in Las Vegas and New York and there is no doubt that all of the press conferences will be unique – especially for Mayweather who has never had to deal with an opponent like Conor McGregor who is a master at playing mind games before a fight.
Dana White posted a picture on Instagram featuring Conor McGregor carrying his son but the picture had Mayweather's head in place and White captioned it with the words 'Can't wait for the world tour.'
World Tour would imply that the promoters could make stops on different continents in an effort to gain more pay-per- view buys. A MMA/UFC pay-per-view usually goes at around $60 but there have been some rumors floating around that the pay-per-view for the money fight could be as high as $100.
Dana White has also cautioned people not to fall prey to scammers and buy tickets for the fight as no tickets have been officially issued. There have been social media posts of people paying in excess of $2,000 for tickets which were fake, leading to White issuing a cautionary warning.