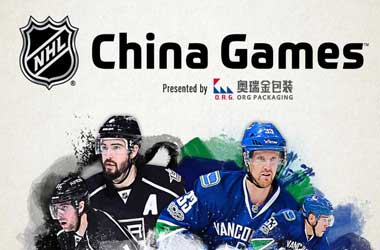 The National Hockey League (NHL) is looking to break into the Chinese market and has scheduled two exhibition matches to take place this week between the Vancouver Canucks and the Los Angeles Kings. The first match takes place on Thursday and will be held in Shanghai while the second match is fixed on Saturday and will take place in Beijing.
There were mixed emotions as players from the two squads prepared for a long flight to China. Most of them were happy to make the 10 hour plus journey as it was their first time venturing into China and they were excited to experience a new culture and meet new fans. However some of the veterans were not too thrilled of having to fly half way around the world and play back to back matches with the NHL season fast approaching.
Vancouver Canucks captain Henrik Sedin was one of those players who was not too keen on flying half way across the world but understood how important it was for the NHL to break into China, which has a population of 1.4 billion. Sedin said that if the NHL succeeded in getting China's attention it could be massive for the NHL and its players.
chinadailyus
The National Basketball Association (NBA) is very popular in China and has been closely followed for well over a decade. One of the reasons for the NBA's popularity is because at one point of time China's top basketball player Yao Ming represented the Houston Rockets in the NBA and that helped to break open the Chinese market.
So far there have been no Chinese players who have made it to the NHL but China has been warming up to the NHL as a number of franchises including the Canucks and the Kings have hosted camps for Chinese youth. The decided to pull out of the 2018 Winter Olympics in Pyeongchang, South Korea but has expressed interest in participating in the 2022 Olympics which will take place in Beijing, China.
Cannucks head coach Travis Green has asked his team members to have fun and enjoy the experience of playing in China. The NHL teams have already had a few warm-up sessions and are looking forward to playing in front of a brand new audience.