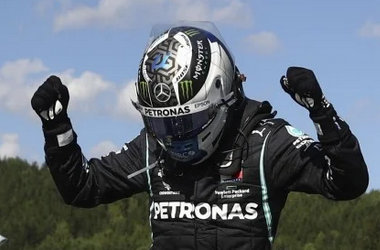 The start of the Formula One season for underway in Spielberg, Austria on Sunday, and for Lewis Hamilton, it was not the start he had hoped for. However, for his teammate Valtteri Bottas, the  was a day that him earning the win after watching nine drivers retiring from the race.
In a race that saw the safety car coming out three times and Lewis Hamilton earning a late time penalty, Valtteri Bottas had said before the race that he has the skills needed to win this years Formula One world championship. Such a statement is a big one to make considering his teammate is Lewis Hamilton, a six-time F1 champion. Adding to that is the fact that Hamilton is intent on matching the record held by Michael Schumacher.
However, Bottas was composed during the Austrian Grand Prix as Hamilton came to within a half a second several times. Yet, Bottas managed to hold off Hamilton, who is considered the best driver in F1 history at overtaking. Add in three restarts behind a safety car, and Valtteri Bottas had his job cut out for himself. Commenting on the race and pressure he faced, Bottas said,
"There was definitely quite a bit of pressure. One safety car was OK but by the last I was like, 'Come on — again?'. There were so many opportunities for Lewis to take the lead if I made a small mistake and he was really quick today. But I managed to keep it together, could really control the race from my side, and there's obviously no better way to start the season."
Autosport
Lewis Hamilton kept up the pressure on his teammate, but with no team orders to allow him to pass, Hamilton had to settle for second. However, after being accessed a late time penalty, he watched his podium finish evaporate.
As Bottas and the second and third place finishers took to the podium, it was McLaren's Lando Norris who held up a T-shirt with the statement "End Racism". Considering the current climate towards equality, it was a show of support for the Black Lives Matter movement, and for some, a show of support for Lewis Hamilton who has faced racism throughout his career in motorsports.
Both Red Bull drivers, Alexander Albon and Max Verstappen, exited the race after touching tired. In total, 18 others exited the race, and for Bottas, he said he dodged a few bullets while earning his eighth F1 career win. During the Alexander Albon crash, Hamilton was accessed a five-second penalty. This was on top of the British driver being hit with a three-place grid penalty. That related to a qualifying incident that was reviewed by stewards. Commenting on the incident with Lewis, team principal for Red Bull, Christian Horner said,
"It was just a misjudgment by Lewis at the end of the day and it'd be good if he apologized for it. This sport can be pretty brutal sometimes and it feels like today's been one of those days. Alex drove a great race, he didn't deserve that."
Sunday's race looked like it would once again be a battled between the two Mercedes but drama prevailed late into the race, and for LeClerc, it was to his advantage. Commenting, LeClerc said,
"It felt like a victory today. Second place is something I never would have expected. I will rate this as one of my best races, I didn't do many mistakes."
CEO of Team McLaren, Zak Brown put aside social distancing and, after Lando Norris took third, he began hugging all those in the garage. The celebration was understandable as it was Lando's first podium finish in F1 and directly related to a blistering final lap. The podium finish put Norris into the history books as the youngest British driver to secure a podium finish and in F1, the third youngest to make the podium. In a show of solidarity, every driver wore a black T-shirt that said "End Racism" prior to the start of the race, and all but six went down on one knee. Those choosing not to kneel included: Carlos Sainz Jr, Antonio Giovinazzi, Daniil Kvyat, Kimi Raikkonen, Charles Leclerc and Max Verstappen.
Next up for the Formula One season is the Hungarian Grand Prix. For passionate motorsport bettors, it is a good time to consider registering with Bet365, as they are offering new customers up to $200 as a bonus on their first deposit. Considering the August will see the British Grand Prix, Spanish Grand Prix and Belgian Grand Prix taking place, the timing could not be better as F1's top driver's fight to earn points and try to get atop the driver's championship.