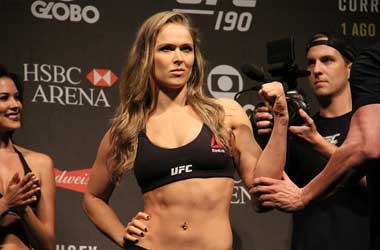 Former UFC bantamweight champion Ronda Rousey is widely recognized as the woman who put women's MMA on the map. Rousey was the first UFC women's champion and was unbeatable and unstoppable for a number of years until Holly 'The Preachers Daughter' Holm ended her unbeaten streak in Nov 2015.
That defeat sent Rousey into depression and caused her to take a break from fighting and avoid the press for over 12 months. She made a return to the Octagon in December 2016 to reclaim her belt from champion Amanda Nunes but lost via TKO in just 48 seconds. Since then, Rousey has gone underground once again and has not had anything to do with the UFC.
There have been speculations in the past that Rousey would be heading over to the WWE, where the fighting is fake and the acting is great. Rousey knows a thing or two about acting as she has appeared in movies like The Expendables 3, Entourage and Furious 7.
Rumours have surfaced this week that Rousey has signed a deal with the WWE and will reportedly make an appearance at WrestleMania 34. This is not the first time that Rousey has made an appearance for the WWE as she first appeared in 2015 in a WWE ring with 'The Rock' – Dwayne Johnson.
WWE SPORT TV
There has been no confirmation from Rousey or the WWE as of now as to whether a deal has been signed and if she will appear at WrestleMania 34. The UFC has also not released any statement and it will be interesting to see how it all works out as Ronda Rousey is still contracted to the UFC as she has not announced her retirement. UFC President Dana White has stated in the past that he does not believe that Rousey will return to the Octagon.
Rousey's entry into the WWE will do well for the organization as she is widely popular all over the world and has close to 10 million follows on Instagram and over 3 million on Twitter. The UFC may not lose much because they have had to live without Ronda Rousey for the last couple of years and have move on.
The former UFC champion has received a lot of criticism from the MMA community in recent times because of the way she exited the sport and her inability to handle a loss and not quit.